A Porthole cocktail was part of our tasting menu at the Aviary in New York City. I was struck by the beauty of its design form and function, so I added it to my Christmas list. No one paid any attention to my list, so I took matters into my own hand. It and a copy of the Aviary Cocktail Book arrived a few days ago. The book is the most beautiful coffee table book I have ever seen and the porthole is a gorgeous piece of barware.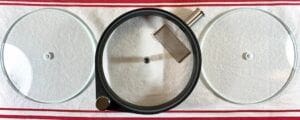 Invention
Martin Kasner, the founder of Crucial Detail design studio created the porthole. He made it specifically for the bar staff of Aviary as one of his service-ware concepts for Grant Achatz and Alinea. Martin won the Global Innovation Award for this and it's included in the collection of the Museum of Modern Art. His work for Alinea, a three-star Michelin restaurant, earned him a place on The Future Laboratory's list of 100 most influential individuals in contemporary design.
Using the Porthole
You must be judicious when adding fruits and botanicals because the porthole has a 13 oz maximum capacity. Every berry or slice of fruit displaces volume available for spirits, so your first consideration must be how many and what size drink it needs to yield.
I prefer a cocktail that is about 3-1/2 ounces, consisting of 2-1/4 oz spirits and an additional ounce from other ingredient(s) such as bitters, syrup, liqueur or vermouth. If you chill the cocktail using ice there will be some dilution with water. How much depends on how long you stir or shake before pouring.
If you want two generous cocktails from one infusion then you have to reserve enough space for about 7-9 liquid ounces. Remember some of the liquids may be absorbed by botanicals or disappear as an angel's share.
For four cocktails you need to double the spirits in the porthole, filling the remainder with fruits, etc. Add your remaining cocktail ingredients to your mixing glass or shaker before chilling.
Cocktails and Infusions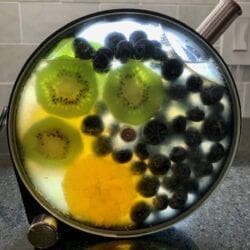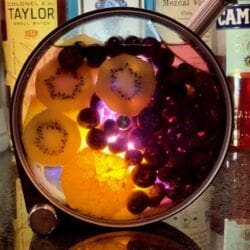 You can of course, infuse spirits and cocktails using more mundane vessels like mason jars or any utilitarian glassware, but I guarantee, placed side by side, one made with a porthole will taste better. It's a Jedi mind trick.
I have discovered an entire sub-culture of porthole enthusiasts. They include the 3,000 facebook users group for porthole tips and recipes. With the help of fellow cult members and the Aviary cocktail book, I hope to share my discoveries with you.
And just one more thing…
If you're sitting in a bar drinking, don't start picking on the nearby Mandalorian. You may suddenly be choked out by baby Yoda.