Print
Siberian Pelmeni
Siberian Pelmini is the star of this story, but let's fill in the background. Preparing for a trip to Portland, Oregon, I polished up my high school Russian, but I found no one that spoke the language at Kachka. Frankly, they had difficulty understanding my Arkanese, but defaulting to King's English proved successful. Despite the communication difficulty it didn't stop them from serving a magnificent dinner.  Between the three of us we sampled most everything on the menu. Who knew Russian cuisine could taste so good. Or was it the vodka? Yes, there was vodka.
My friend Kevin received the Kachka cookbook as a birthday gift and we chose siberian pelmini, little meat dumplings, as our first dish to recreate.
He found the mold to shape the dumplings and adjika, the spicy Russian hot sauce via the internet. Thank goodness for the internet.

I provided critical supervision and impeccable bar service to the chef,  who has a proclivity for martinis. With that disclaimer, here follows the step-by-step recipe for making siberian pelmini, unbelievably wonderful bites of flavor.
Adjika Butter – mix until incorporated
1

part adjika sauce

3

parts unsalted butter
Siberian Pelmeni Sauce – mix until melted by gently tossing with cooked Pelmeni
1

TBL adjika butter

1 tsp

white vinegar – to taste
Pinch of kosher salt
Adjika sauce – to taste
Condiments
Sour cream
Chopped chives
Parsley and/or celery leaf – chopped
Dough = 156 pelmini dumplings
3.5 cups

AP flour

1

TBL kosher salt

1

large egg

3/4 cup

plus 1-2 TBL cold water
Meat Filling
1/2

lb Each: ground beef, ground veal and ground pork

1/2

onion finely grated with liquid

2/3 cup

ice cold water

1

TBL plus 1 tsp kosher salt
Instructions
Pelmini Dough
 Mix the flour and salt
Add the egg and begin mixing on slow speed
Drizzle the water in while mixing and mix until all the dry ingredients are incorporated
Knead in the mixer on slow 10 more minutes into a smooth elastic ball
Wrap  tightly in plastic wrap or place in covered container
Rest at room temp for one hour
Divide into 8 equal, individual balls (4 tops and 4 bottoms) when ready to assemble
Meat Filling
Mix all ingredients in a mixer with a paddle attachment until it comes together. You want the fat to emulsify which will incorporate all the water and onion liquid and coat everything with a nice fat smeared sheen. If you grab a pinch it will feel very sticky
Warning: under or over processing will make it too dry
It should only take about 2 minutes to mix
Refrigerate in a pastry piping bag until ready to assemble
Assembly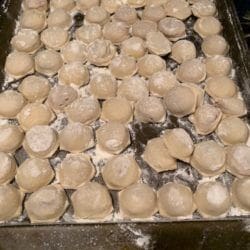 With a rolling pin, roll a ball of dough into a sheet large enough to cover the pelmenitsa mold, dust both sides with flour to prevent sticking
Dust the pelmenista mold with flour
Pipe filling into each depression
Roll another dough ball into a sheet large enough to cover the mold
Spray a water mist over the filled lower half or lightly brush water on the lower dough. This will seal them when you combine the two dough halves
Use a rolling pin to press the two halves together and seal the pelmeni
Remove excess dough
Carefully poke them out and dust with flour to prevent sticking
Set aside (can be frozen for later use)
Repeat the process until the filling and dough are used up
Cooking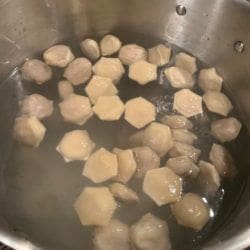 Prepare a pot of lightly salted and gently boiling water
Boil the pelmeni for 5 or 6 minutes until done. Test before serving
Remove and drain in a colander
Serving
While hot, gently toss pelmeni in the Adjika butter with the remaining sauce ingredients
Adjust spiciness to taste with more Adjika sauce if desired
Serve 10-15 pelmini per person
Sprinkle the minced chives or add a few parsley/celery leaves
Add a small dollop of sour cream