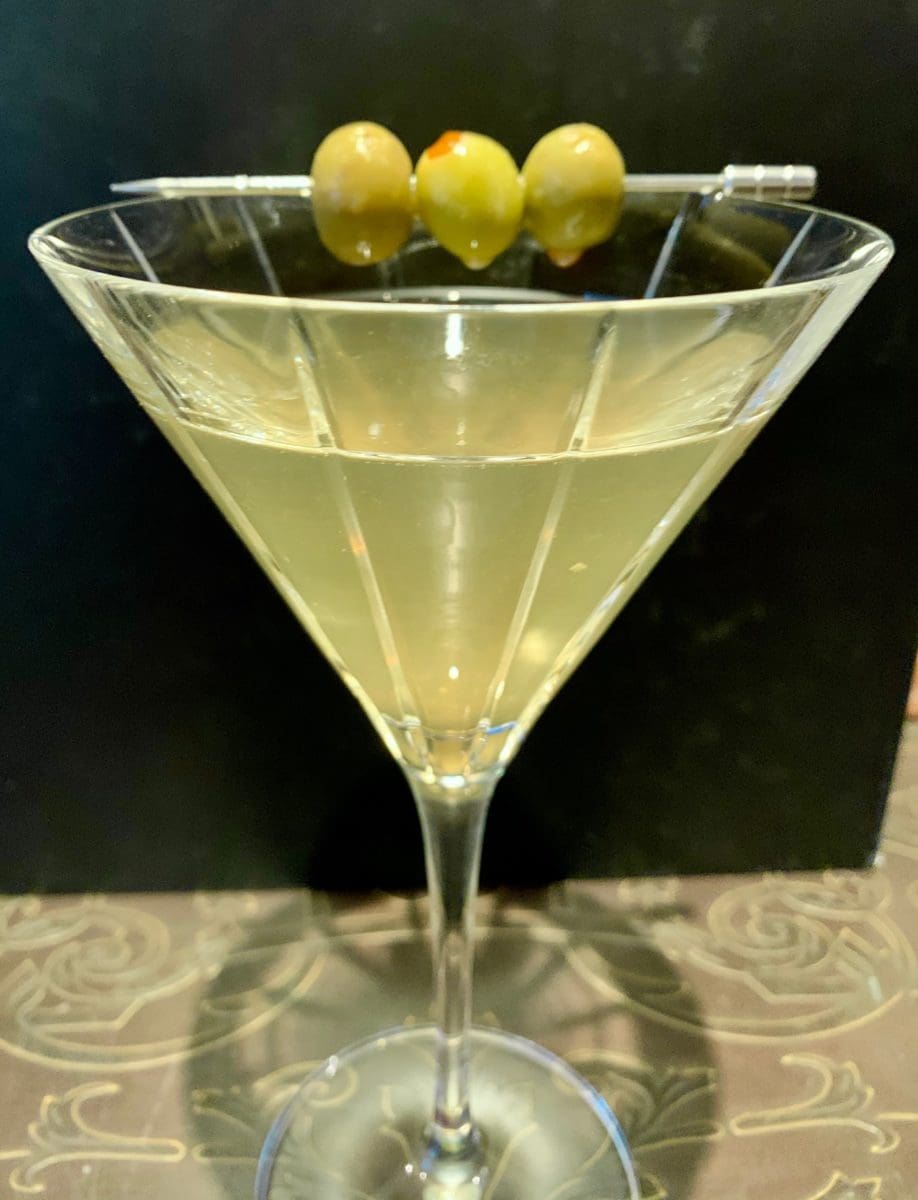 My baby wrote me a letter about the upcoming holiday season. Christmas, I say Christmas items are already on the floor of big box retailers and it's not even Halloween!
Yes, we're on the doorstep and aware of the challenge ahead. We know there are parties, soirees and shindigs on your calendar and each is accompanied by tempting libations. That means Sober October is when we allow our livers time to rest and rejuvenate.
The Deets
It's a dirty martini using Ritual Zero Proof's non-alcoholic gin alternative. We add my home-rectified dry vermouth and rosemary infused ginger water to kick up the spice and aroma another notch. But there's another, secret ingredient.
Placebo Effect
This is a true story. The event described took place in Fort Smith, Arkansas and at the request of the participant, his name has been changed. The rest is told exactly as it occurred.
I received a call after a tasting panel member arrived home. Homer said "call me crazy" because I feel buzzy", and asked if the drinks contained real booze. I quickly replied "you're crazy", but thanks for the compliment.
The moral of the story is this tastes as good as any dirty martini.
Ritual Zero Proof Gin Alternative – Tasting Notes
Ritual Zero Proof provided the "gin" and my tasting panel and I provide the opinions.
Our notes begin with the pleasant aroma of botanicals with pine, mint, lemongrass and cucumber. It's followed by flavors of lemon, cucumber and green tea with a light body, but more viscous than real gin. It has a full mouthfeel with light pepper on the short finish and makes a great non-alcoholic drink. For the record, none other than Homer suffered a hangover.
Print
Baby Wrote Me A Letter
Non-alcoholic gin alternative, rectified low alcohol dry vermouth, rosemary, ginger, olive brine
1/2 oz

olive brine

1/4 oz

infused rosemary/ginger water

2 oz

Ritual Zero Proof Gin Alternative

1

–

1/4

oz rectified dry vermouth

3

pimiento stuffed manzanilla olives – garnish

1 oz

of placebo effect
Instructions
Chill your cocktail glass in the freezer
Rectify and boil off most of the alcohol in your vermouth by heating to 180 degrees for 15-20 minutes
Wash and slice 4-5  pieces of peeled fresh ginger into coins
Rinse and remove needles from fresh rosemary sprigs – about 1 tablespoon
Bring to a boil with 2 cups of water in a non-reactive pan, then reduce and low simmer for 15 minutes
Remove from heat and cool, then strain into a swing-top bottle and refrigerate until ready to use
Add all the ingredients to an ice filled cocktail shaker and shake until ice-cold
Garnish with 3 manzanilla pimiento stuffed olives
Enjoy and appreciate the buzz!