Print
Baked Beans with Sausage
I jumped into the DeLorean and turned back the clock, waaay back to July 4th, 1975. Fleetwood Mac was hot, Bill Gates and Paul Allen had founded Microsoft and American troops had just been evacuated during the fall of Saigon.
With America still suffering the effects of political turmoil over the Vietnam War, we celebrated Independence Day with a gathering of friends and neighbors. It was the debut of this recipe for baked beans with sausage.
It's on the menu again this 4th of July. We're celebrating American Independence and because of that, pair this with some American beer. I personally recommend Miller High Life ponies, only seven ounces, they stay cold and they are the champagne of beer!
Scale
Ingredients
Sausage Baked Beans
(2) 30 oz cans pork & beans

1

lb Jimmie Dean regular pork sausage roll

1

medium onion -minced

1/4 cup

hot water

1 cup

brown sugar

1/2 tsp

cayenne pepper – adjust to taste

1/2 tsp

ground ginger

1/2

TBL ground mustard

1 tsp

salt
Instructions
Preparation
Preheat oven to 350
Crumble and brown the sausage in a skillet on medium high heat.
Drain on a paper towel and set aside
Combine brown sugar, ginger, mustard, pepper and salt with the water
Add the pork and beans, sausage and onion, mix together and bake uncovered in a shallow baking dish for one hour
Serve with hot dogs and potato salad!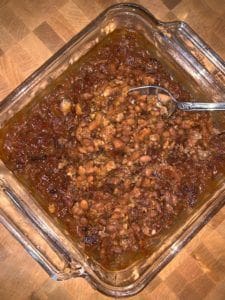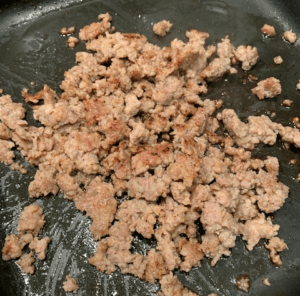 And just one more thing…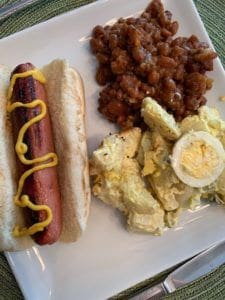 While I was in that time machine I should have made some notes on the stock market. If I had, we might be dining on real steak instead of tube steak! Happy July 4th!