Print
Blackberry Bramble Cocktail
Memories of picking berries on my aunt and uncle's hardscrabble farm prompted me to create a blackberry bramble cocktail.
Howitzer and tank fire echoed through the hills as I picked, but I didn't smell napalm or hear Wagner's Valkyrie playing in the background. The activity at Fort Knox was a precursor of things to come with our country's involvement in Viet Nam.
My aunt taught me how to choose the best berries and I quickly filled a bucket off the fencerow. I can still hear the screen door spring stretch and creak when I returned to the farmhouse. As the door slammed behind me, she would inspect my berries and decide what to make.
How to Use Fresh Berries
We ate them in pies, cobblers, jams and jellies, but I never used them to make a cocktail until now. Blackberry infused bourbon is the primary ingredient and I first tasted it neat, then over a big rock. The flavor was fantastic and the color a beautiful red tinged amber. The next step was to experiment and search for a special combination for my cocktail. That's where the fun began and it ended with a simple recipe using only three ingredients plus a garnish.
Blackberry Infused Bourbon
8

–

12

oz 90-100 proof Kentucky straight bourbon

4

–

5

oz fresh blackberries
Blackberry Bramble Cocktail
2 oz

blackberry infused bourbon

1 oz

dry vermouth

1/4 oz

simple syrup
Woodford Reserve Cherry – Garnish
Instructions
Blackberry Infusion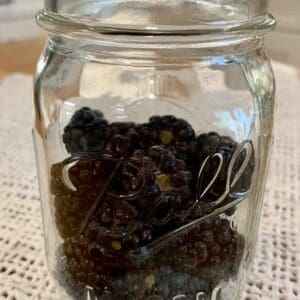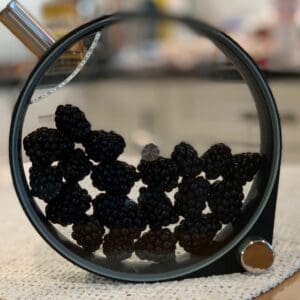 Place the blackberries in a mason jar and lightly crush them, just enough to break the skins – do not mash or muddle them
Add the bourbon, seal the jar and set in a cool dark place for 48 hours, gently turning the jar each 12 hours to maximize the flavor extraction from the berries
Strain and filter the infused bourbon with layered cheesecloth into a swing-top bottle and refrigerate until ready to use
Refer to my Guide to Infusing Spirits for additional information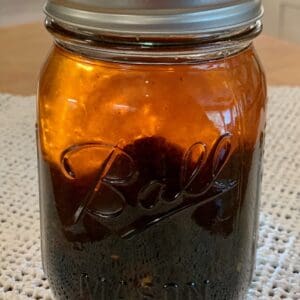 Blackberry Bramble Cocktail
Add the ingredients to a mixing glass with ice and stir until well chilled
Strain into a chilled coupe or cocktail glass
Garnish with a cherry, admire and then drink your artwork