Print
Tres Leche Cupcakes
Tres leche cupcakes are a playful variant of the traditional white sponge cake soaked in milks. These are inspired by the Santarepa Cafe, perfect for individual servings and a lot of fun to make.
There is one major side effect to these wonderful desserts however, they are really hard on the waistline. Don't make a batch without enlisting the help of family, friends and neighbors to eat them, or suffer the consequences.
Origins
Ownership of this iconic confection is claimed by many Latin American nations and Mexico, Nicaragua and Venezuela are at the forefront. Tres leche cake was virtually unknown until the widespread acceptance of canned milk products in the 40's and recipes weren't found until the 70's. Researchers surmise this may have medieval roots beginning with trifle cake, but there is no definitive answer.
Tres Leche Cupcakes
This recipe is the result of many test batches. Balancing density and flavor with the milks was more challenging than I expected. We tested recipes with and without butter, used only egg white meringue or baking powder to achieve the right density. We varied the type and quantity of flavoring extract. Finally we tested whipped topping techniques to gain a longer shelf life in the refrigerator. We even tested a boxed cake mix, but found a scratch recipe much more satisfying. Hey, if you're in a hurry or feeling a little lazy, use that boxed mix and the world won't come to an end!
I believe you will enjoy this recipe, because the taste is heavenly and well worth the effort of scratch baking.
Cake Ingredients
2

sticks unsalted butter

1

–

3/4

cups sugar

1

–

3/4

cups AP flour

5

extra large egg whites – room temperature

1/2 tsp

salt

1 tsp

almond extract

2

–

1/2

double-acting baking powder

1 tsp

vanilla extract

10 oz

whole milk

2 oz

vegetable oil
Large aluminum cupcake tins
Tres Leche Milk
1/2 cup

half and half

1/2 cup

sweetened condensed milk

2

cans (24 oz) evaporated milk
Whipped Cream Topping
2 cups

heavy whipping cream

1/2 cup

powdered sugar

1 tsp

clear vanilla extract

3/4 oz

instant vanilla pudding – optional for stabilized whipped cream
Candy sprinkles – garnish
Instructions
Cupcakes
Preheat oven to 335
Whisk together the milk, both extracts, vegetable oil and set aside
Whisk together the flour, baking powder, salt and set aside
Separate the egg whites. Save the yolks for another use or discard them
Cream the butter on high speed using a paddle attachment for about 3o seconds, then lower the speed to low and add the sugar
Beat on high until fully combined and light white about 4-5 minutes, scraping down the sides with a spatula once or twice
Reduce speed to low and add 1 egg white at a time, waiting until each is incorporated before adding the next
Continue beating on low and add 1/3 of the flour mix, then 1/2 the liquids
Repeat adding another third of the flour mix and the rest of the liquids
Finish adding the remaining flour mix and mix until it is all fully combined. Stop immediately when all the dry ingredients are wet and the batter is smooth. Do not overmix
Spoon the batter into the cupcake molds filling them halfway and place them in the oven on a cookie sheet
Bake for 22-23 minutes or until a toothpick comes out clean, then remove and set on a rack to cool
While the cupcakes are baking, make your tres leche milk mixture
When the cupcakes are cool, poke holes in them with a toothpick or the tines of a fork to help the milks penetrate the cake
If your cakes have risen over the edges of the tin cut them off to leave room for the milks
Pour the milks over the cakes and fill to the top of the rims. Let it set until the milk is absorbed
Repeat with more milk until the cakes are saturated
Refrigerate and let set for a minimum of 2-3 hours, but preferably overnight to give the milk time to totally saturate all the cupcake
Tres Leche Milk
Whisk together the three milks in a bowl with a pouring spout and refrigerate until ready to use
Whipped Cream Topping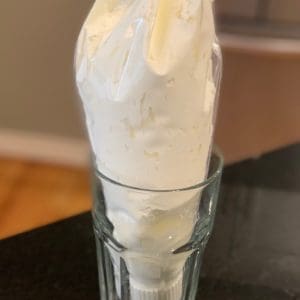 Freeze your mixing bowl and whisk attachment to whip faster and with more volume
Pre-mix the powdered sugar and vanilla pudding mix
Whip the heavy cream on medium speed until soft peaks form
Add the sugar mix and vanilla extract and whip on high speed until stiff peaks form
Scoop the topping into a disposable piping bag fitted with a large star tip to decorate the cupcakes.
Garnish with sprinkles