Print
Blue Sky Martini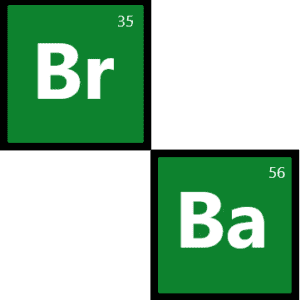 The blue sky martini reminds me of Albuquerque and the beautiful blue, but deadly crystal meth produced by Walter White. His alter ego Heisenberg is masterfully played by Bryan Cranston in the hit series Breaking Bad.
My homage was claiming Heisenberg when Sparkledollars and fast food restaurants insisted on a name. I secretly enjoyed the ruse as cashiers fumbled with the spelling. It took years, but finally, an astute young man said, "we've been watching too much breaking bad, haven't we". Busted, I became "Number 9" and that's a whole 'nother story.
Dry Ice and Sublimation
The fog created by dry ice sublimation (think submerged evaporation) is cool as all that, and a ton of fun. Dry ice is carbon dioxide gas, compressed and frozen to approximately -109 degrees fahrenheit. That's cold enough to freeze tissue and potentially injure yourself.
Chemistry is key to better living and I had a ball with a childhood chemistry set. Modern society says they're too dangerous for today's kids, but it was a great learning experience for me. Playing with dry ice is also a learning experience, but accidents happen. So, that brings me to these cautionary notes about use and handling of dry ice.
Do Not drink directly and/or ingest dry ice from a glass or container
Do Not touch, pick up or hold dry ice with your bare hands
Blue Sky Martini
This is a close cousin to my turquoise margarita without the orange liqueur, an addition of agave syrup and a sugared candy rim. The color and fog is mesmerizing and it is delicious.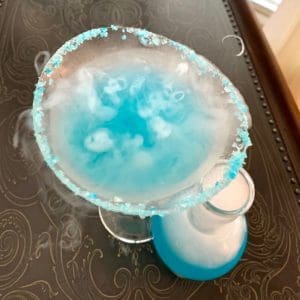 Blue rock candy – crushed

4 oz

silver tequila

1 oz

blue curacao

2 oz

fresh lime

1 oz

agave syrup

12

fresh blueberries
Dry ice for special effects – optional
Instructions
Freeze a 250 milliliter flask, beaker or small mixing glass
Rim a cocktail glass with lime juice and crushed blue rock candy
Muddle the blueberries in a shaker tin
Add the remaining ingredients with regular ice and shake to thoroughly combine with the blueberries
Double strain into the flask
Use the frozen flask as a serving vessel and pour the blue elixer into the cocktail glass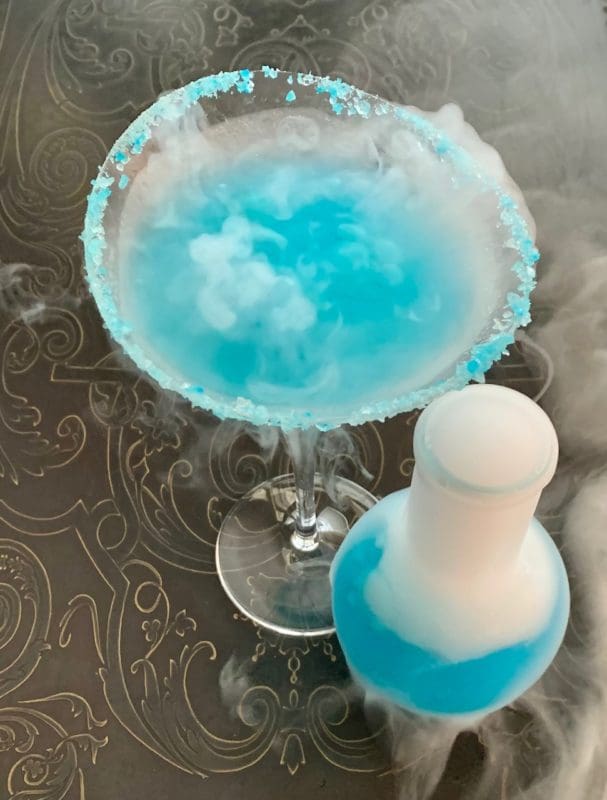 Notes
WARNING:
Do not drink directly from anything with dry ice in it!
Do not use genuine crystal meth in this cocktail, because it is illegal, bad for your health and very addictive!
The author does not believe in, condone or promote the use of any illegal substance. Any and all drug references are for entertainment purposes only, just like the movies