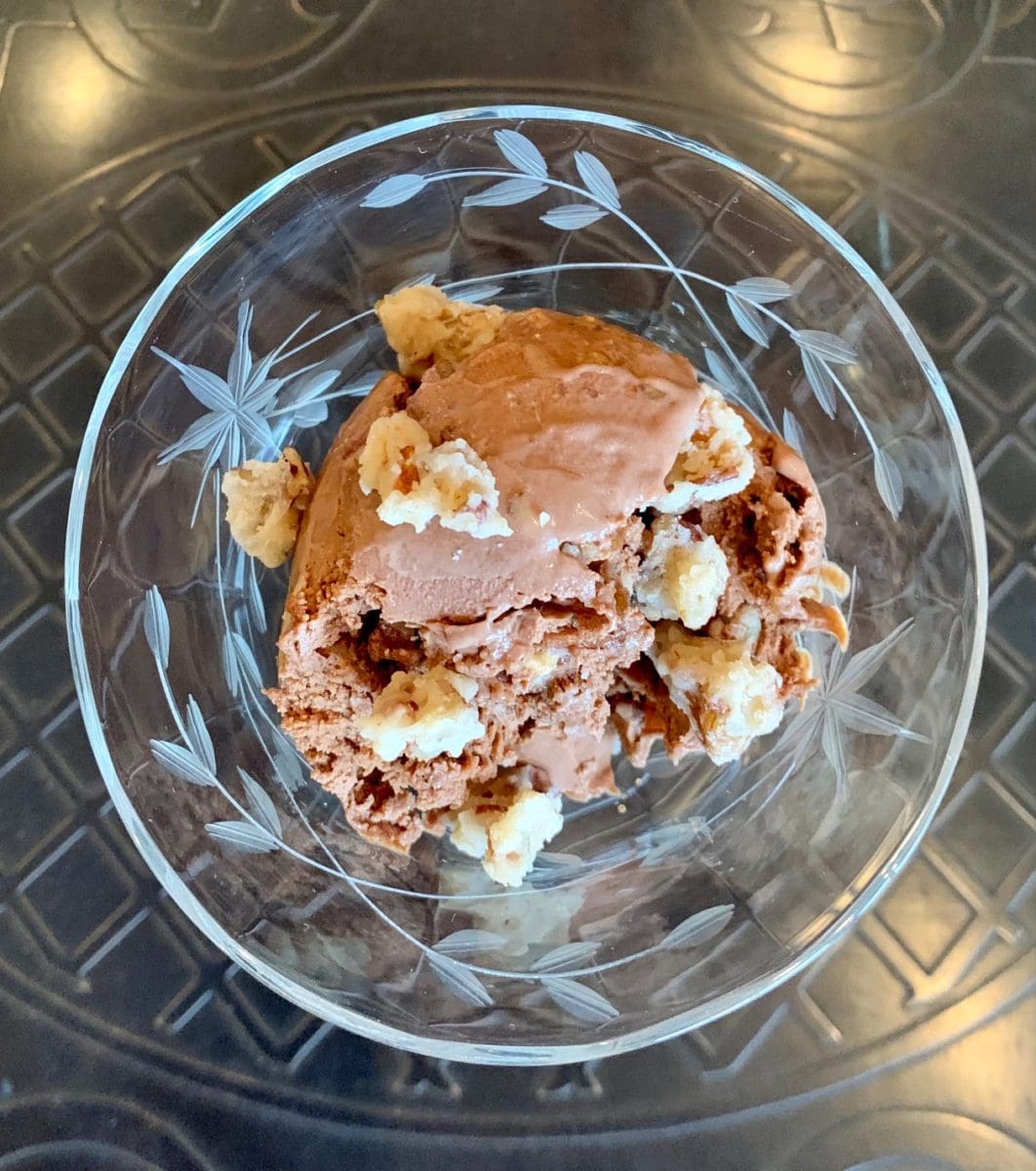 My chocolate bourbon gelato with praline pecans is inspired by Joshua Moore, the executive chef at Volare in Louisville, Kentucky. He's a Food Network "Chopped" champion with menus worthy of the title. (Please Josh, bring back your crispy skin duck with cherries!) This dessert is the perfect homage to Kentucky, the home of bourbon and Italy, the home of gelato
He shares dessert recipes on Volare's website, but bourbon gelato is not one of them. That means I had to create my own using memory and taste buds for guidance.
Gelato and Ice Cream
There's a fine line that separates one from the other. The proportion of cream and milk is one and the inclusion of egg yolk is another. Traditionally gelato uses 2/3 milk, but that ratio is reversed for ice cream. I decided to go with a 50-50 mix, so I'm not too far off either way. I'm betting Joshua used egg yolk in his recipe, so I did too.
The result is a creamy smooth, chocolate confection with the sweet crunchiness of praline pecans. This is so delicious I'm not going to fret over any difference between this and chef Joshua's.
Print
Chocolate Bourbon Gelato with Praline Pecans
Chocolate Bourbon Gelato with Praline Pecans!
Praline Pecans
1 cup

white granulated sugar

1 cup

light brown sugar – packed

4

TBL butter – cut into pieces

1/2 cup

whole milk

1/4 cup

heavy cream

1/2 tsp

kosher salt

1 tsp

vanilla extract

2

–

1/2

cups chopped/broken pecans
Chocolate Bourbon Gelato with Praline Pecans
1

–

1/2

cup heavy whipping cream

1

–

1/2

cup whole milk

4

egg yolks

1/2 cup

white granulated sugar

1/3 cup

cocoa powder

3 oz

semi-sweet chocolate – finely chopped

1 tsp

vanilla extract

2

TBL wheated bourbon like Maker's Mark, just saying

2

–

1/2

cups praline pecans – chopped and divided
Praline pecans – garnish
Instructions
Praline Pecans
Line a cookie sheet with parchment paper
In a large heavy bottom saucepot, warm the heavy cream, milk, white sugar, brown sugar and butter until the butter is melted
Stir until all the sugar is dissolved
Heat to a low boil and stir slowly but constantly
Boil for 7-8 minutes, stirring constantly until it reaches 235 degrees on a candy thermometer. If you have an official candy thermometer there should be a line that reads "soft ball"
When it reaches 235 for about 30 seconds, remove from heat, add the salt and vanilla and stir in the pecan pieces
Slowly stir while it cools for about 3-4 minutes
Use a ladle to pour it onto the parchment paper and spread it out to a thin even thickness
Let it stand until it cools for about 20 minutes
Refrigerate until chilled and firm
Break or chop it into small pieces and store in an airtight container at room temperature until ready to use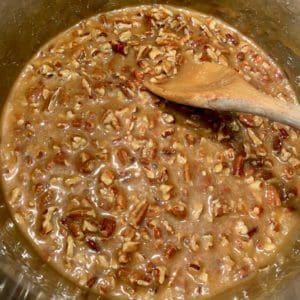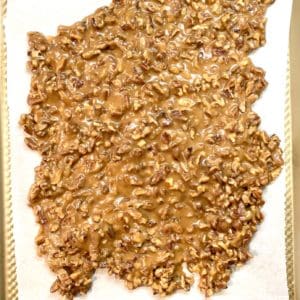 Chocolate Bourbon Gelato with Praline Pecans
Make the praline pecans in advance
Chop the chocolate and place it into a bowl large enough to hold the finished gelato and set aside
Warm the milk, cream, cocoa, vanilla and sugar on the stove in a large saucepot
Whisk until it is well combined while warming
Lightly whisk together the egg yolks in a separate bowl
Add a half cup of the warm milk/cream/cocoa mixture to the egg yolks while whisking
Warning: Don't let the milk/cream/cocoa mix get too hot or you will curdle the eggs!
Whisk continuously while adding the egg mixture to the warm milk/cream/cocoa in the saucepot
Heat the combined mixture slowly on medium low heat while stirring until it thickens enough to coat the back of a spoon
Strain the gelato into the chopped chocolate to remove any curdled bits and solids
Let set for a minute while the chocolate melts and then whisk until it is smooth
Refrigerate overnight or until it is thoroughly chilled to facilitate churning into finished gelato
Stir in the bourbon and fold in 2 cups of chopped praline pecans
Churn according to the manufacturer's instructions
Transfer to a bowl and finish in your freezer
Serve individual scoops in a parfait glass and garnish with reserved praline pecans