I had to dine at Cosme when I discovered Enrique Olvero of Pujol had a restaurant in New York. The icing on the cake is that Enrique's partner and executive chef is Daniela Soto-Innes.
Daniela Soto-Innes
When dispatched to New York to open Cosme in 2014 at the tender age of 24 she had little operational experience, but a lot of drive and talent. The space she inherited was the former home of a strip club still littered with dancing poles and a sign posted on the refrigerator asking the ladies "please don't have sex in the walk-in cooler". She successfully managed the renovation and highly anticipated opening.
It's no secret that chef Soto-Innes operates Cosme differently than most high level restaurants. Instead she embraces a team approach and involves her staff in every decision, operationally and culinary. The results speak for themselves as Cosme holds the #23 ranking on the World's Best list. Along the way she has won a James Beard Rising Star Chef and the 2019 World's Best Female Chef awards. Now, as equal partner in their New York businesses, she also manages Atla, their more modest but highly regarded all day Mexican cafe.
We dined at Cosme our last evening in New York and enjoyed a dinner that exceeded my expectations. The atmosphere was lively in the bar and the room crackled with energy from diners having a great time.
Our Menu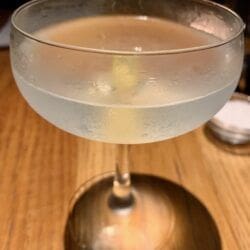 Expat martini with perry's tot gin, cilantro infused dry vermouth, lillet blanc and house pickled tomatillo. Blue corn tostadas with hot salsa.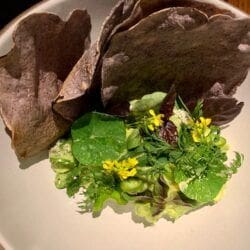 Herb guacamole. Razorclam tostada.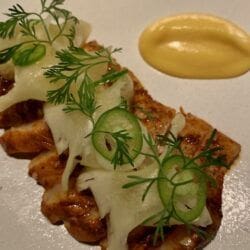 Chanterelle volcon, cordyceps, quesillo and NY cheddar. Cobia tataki al pastor, pineapple puree and cilantro.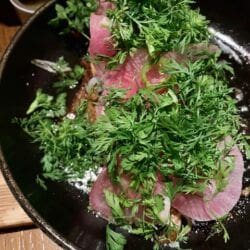 Mole de casa. Duck carnitas, onions, radishes and cilantro.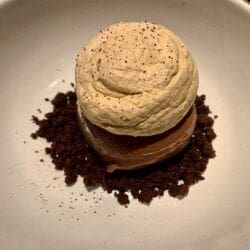 Acacia mexican chocolate. Husk merengue with corn mousse.
And just one more thing…
Cordyceps is an ingredient in the chanterelle mushroom recipe. I wondered what it was and discovered it's a parasitic fungus found in the larvae of the ghost moth. Harvested from the corpse of a Tibetan caterpillar, the Chinese have used it medicinally since the 15th century. Post dinner, I felt a second wind, so we continued our evening with cocktails at the Monkey Bar. Now I know why, and you can read about it HERE.