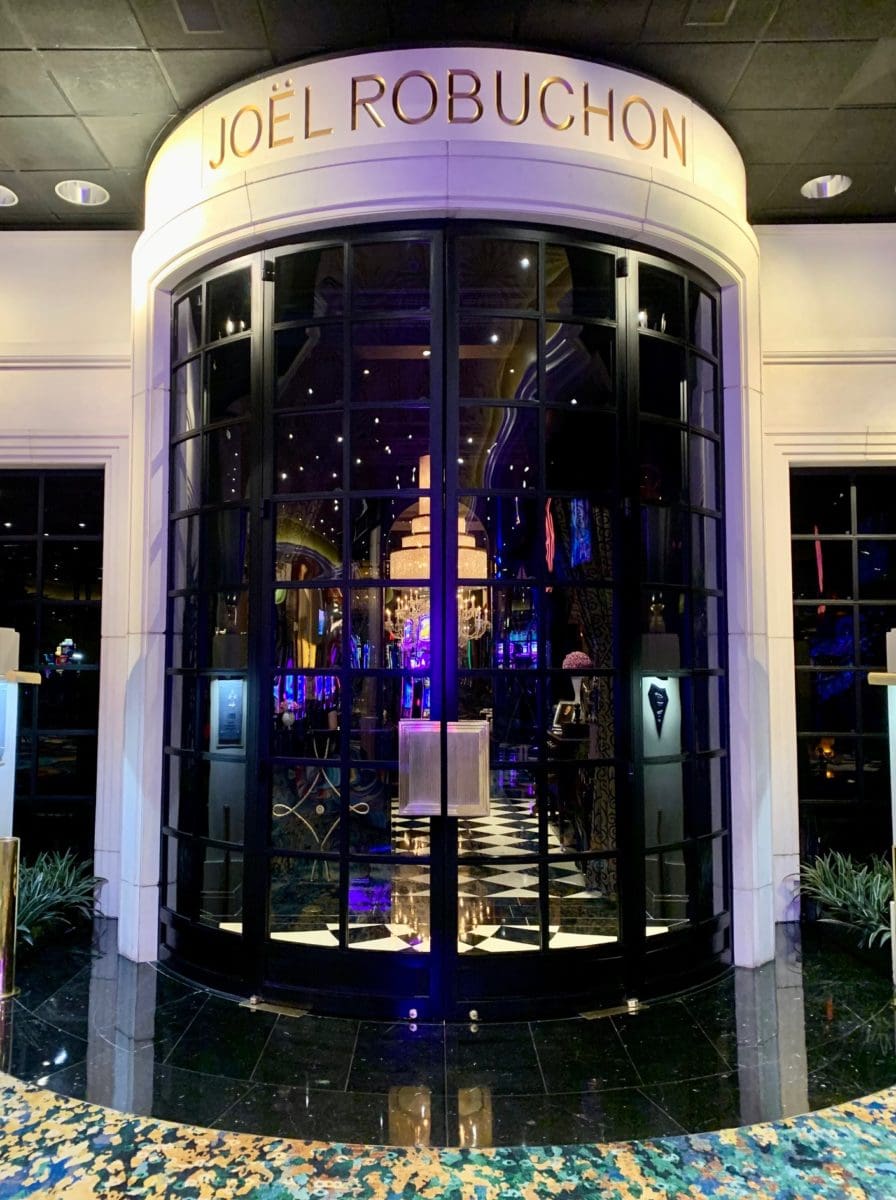 We found Joël Robuchon an oasis and a welcome respite from the inescapable, pounding cacophony of the Vegas strip. It was recognized as three star, the highest award, until Michelin forgot how to find Las Vegas in 2010. Regardless, I declare JR still worthy and that's all that matters.
I'm frequently asked by those less food obsessive than me, what's the difference between one, two and three stars. Michelin's explanation is, one – worth a stop, two – worth a detour and three is worth a special trip. The practical application of those guidelines require a discussion of greater depth. While there are many things to consider, the three primary elements are ambiance, service and food.
Why Joël Robuchon Deserves Three Michelin Stars
They call the restaurant "The Mansion". It is white tablecloth art deco luxury, with crystal, silver, marble, artwork, sculpture and floral arrangements. It's an intimate dining experience created for the sole purpose of your satisfaction.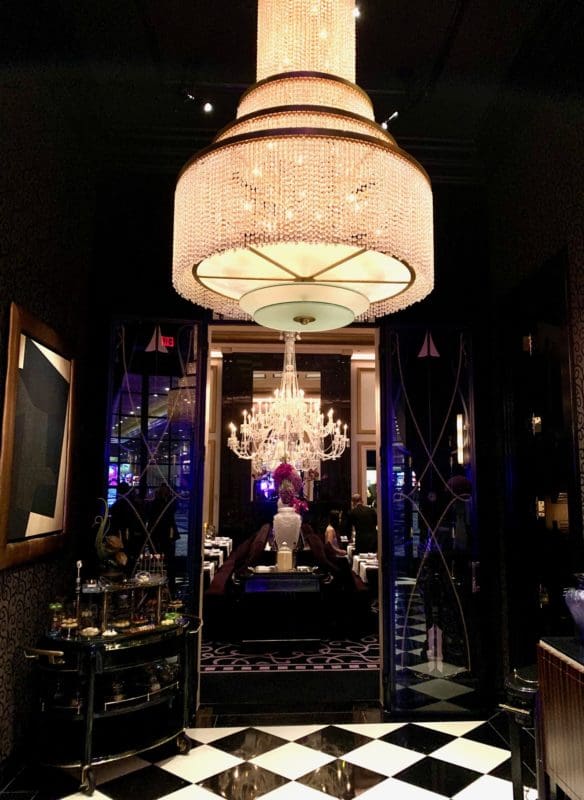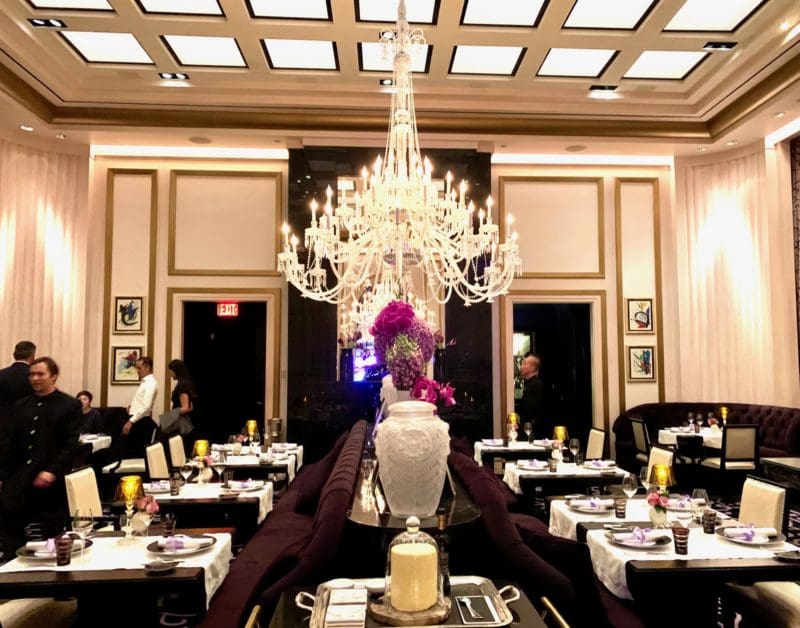 Service is a hallmark of top tier restaurants. Here they are as attentive as a new-found lover, but unobtrusive. A conspiratorial friendly, knowledgeable and respectful staff made our visit unforgettable.
You may add accommodative to their credit. Although the degustation menu is preferably ordered for the table, chef allowed my wife to choose ala carte.
They also understand how to have fun. We met the acquaintance of a delightful local couple that celebrated a birthday there. The restaurant arranged for the gentleman's wife to emerge from a cake.
I can go on, but can only urge you to make that special journey to dine here.
Dinner at Joël Robuchon – Las Vegas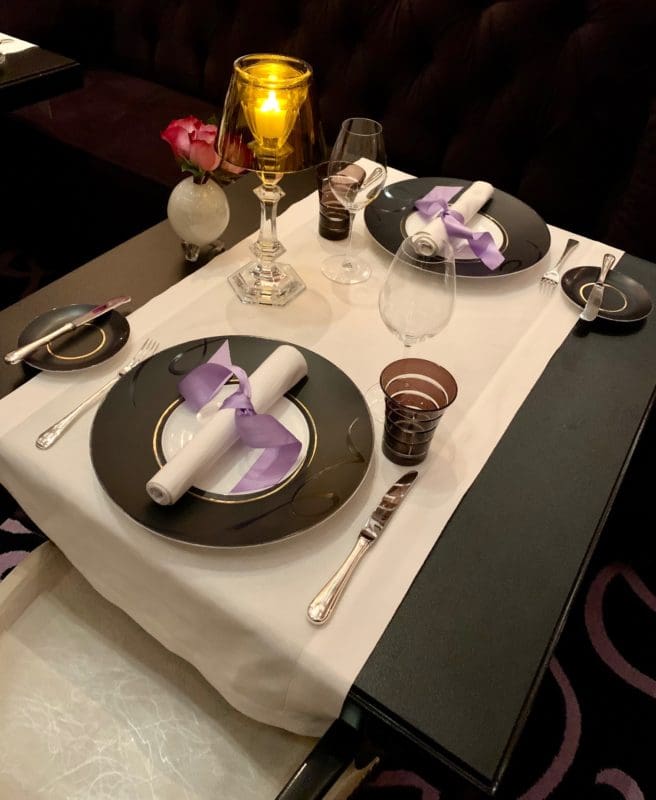 Our table upon which soon rested my favorite, a classic martini.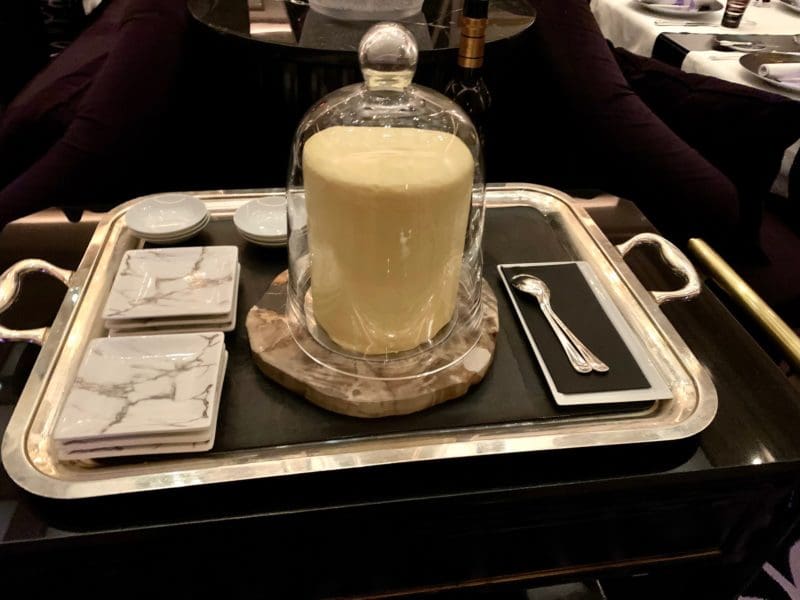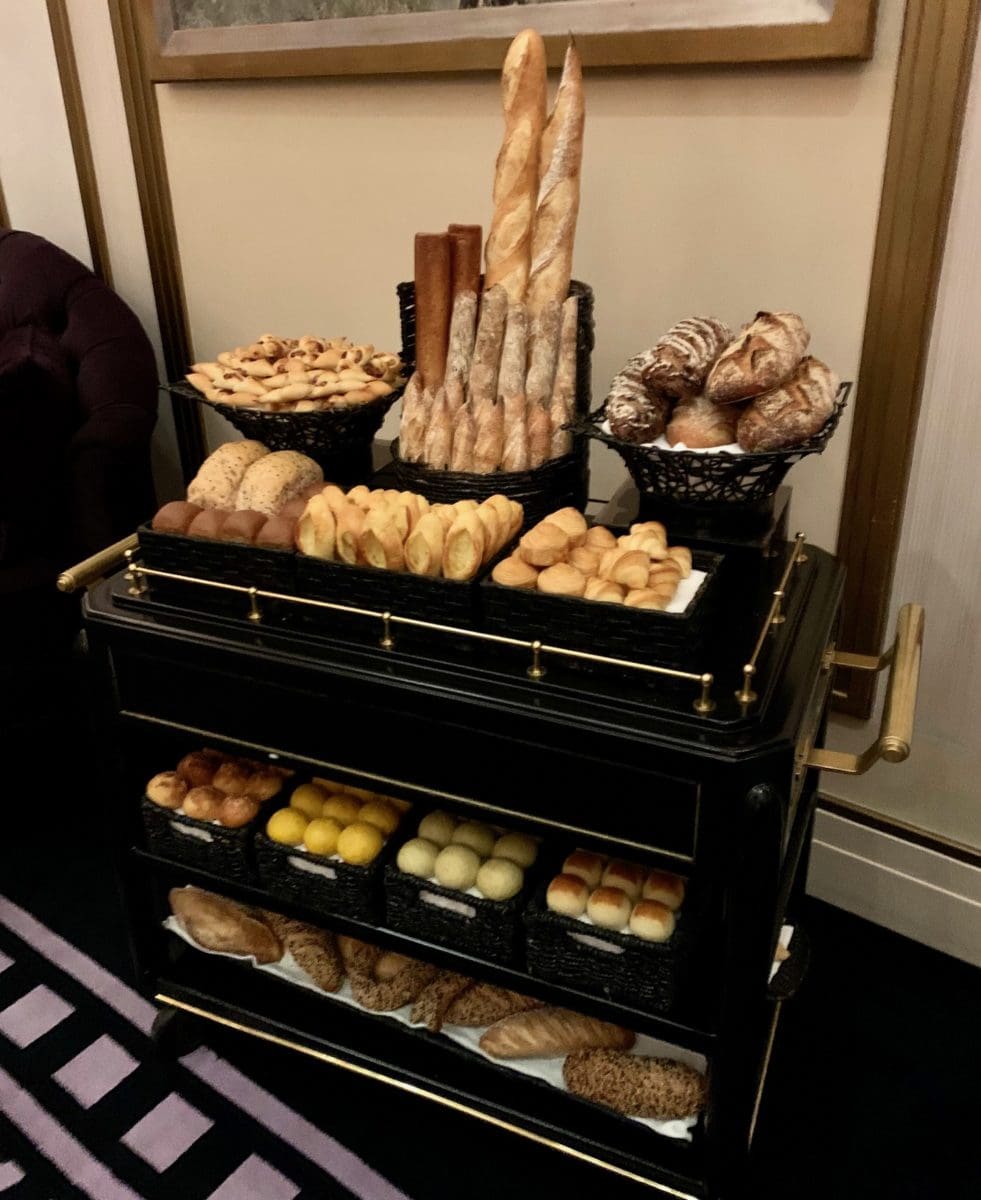 More than twenty breads to choose. There is bacon bread, milk bread, brioche, saffron bread, puff pastry, croissant, compté cheese bread, baguettes, rosemary bread, pesto bread and others. I restrained myself to three with the cheese bread my favorite.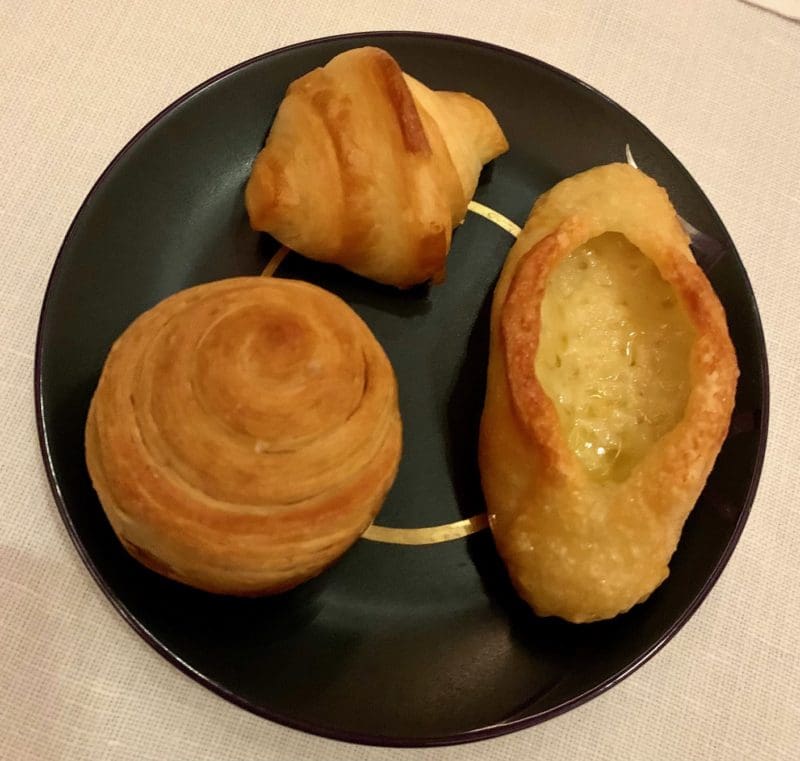 Ossetra Caviar atop lobster in a crustacean geleé dotted with cauliflower purée and gold leaf
The dots are a signature embellishment of Chef Robuchon and if I counted correctly there are 87 on this dish. Eric Ripert tells a story about working with Joël early in his career. He described the repetitive, painstaking care required to maintain the symmetry as pure agony, but beautiful.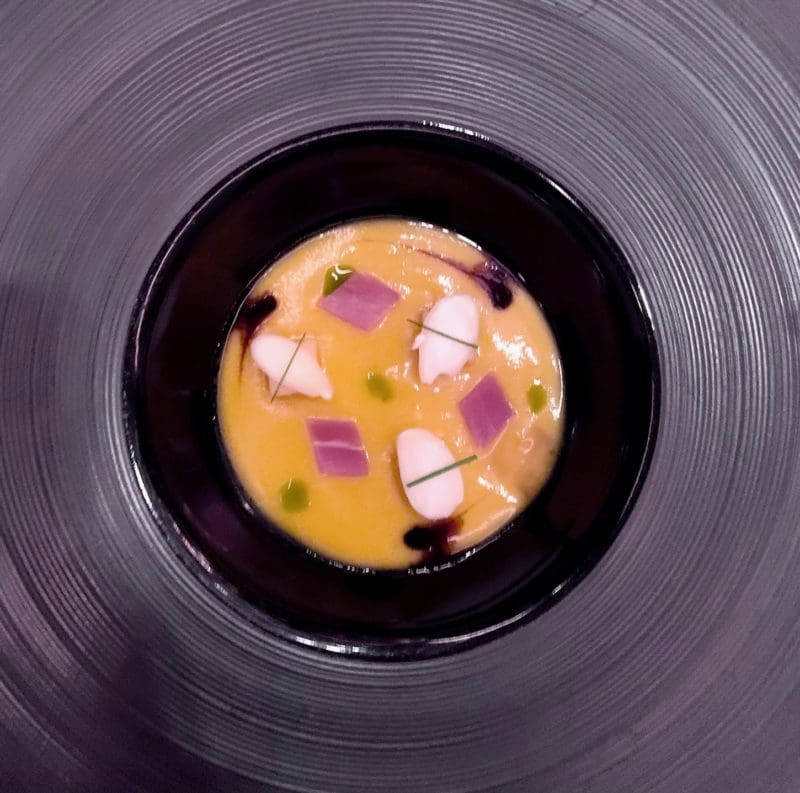 Carrot in fine cumin velouté with goat cheese raviolis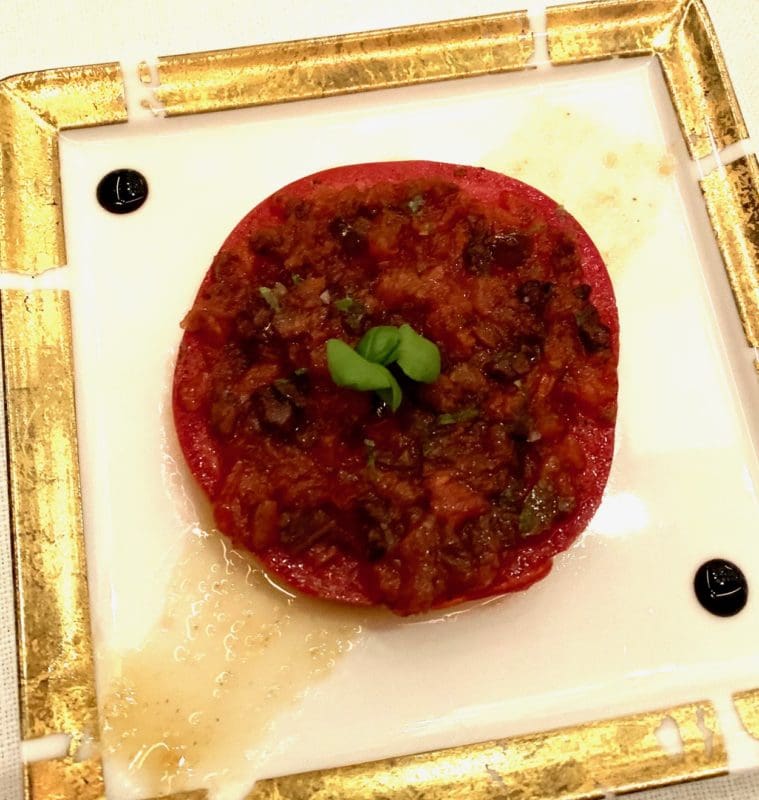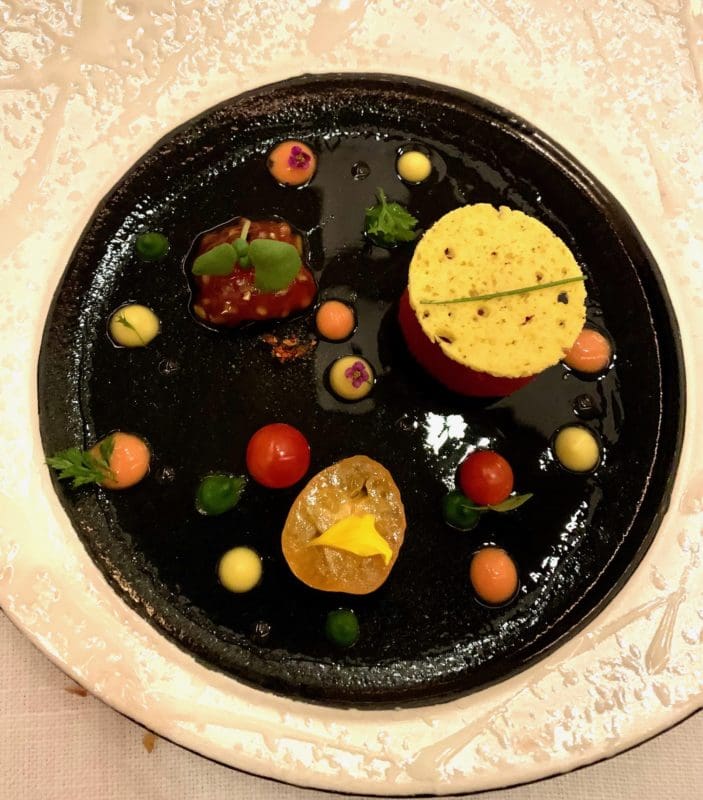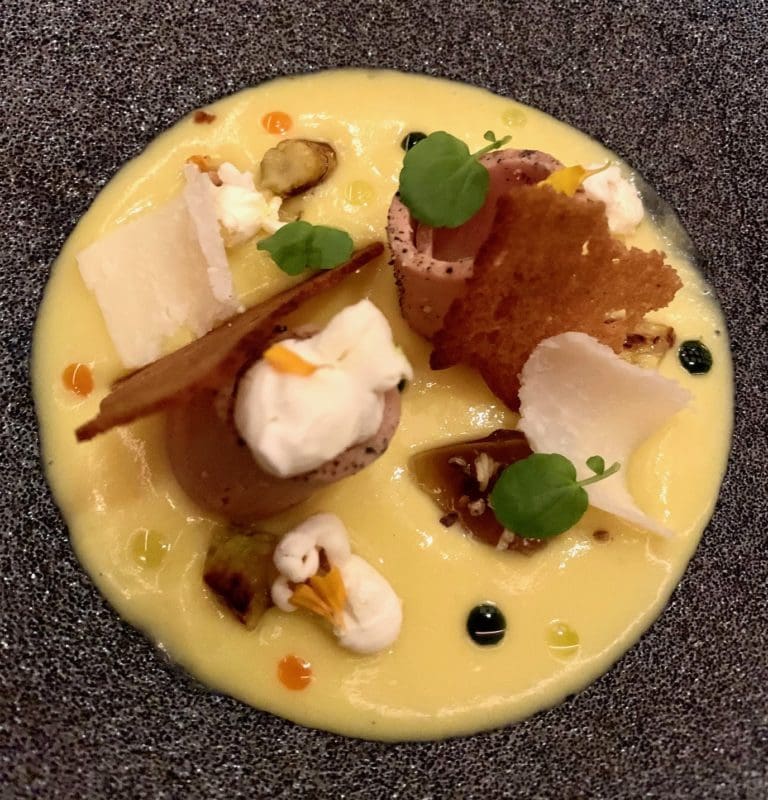 Corn Cream with Foie Gras and Gingerbread Tuille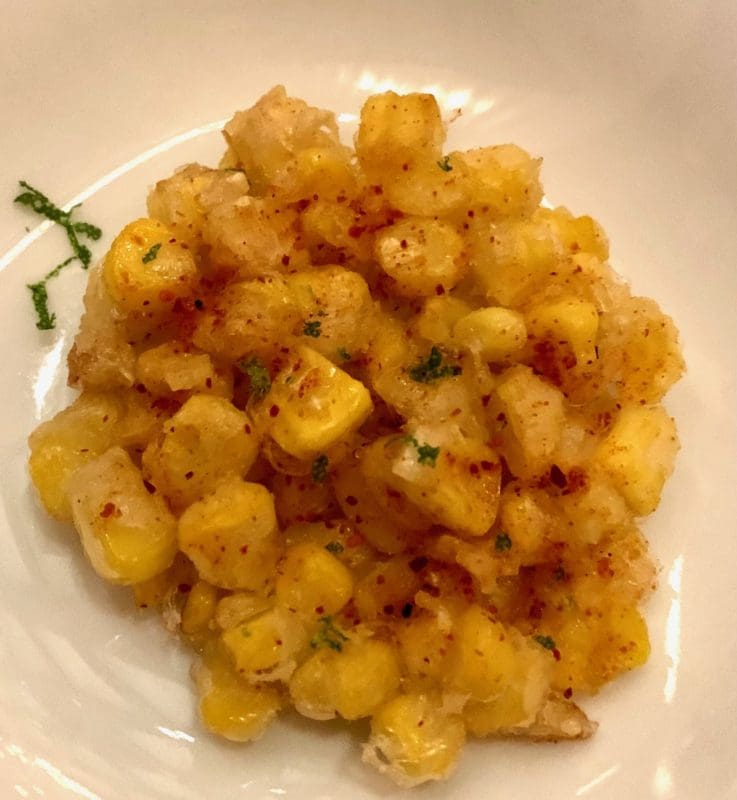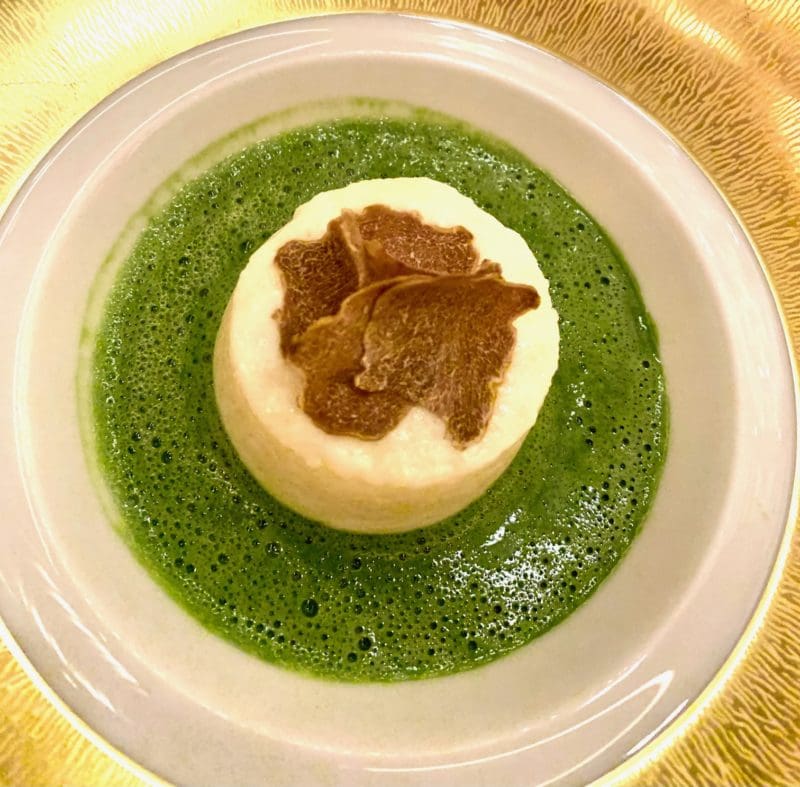 Heavenly cheese soufflé with spinach coulis and truffles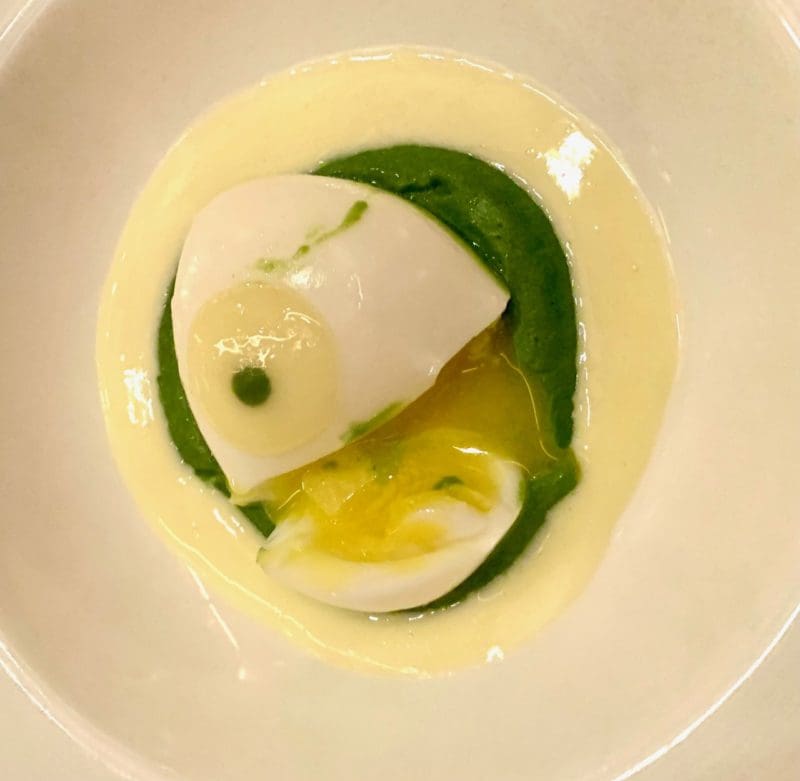 Soft boiled egg on a spinach purée with comté cheese sauce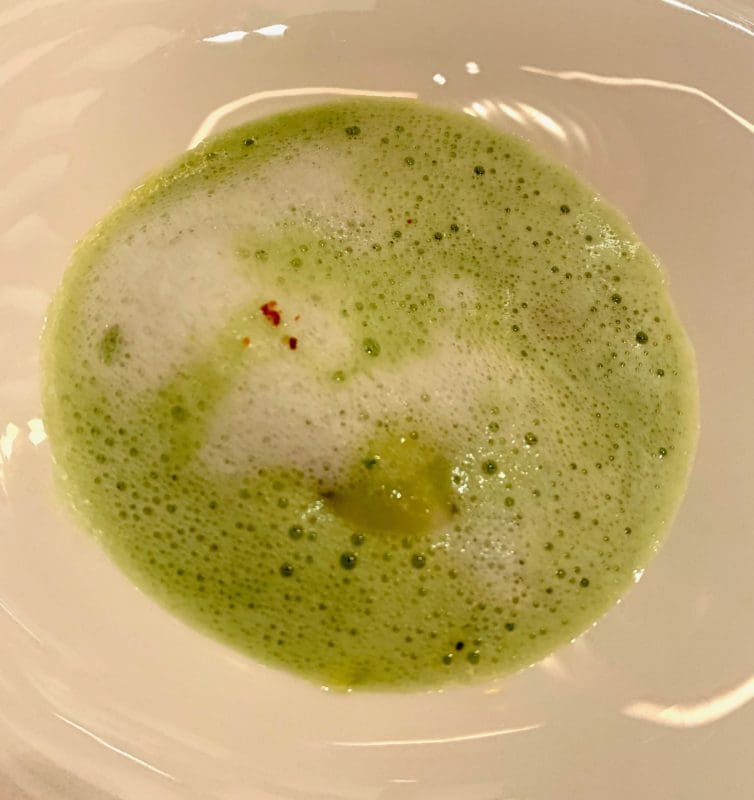 Lettuce Velouté, scallion flan and ricotta tortellini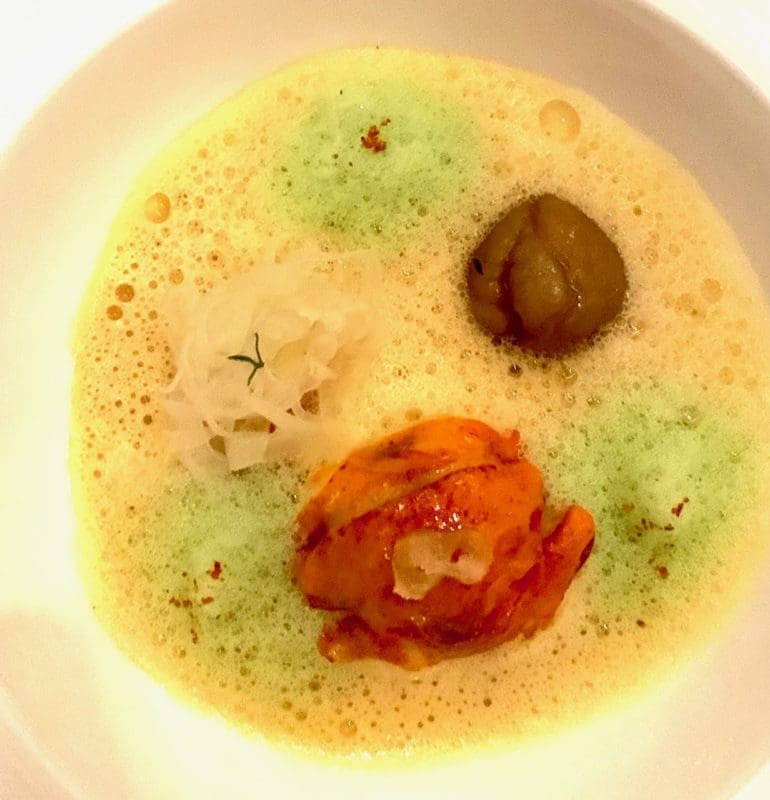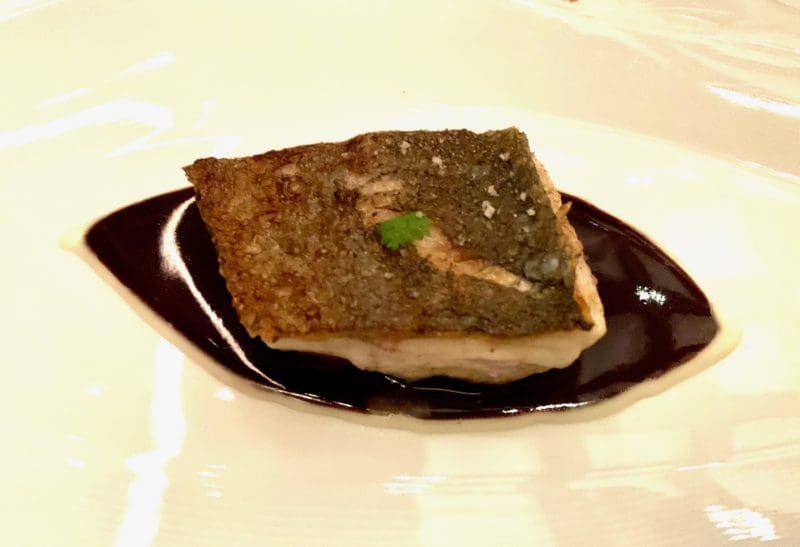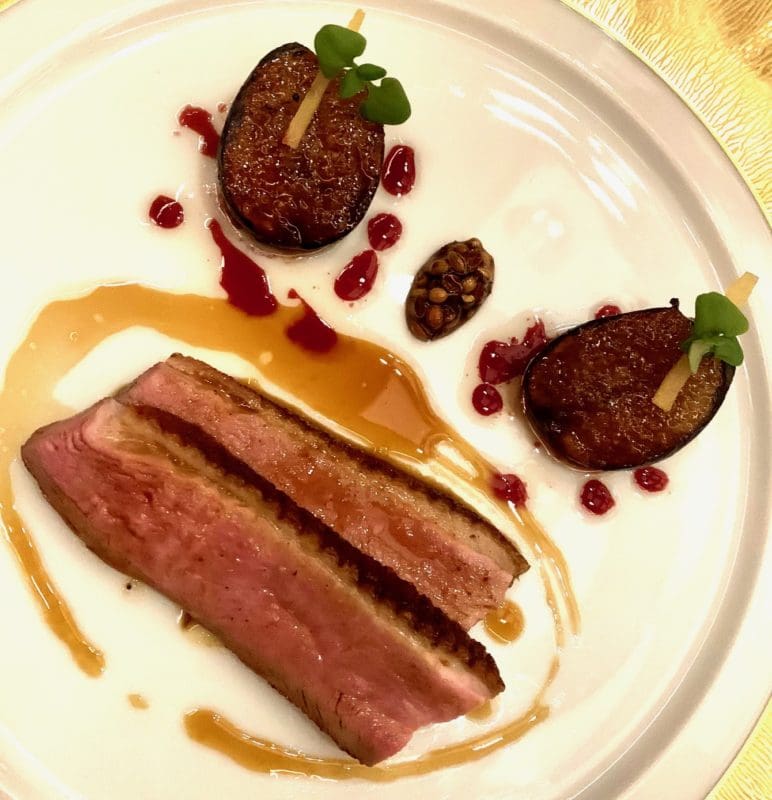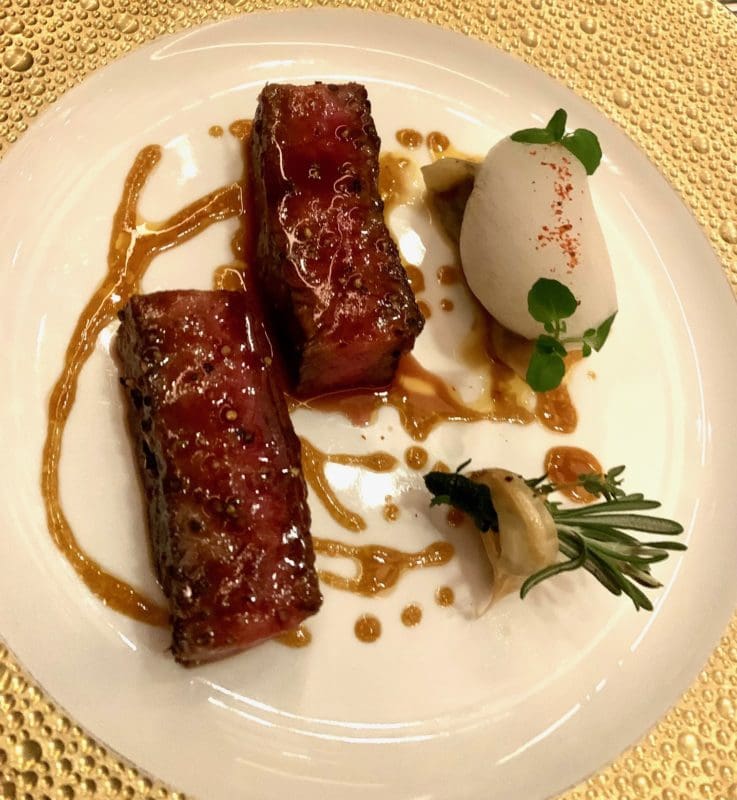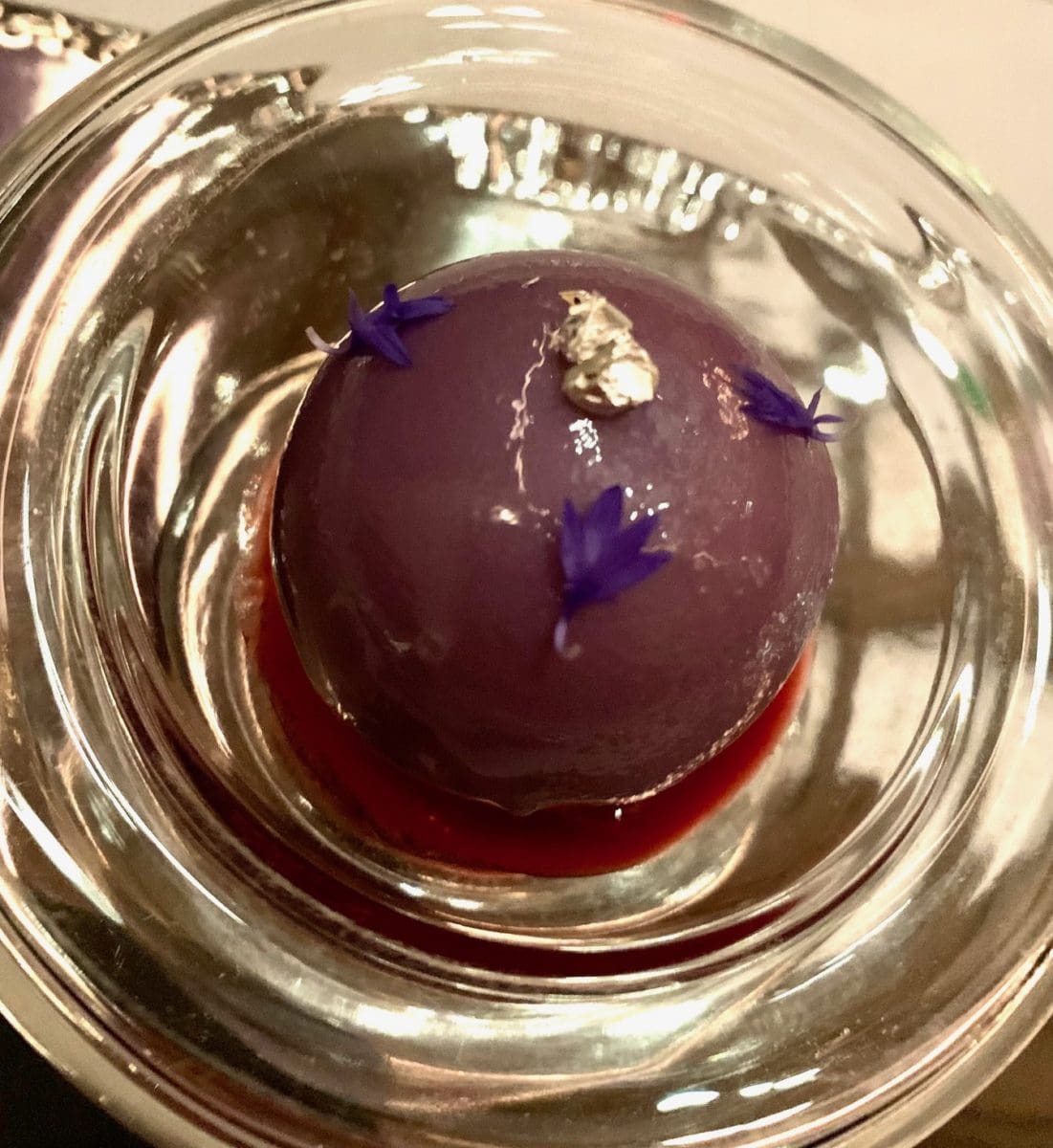 Blueberry confit, Kalamansi mousse and Tayberry sauce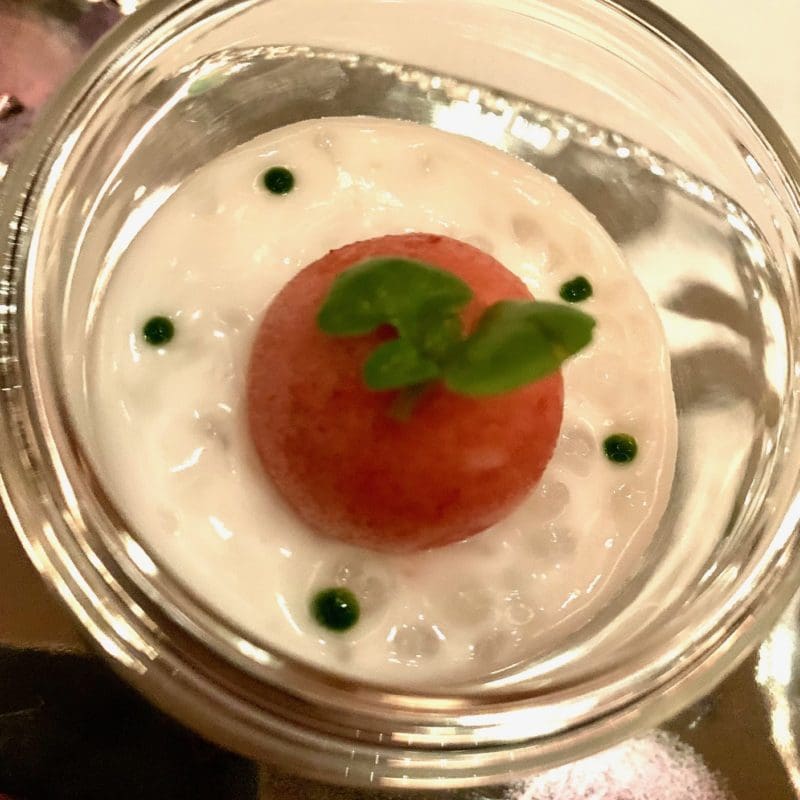 Harry's berries compote, coconut tapioca, basil oil and lime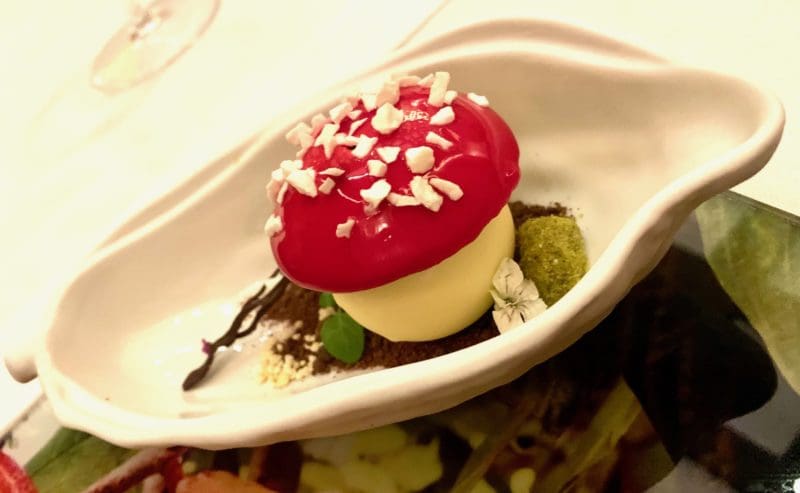 Chef's interpretation of the Black Forest. Cherry Mousse with chocolate cream and Kirsch chantilly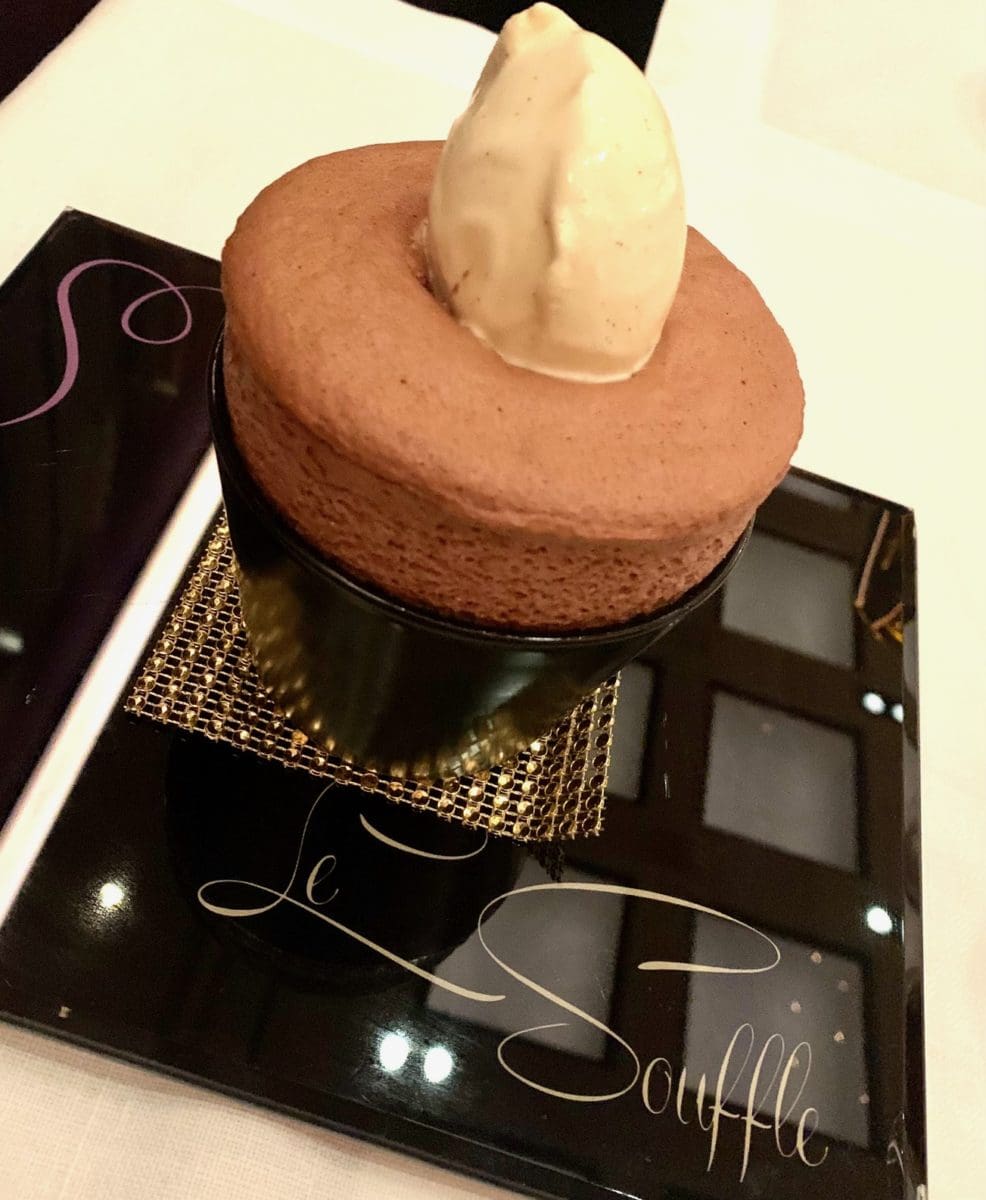 Bitter Chocolate Soufflé with Ice Cream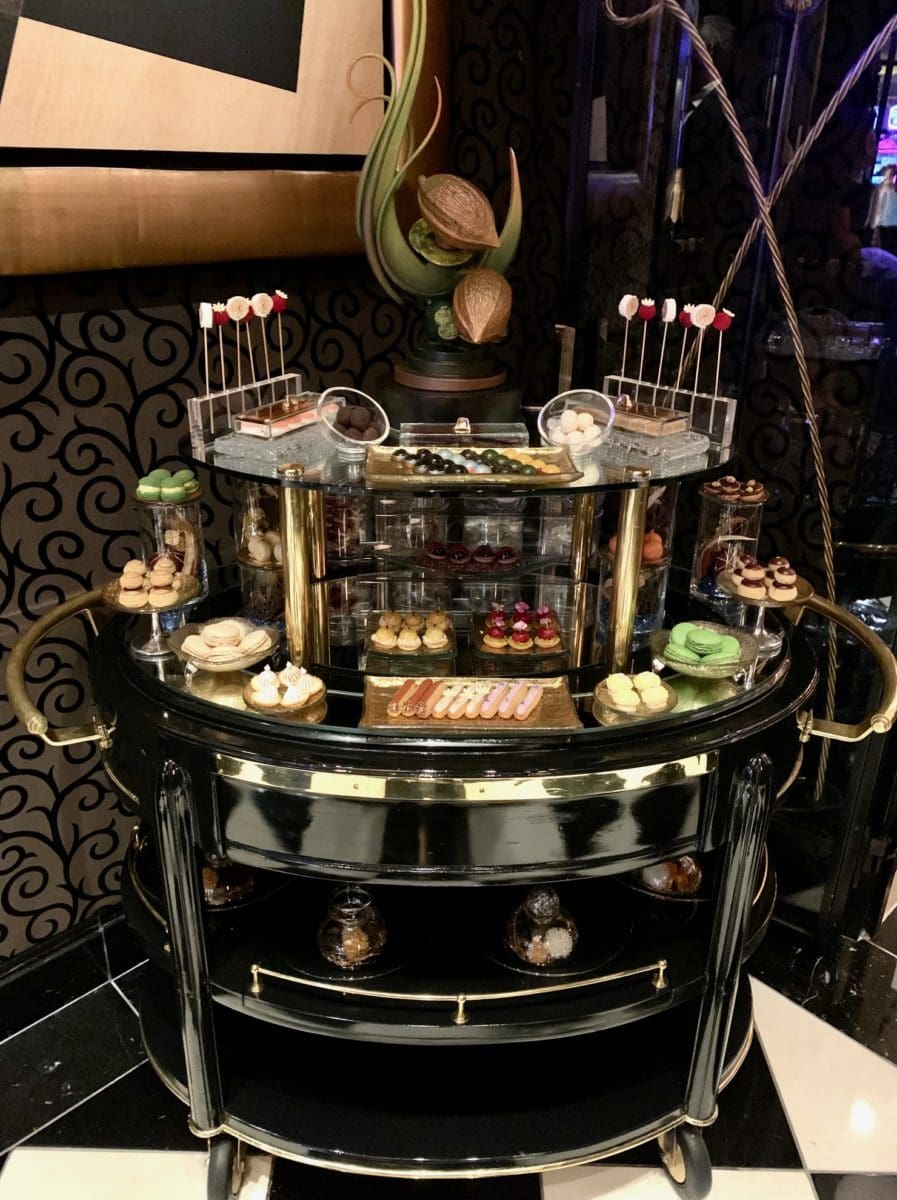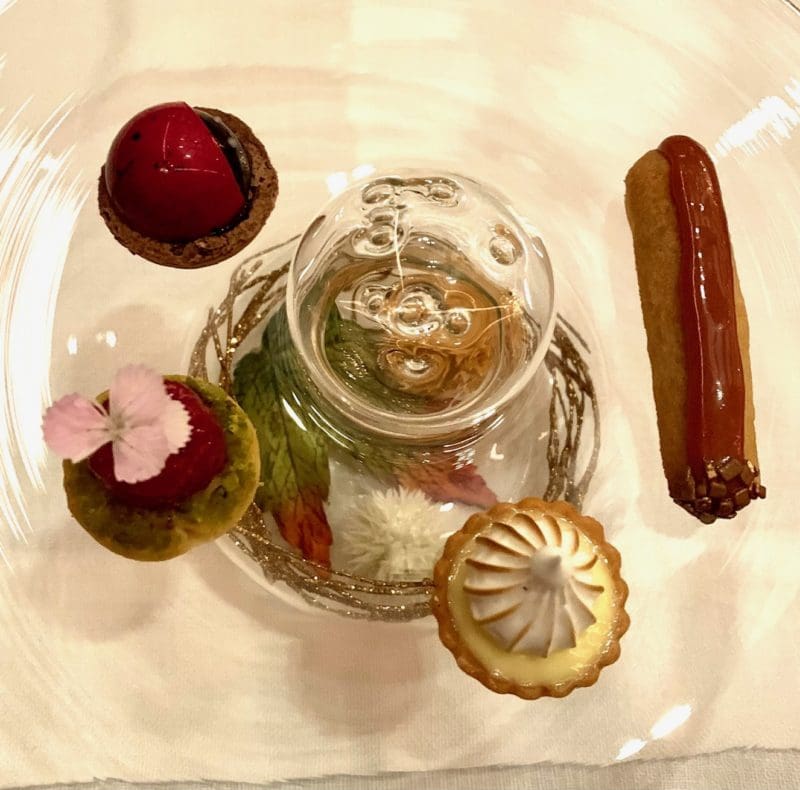 Our selections from the sweets cart.
Final Words
Chef Joël, the most awarded chef in the world with 32 Michelin stars, passed in 2018. His culinary empire spanned four continents and along the way he became the most lauded chef in the world. Of all the delicious food seen above, his best recipe might be his potato purée that I somehow failed to capture an image while dining. Many have declared it the most copied mashed potato recipe ever. Regardless, it was there as a side to the beef and duck, and it was magnificent.
The executive chef of Joël Robuchon – Las Vegas is Christophe de Lellis. He and his team honor the life and memory of Chef Robuchon with their outstanding cuisine.