Print
Marrow Butter
Making marrow butter ia an alternate method of enjoying roasted marrow bones. It's an easier and more versatile way to use the marrow, because it doesn't require trimming the bones and lasts longer when refrigerated. Spread it on crackers or toast, saute vegetables and mushrooms or pan sear a steak with it in lieu of regular butter.
If you are an adventurous eater and already know you like this delicacy, take a look at my marrow bones post.
How to Convert a Newbie
It's all in their head. The name and bones on a plate triggers their fight or flight response. To overcome this we make butter ahead of time, destroy all the evidence (the bones) and dispose of the trash. What's left is a pretty little crock of fatty goodness that looks very similar to real butter, mixed with herbs and seasonings. Looks harmless right?
I don't recommend misleading your guests. Fully disclose what this is, because it's all about trust and you do want to remain friends. The marrow butter looks good and almost anyone will be willing to take a small taste. Once they commit to that, it's game over and they will help you finish it off one toast point at a time.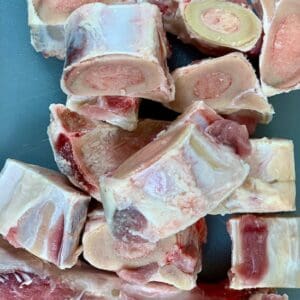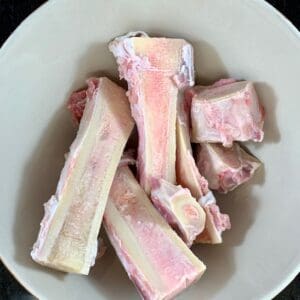 3

–

4

– 1 cup roasted bone marrow: 3-5 pounds of bones cut lengthwise, referred to as canoe cuts

1/4 cup

parsley -roughly chopped

1 tsp

thyme leaves
White bread – toasted with the crusts removed
Sea salt – to taste
Ground black pepper – to taste
Capers – on the side
Coarse sea salt – on the side
Fresh lemon – quartered
Instructions
Rinse and purge marrow bones in well salted water overnight in the refrigerator
Preheat oven to 425
Remove the bones from the water and pat them dry
Spread them on a baking sheet and roast for 12-15 minutes until the marrow begins to bubble
Remove and scrape the marrow into a blender or food processor
Add thyme, parsley and a pinch of salt
Pulse until liquified and mixed thoroughly
Taste and adjust seasonong with salt and pepper
Pour into a crock or individual serving containers
Refrigerate for 30 minutes until set
While waiting toast the bread, trim the crusts and quarter into points
Serve with toast points, coarse pepper, capers and lemon