Print
A Clockwork l'Orange
Make a clockwork l'orange with two parts cognac and flavor it with dry curacao, orange marmalade and cardamom. Combine that with egg white and you have a velvety smooth cocktail that will  have you singing in the rain.
The Film
The groundbreaking 1971 Stanley Kubrick film was banned in Britain because it spawned copycat criminals. Alex and his gang spoke their own language, committing violent crimes while singing Broadway musicals and listening to Beethoven. The dystopian alternate reality depicted through the eyes of an evil teenage hoodlum was something one thought would never become reality.
Author Anthony Burgess uses a sweet, colorful orange and the mechanics of clockwork as a metaphor for a human brainwashed by the State. Thankfully, the only thing our drink has in common with the film is the name, or is it?
A Clockwork l'Orange
This delicious mind altering substance will soothe the fury of your inner beast. Now my Droogs, follow the lead of a starry glazer and repeat after me…
I need A Clockwork l'Orange, I want A Clockwork l'Orange, I will have a Clockwork l'Orange!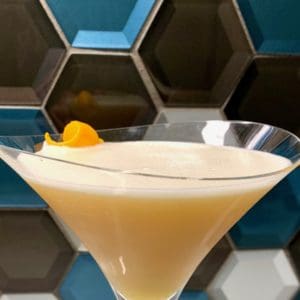 1

fresh egg white

1/2 oz

orange juice
A heaping bar spoon of orange marmalade

1/2 oz

Pierre Ferrand dry curacao

2 oz

Pierre Ferrand reserve cognac

1

dash cardamom bitters
Orange twist – garnish
Instructions
Separate the egg white into a shaker tin
Add the marmalade, then orange juice,dry curacao, cognac and bitters in that order
Dry shake vigorously for 15 seconds (100 shakes)
Add a scoop of ice (4-5 cubes) and shake until chilled
Strain and pour into a cocktail glass
Garnish with an orange peel twist
Notes
We add the least alcoholic components to the egg white first. This avoids "cooking" the egg as an acidic component will cook the shrimp or fish in ceviche.