Alinea in January
When the wind is howling off lake Michigan, Chicago is a very cold place and especially so this year. Freezing temperatures far below normal arrived with a polar vortex. Who in their right mind planned an excursion there in the dead of winter? I did and great salesman that I am, persuaded three friends to go with me. The lure was an opportunity to dine at Alinea. The three Michelin star flagship of chef Grant Achatz was ranked best in the world 2016. With amazing, imaginative food and theater in equal measure, it's a highly sought ticket.
Reservations
Six months earlier while vacationing in Chicago I tried to snag tickets. Despite herculean efforts it was like chasing the end of a rainbow. I couldn't manage it then, but that strengthened my resolve to dine there. I set upon a mission and last January it came to fruition.  Two months earlier I sat in front of my computer counting down the seconds until tickets were on sale. Every few seconds I would click to test if the site where reservations were sold was live. Finally, the reservation calendar popped up and I selected our seats. Then we began the wait.
The Venue
The nondescript exterior belies the wonderland within and when we entered the restaurant, it was immediately apparent this was going to be special. Our communal table was elaborately decorated under red lighting. A pair of stuffed fighting pheasants were the centerpiece and a silver cloche awaited each of us.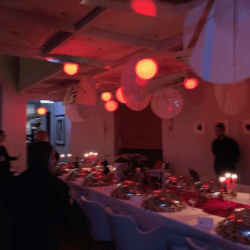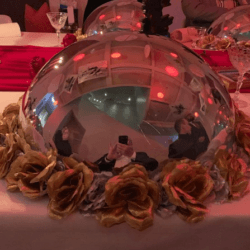 Opening Act – Communal
Oyster, Beet, Caviar, Snail and Leek
Francis Rousset-Martin Clos De Trus Sauvignon, Cote De Jure, France 2015
Our first taste was hidden in plain sight. Disguised as a holly leaf it was right in front of me, a hint of things to come. The waitstaff pressed the top of the cloche, the interior lit and you could see the first course atop our plates.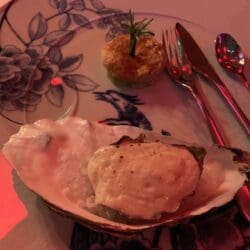 Act II – Kitchen
Sweet Potato, Bell Pepper and Pocket Pepperoni Puff with Fennel and Basil
Tequila was dispensed from the dry ice fountain in the kitchen. We were amazed by how quietly and efficiently the kitchen staff worked. No frantic hustle and bustle, no noise or shouting, just determined execution of each station's duties.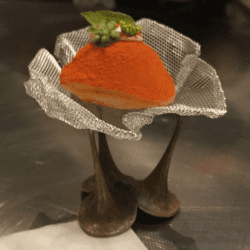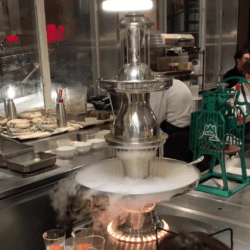 Act III – White Room
Arctic Char, Roe, Coconut, Lychee with White Pepper
Veuve Cliquot Demi-Sec Champagne, Reims, France
As the name implies, while we were in the kitchen, the main dining area was transformed into a modern, brighter room with white decor. The ceiling lighting was accented with original artwork that would play a role later in the evening.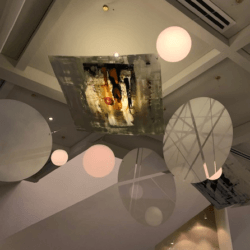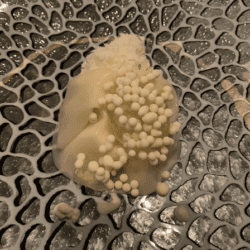 Act IV – Kaeng
Scallop, Mustard and Chili Skin
Albert Boxler Reserve Pinot Gris Alsace, France 2015
A conceptually stunning presentation of crunchy noodles made of scallop with yellow curry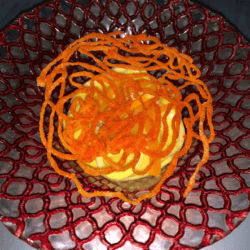 Act V – Lemongrass Makrut Lime Glow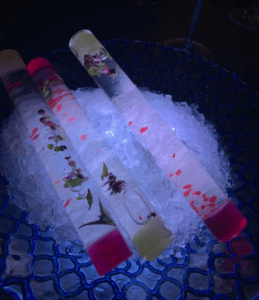 Act VI – Crunch and Paper
Rouille, Nori : Langoustine, Bouillabaisse with Olive Oil
Bernard Moreau Chassagne-Montrachet Burgundy, France 2016
Act VII – Ink
Octopus, Scallion and Black Lime
Turley "Dusi" Zinfandel, Paso Robles, California 2016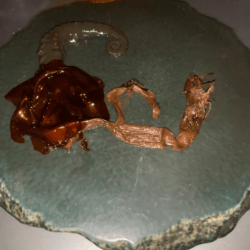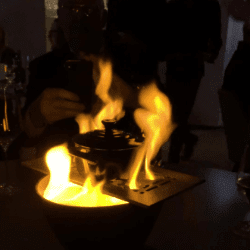 Act VIII -Tail and Juniper Tea
Pork, Trumpet Royale, Huckleberry Branch, Maitake, Acorn
Mayacamas Vineyards Merlot, Mt. Veeder, Napa, California 2014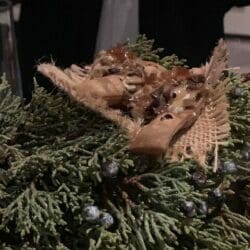 Act IX – Bubbles
Yuzu, Shiso and Myoga
Japanese fruit and herb garnished with Japanese ginger and the texture of a rice krispie treat.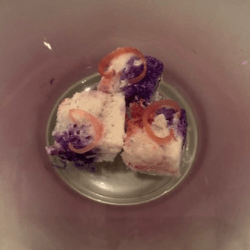 Act X – Rossini
Wagyu Beef, Frites, Mayonnaise
Chateau Musar Cabernet Sauvignon, Bekaa valley, Lebanon 1999
The course is named after the famous composer and accompanied by his music. Fittingly regal for the expertly prepared beef.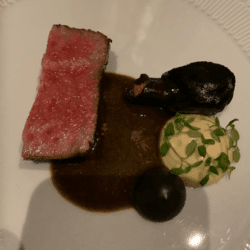 Act XI – Ear
Woodear, Foie Gras and Truffle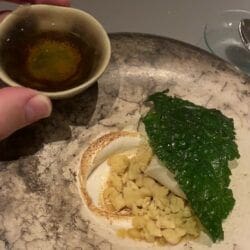 Act XII – Transition
Yam, Delice and Apricot
Massinez Golden 8 Williams Pear Liqueur, Alsace, France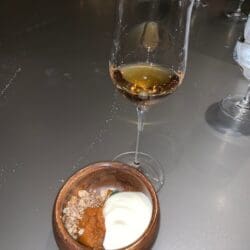 Act XIII – Wood
Hoja Santa and Tamarind Flavored Chocolate
Cruz de Fuego, "Tepexate" Santiago Matatlan, Oaxaca, Mexico Distilled 2017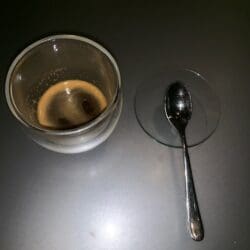 Act XIV – Nostalgia
Popped Caramel. Not your everyday popcorn.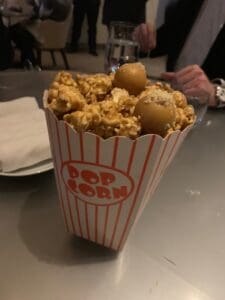 Act XV – Liquid Balloon
Helium and Green Apple
We bit and inhaled the helium, then spoke like Daffy Duck. Business as usual for my friend Charley.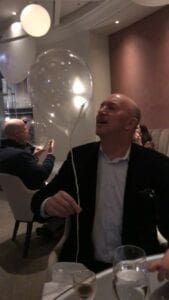 Final Act – Paint
Carrot, Cider, Cranberry and Maple
Cantina Buglioni, "Il Recioto" Recioto Della Valpolicella Classico, Veneto Italy 2011
The staff reteieved our "plates" from the light fixtures, then as a fire-breathing monster spewed flames and smoke into the room with music from hip-hop artist Childish Gambino, the servers painted our dessert.