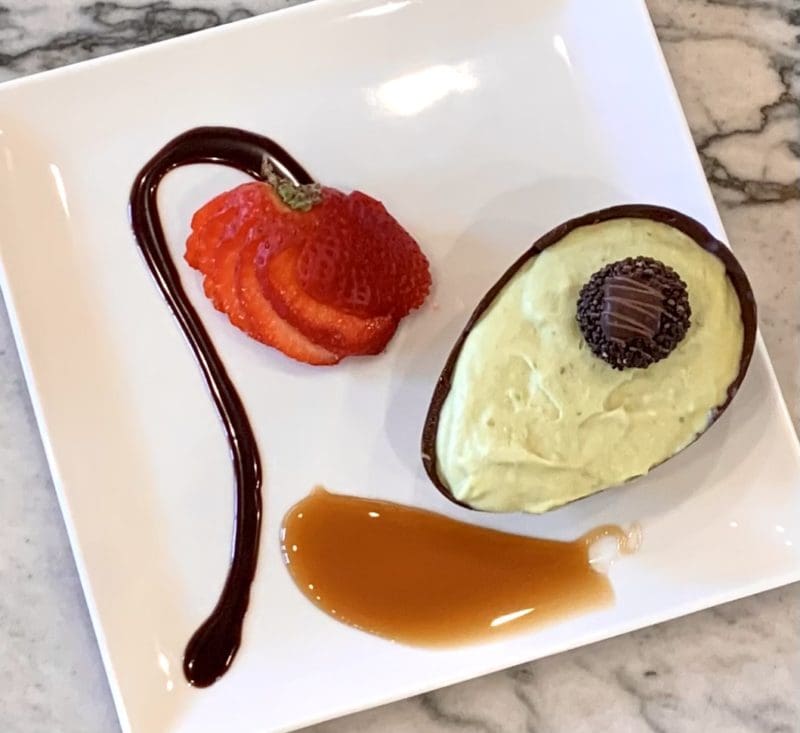 Dining at Seviche in Louisville, Kentucky introduced me to avocado ice cream more than a decade ago. It was delicious, but faded from memory until recently. While visiting Santa Fe, it appeared on the menu at Sazon as chef Fernando Olea's signature dessert. It too was delightful and reminded me of my first taste years earlier.
That led me to research and develop a recipe I could make at home. It became the ultimate course at Nuestra Cena Latina, our Latin dinner party.
Alternate Presentations
The first shown above is inspired by chef Anthony Lamas. It's a re-creation of an avocado using a chocolate shell and truffle for the "pit". Plated with bourbon chocolate sauce, caramel sauce and a sliced, fanned strawberry creates a decadent dessert.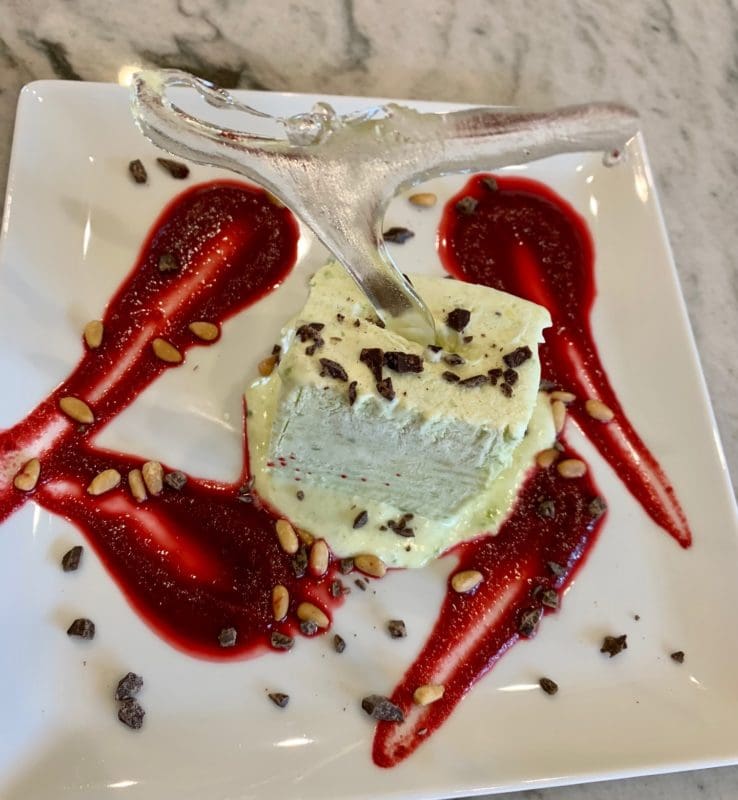 The second inspired by chef Olea presents cubed ice cream plated with raspberry jam, toasted pine nuts and cracked chocolate with a whimsical sugar medallion atop the ice cream.
Step by Step
Making ice cream doesn't get any easier than this!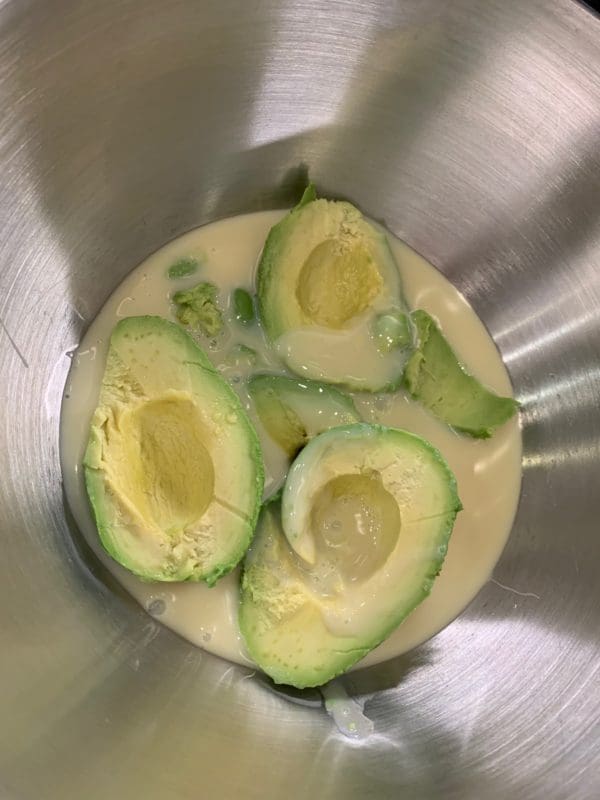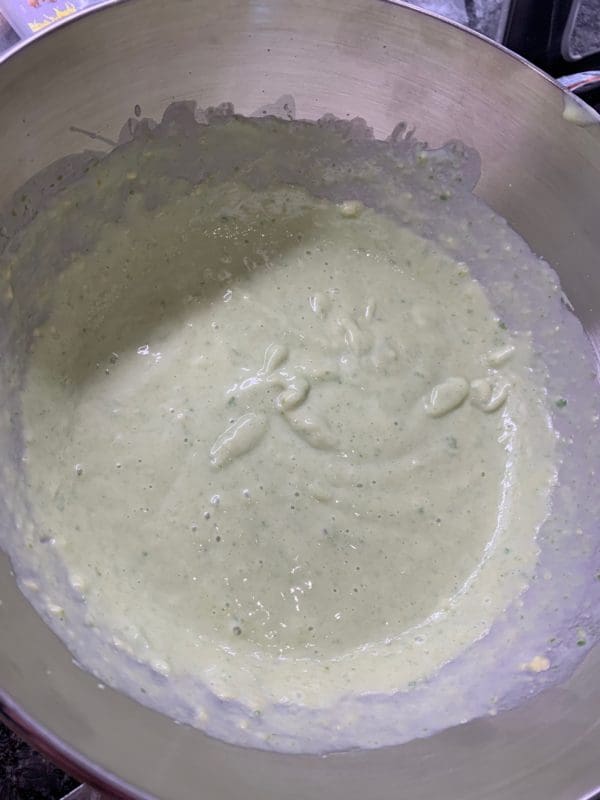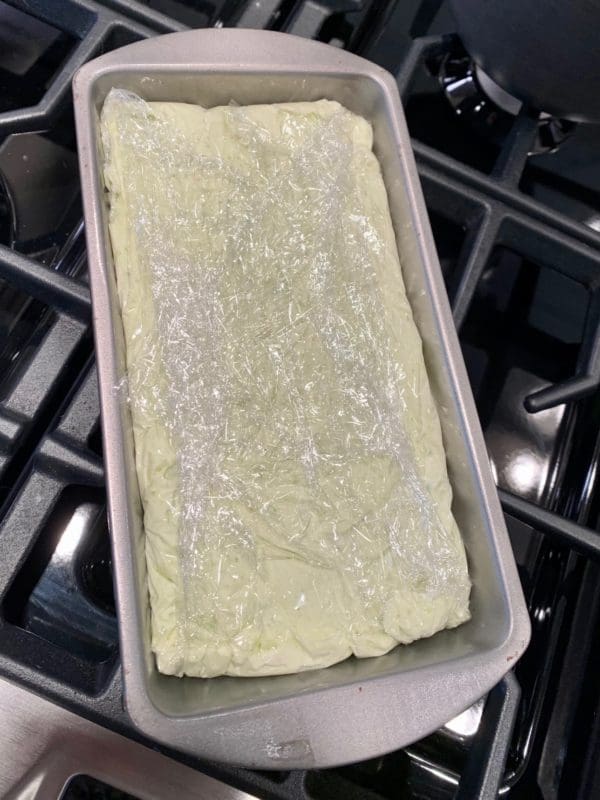 Print
Avocado Ice Cream
A Traditional Latin American Dessert
Ice Cream
2

ripe avocados

1 cup

condensed milk

1

lime – juice and zest

1 tsp

fresh ginger – micro-planed

1 cup

heavy cream

3

drops green food coloring
Raspberry Presentation
Raspberry jam

1/3 cup

pine nuts – toasted

1/4 cup

cracked chocolate pieces

6

sugar medallions – optional
Chocolate Avocado Presentation
6

chocolate truffles

16 oz

semi-sweet chocolate chips – for the "avocado" shells

6

strawberries
Bourbon chocolate sauce
Caramel sauce
Instructions
Prep
A: Raspberry: Line a 8-1/2 X 11 X 4-1/2 meatloaf pan with plastic wrap, leaving enough overhang to completely cover before freezing
B: Avocado: Prepare 6 semi-sweet chocolate half "avocado" shells with a large egg mold and freeze them
Ice Cream
Chill a large metal mixing bowl in the freezer overnight
Place the heavy cream in the freezer when you begin
Place the avocado flesh and condensed milk in the mixing bowl and mash with a fork or potato masher to smooth the largest lumps
Add the lime juice, zest, ginger and food coloring
Begin mixing on low and increase to medium with a whip attachment until you have a smooth, homogenous mixture
Add the cream and continue mixing on high to introduce some air and you once again have a homogenous mixture
Finishing
A: Pour the ice cream into the prepared pan, smooth and cover with the plastic wrap. Freeze for about 4 hours
B: Fill the chocolate avocado shells and freeze for about 4 hours
Serving
A: Remove from freezer, cut into cubes and allow to thaw at room temp for 5-10 minutes to soften. Plate, sprinkle with pine nuts and chocolate, insert sugar medallion into top
B: Plate, allow to soften 10 minutes, place a half truffle atop each "avocado" and add dollops of caramel and chocolate sauce with a sliced, fanned strawberry for garnish