Print
Steakhouse Baked Potato
You might ask why a baked potato merits a post of it's own, because doesn't everyone already know? Making one can be deceptively easy, but there's a lot of science going on in there. Moisture turns to steam, oils cook on the surface and heat penetrates to cook the vegetable center. Easy yes, simple no.
Perhaps you learned how to bake a potato as I did by watching mom.  You know, the kind that took an hour and a half to bake, then you eagerly slice it open to eat the fluffy centers, leaving the limp, soft skins for the trash. We never knew what we were missing.
Discovering a Better Way
Once upon a time we were posted by my employer near New York City and we frequented Manhattan every chance we had for dining and entertainment. While there one cold winter evening, we chose to dine at a rink-side restaurant at Rockefeller Plaza. It was an idyllic setting. Snow flurries falling while watching the skaters, some with amazing ability, fly on the ice. I have long since forgotten the restaurants name, but I never forgot the baked potato that accompanied my steak that evening.  I'm going to tell you why it was so special.
It had crispy skin, but was fluffy on the inside. The skin was seasoned and you got the occasional burst of salty flavor similar to what you get with a french fry. Eating a little of the skin with each bite added texture and contrast to the creamy center, elevating it far above what I was familiar with.
Mom baked potatoes at 350, wrapped in aluminum foil. The low temp took longer to cook and the foil held in moisture. You ended up with a steamed potato and hopelessly limp, unappealing skin. It was never oiled, buttered or seasoned either, and we never considered eating the skins.  I missed out for most of a lifetime.
I learned how to recreate that fantastic steakhouse menu spud and here's my foolproof method how to do it.
 1 Idaho russet potato – blemish free

4

TBL salted butter
Flaky margarita salt

1

strip bacon – fried crisply and chopped – garnish

1

green onion – top only, sliced thinly – garnish
Sour cream – garnish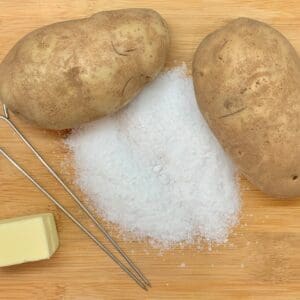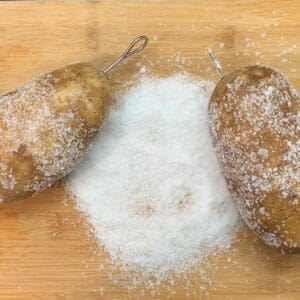 Instructions
Preheat the oven to 420 degrees
Begin with an Idaho Russet Potato and be picky. Choose only plump, well-formed spuds
Scrub the potatoe(s) without puncturing the skin, pat them dry and let them rest until the moisture has completely evaporated. Wet potato skins will not crisp properly
Skewer each potato lengthwise with a stainless rod. This promotes faster, even cooking and prevents potato explosions. Yes. It's a thing.
Coat the potatoes in butter and then generously roll in margarita salt. Press it in.
Place them on a center rack of the oven and bake for 60 minutes
Remove from oven and carefully remove the hot skewers
Slice through the top, press the ends together using  heat resistant mittens to plump them open
Use a fork to fluff the interior and fill with butter. Don't skimp on the butter!
Garnish with bacon bits, green onion and sour cream