Print
Bananas Foster
Bananas Foster is an iconic dessert of bananas and vanilla ice cream smothered in a caramelized butter-rum sauce. It was invented in 1951 at Owen Brennan's Restaurant Vieux Carre'when Owen's wife Ella, and chef Paul Blage collaborated to create the dish. It was later popularized at Brennan's in the French Quarter and the demand is so strong that today, they use 35,000 pounds of bananas annually.
The Big Banana's Foster Show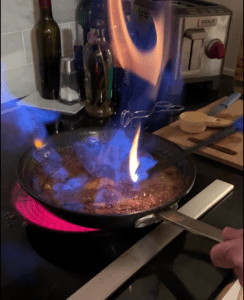 There's nothing better than table-side service, but when you add a flambe' it turns into a real show-stopping performance. This was the finale of the French Creole dinner party, and like the patrons of Brennan's, my guests reveled in the show and taste.
Anyone can easily make this at home and I gah-rone-tee your family and guests will love it too!
1/2

stick butter

1 cup

dark brown sugar

1/2 tsp

ground cinnamon

1/4 cup

banana liqueur

1/4 cup

dark rum

4

bananas – sliced lengthwise and halved

4

scoops vanilla ice cream
Instructions
Slice and reserve your bananas
Sift the brown sugar and add the cinnamon
Melt the butter over medium heat in a flambe pan
Add and combine the sugar-cinnamon to the butter and stir constantly until it dissolves
Stir in the banana liqueur and add the bananas
When the bananas begin to soften and lightly brown, add the rum
When the rum is bubbling hot, ignite it with a long handle lighter
Let burn until the flames subside, then turn off the heat
Scoop your ice cream into the bowls, add a banana and generously spoon the sauce over each portion
Serve immediately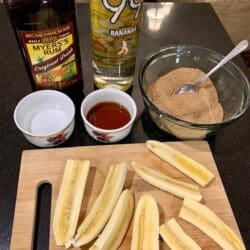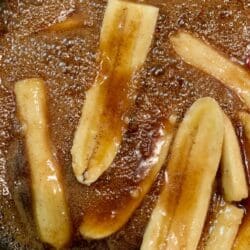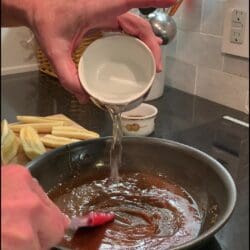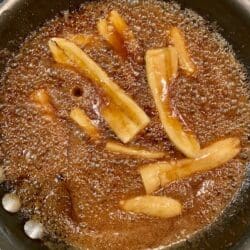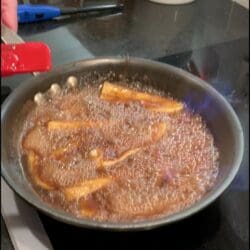 And just one more thing…
A flambe can soothe our inner primal instinct to play with fire but be careful, don't burn your house down!