If you guessed Bazaar Meat – Las Vegas is a temple for carnivores, you are correct. Genuine Kobe, Japanese beef, Texas wagyu, Spanish jamon iberico bellota, bison, suckling pig, lamb and chicken are all here. A raw bar, Jose's modernist apps, sides and desserts complete the picture.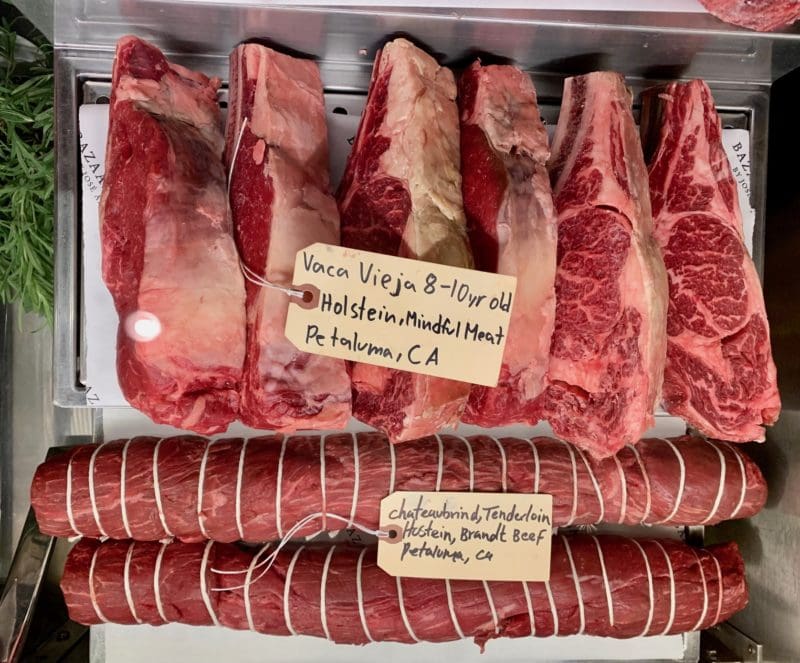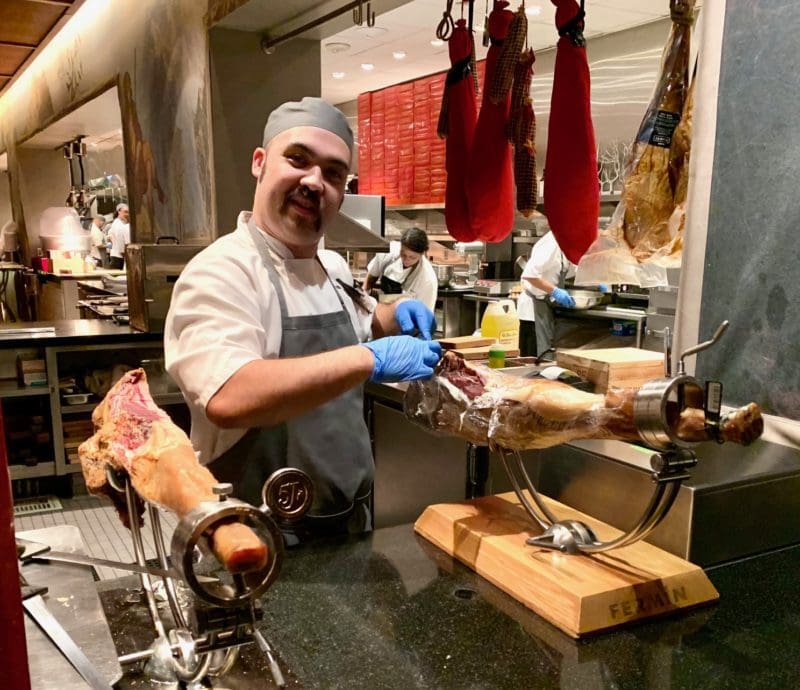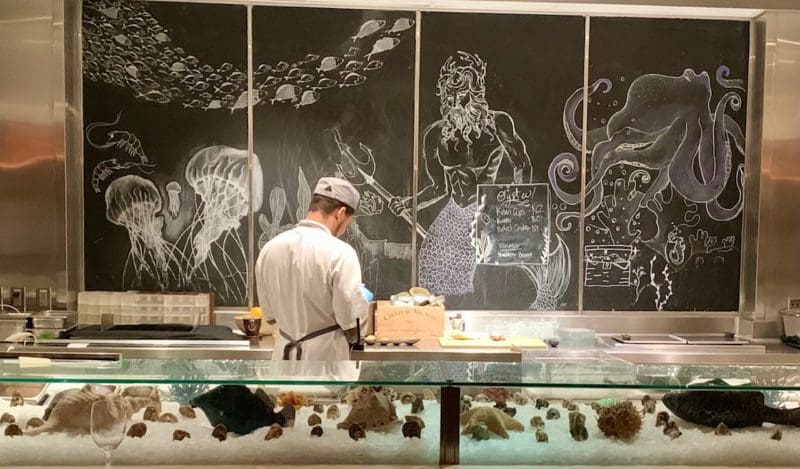 Dinner at Bazaar Meat – Las Vegas
I pre-planned our eagerly anticipated dinner months ago, using the on-line menu. Meat captain Sunday Ayaji introduced himself and while we enjoyed a pre-dinner cocktail talked us through our options. Then everything changed. We let Sunday choose for us and it began a continuous stream of tastings for the next two and a half hours.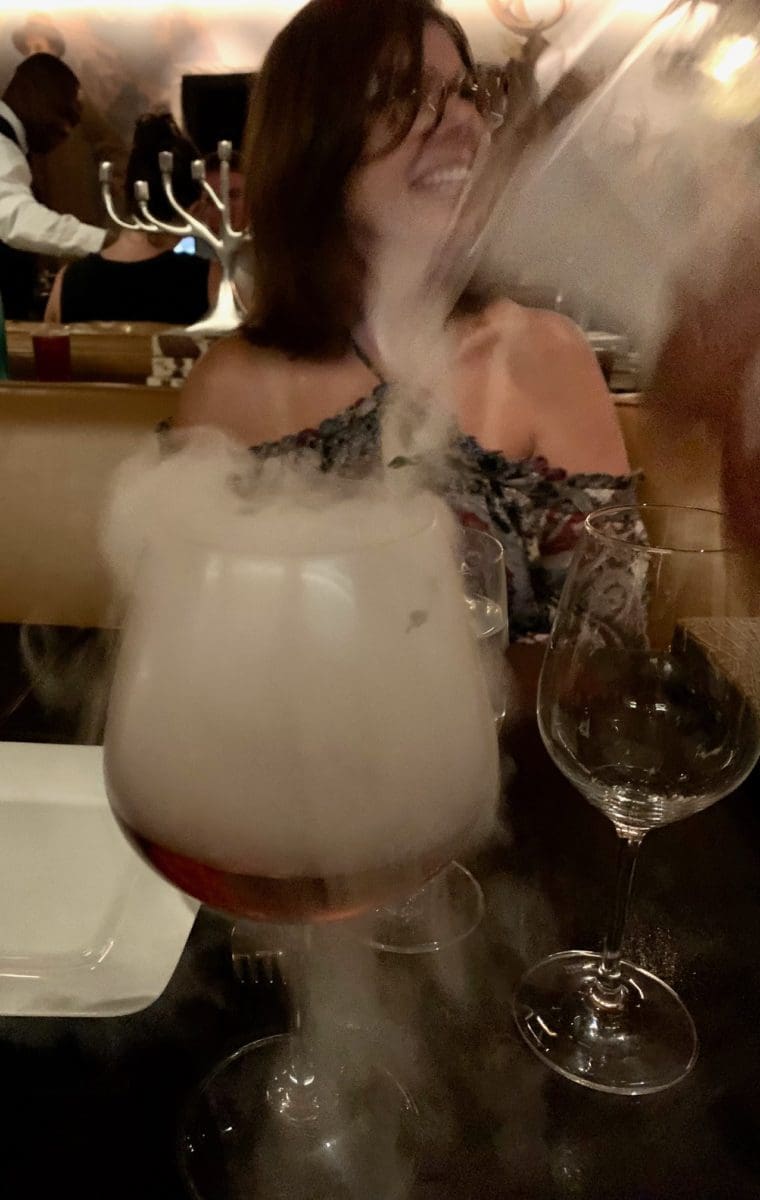 A Foggy Hill Negroni with mezcal, aperol, cynar and sweet vermouth delighted our eyes and taste-buds!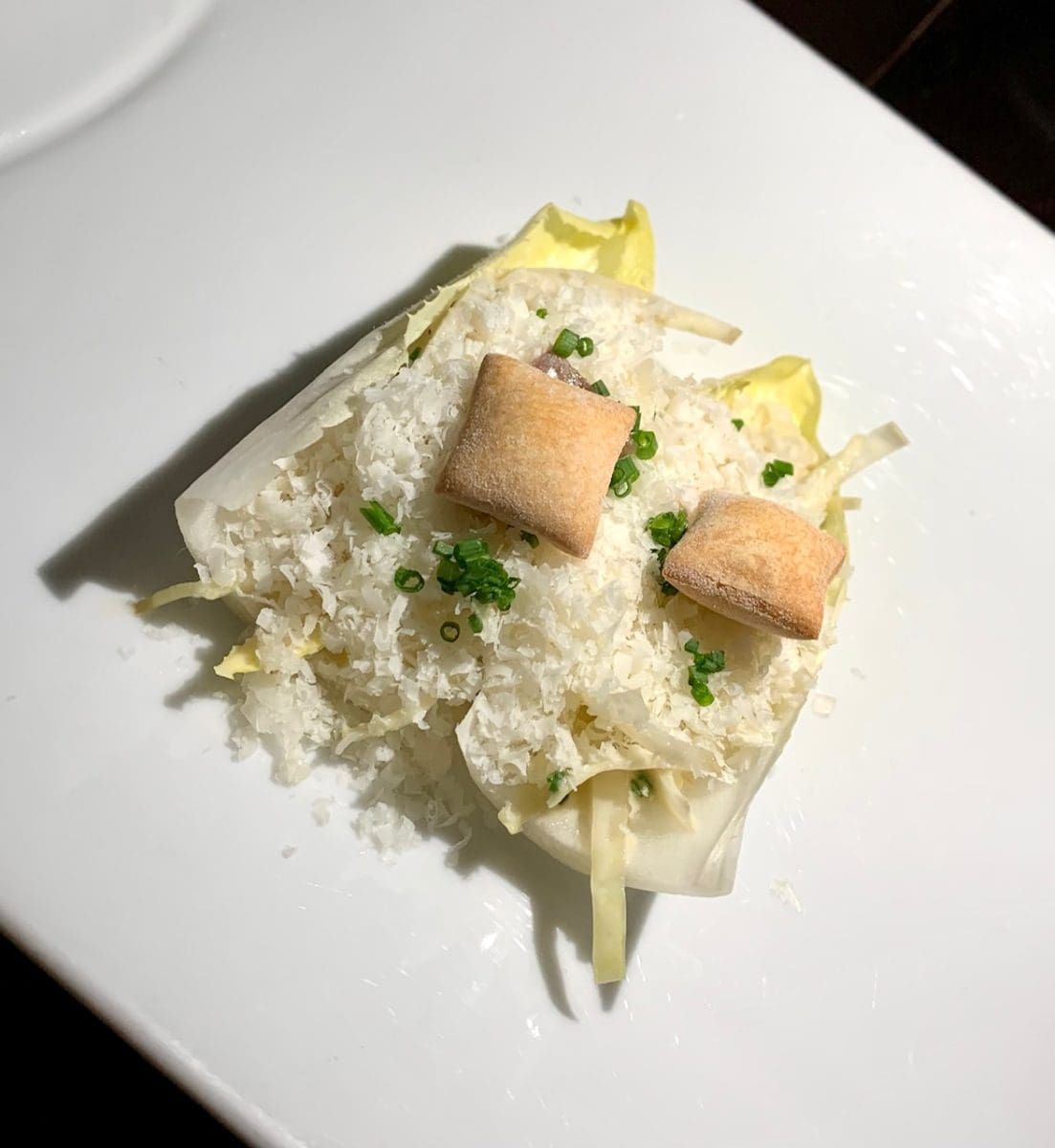 Caesar Salad with parmesan, anchovy, chive and air croutons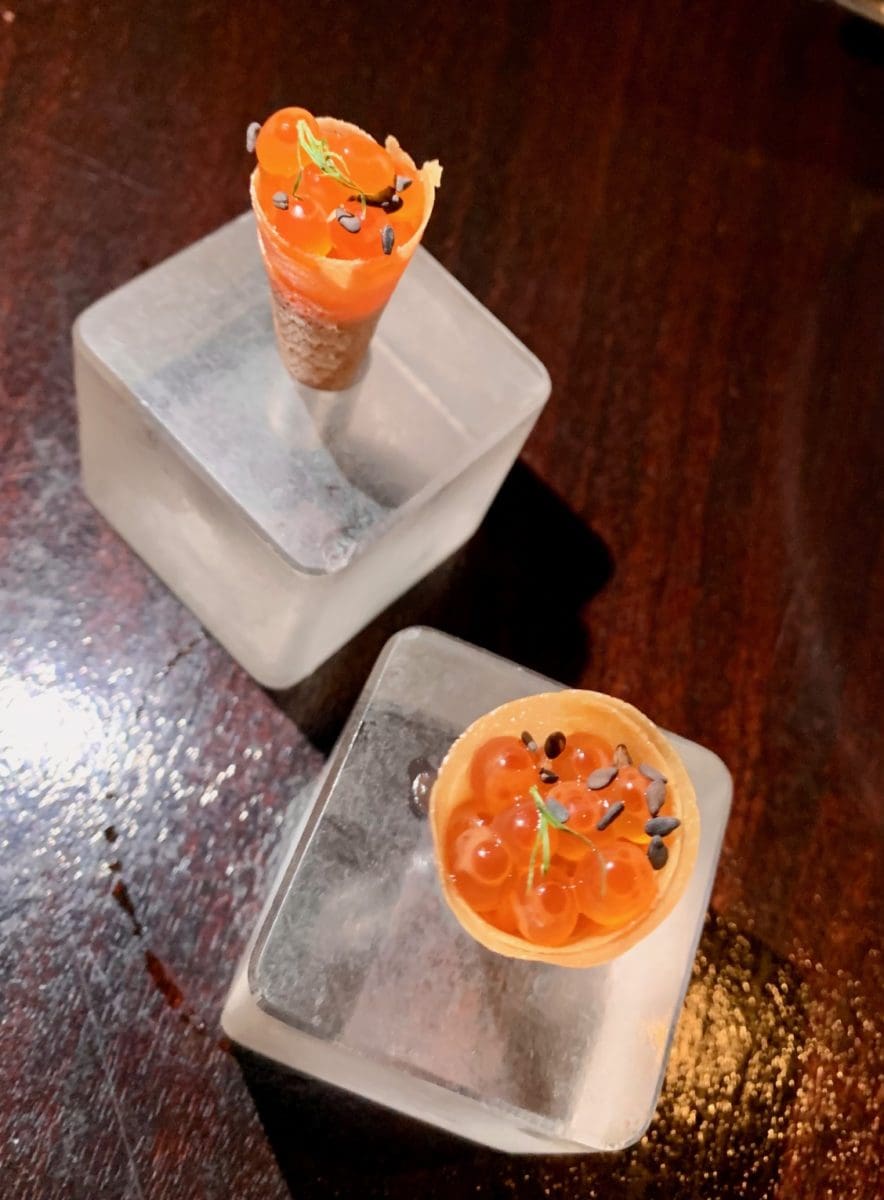 Bagels and Lox Cones with dill cream cheese and salmon roe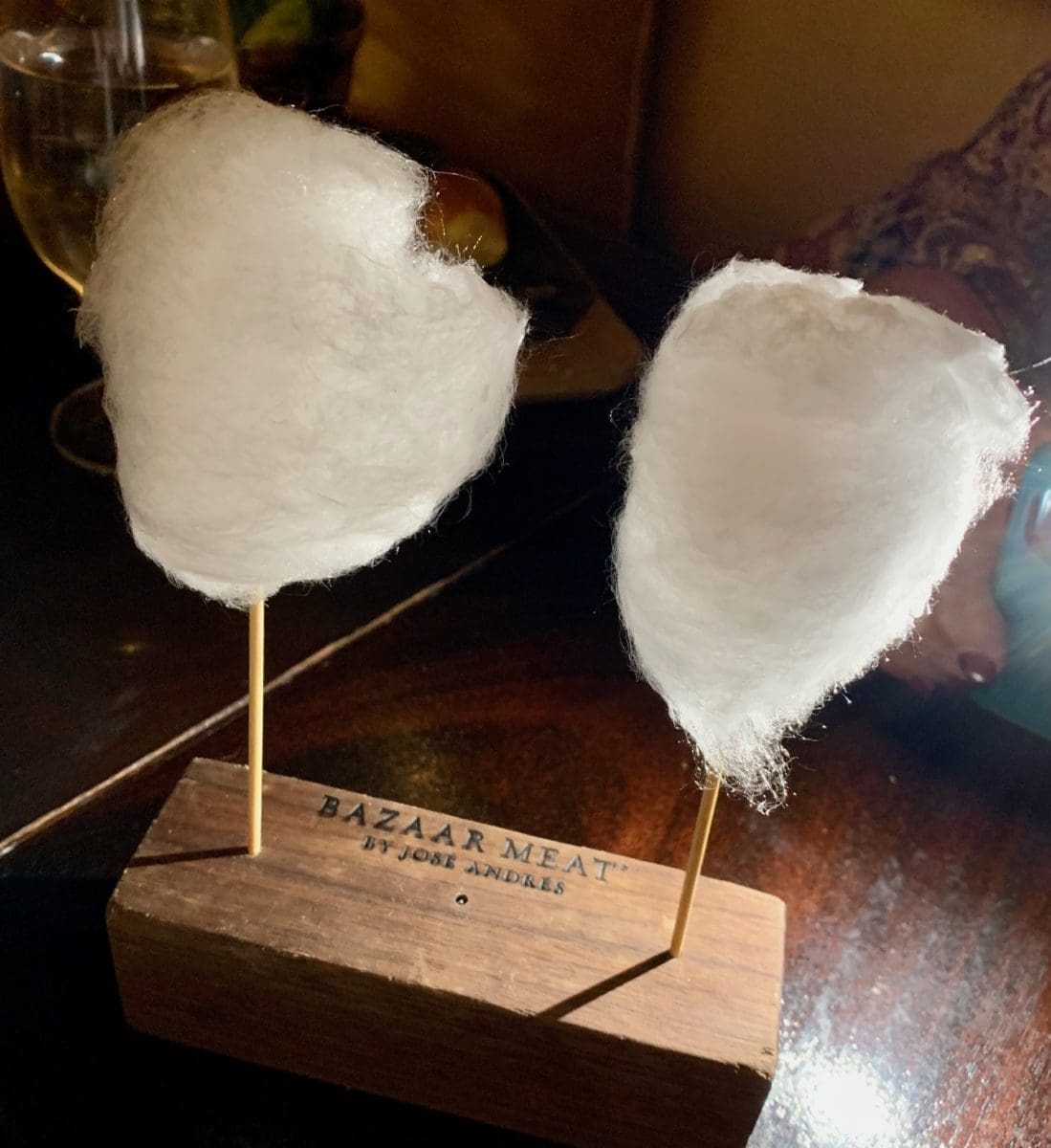 Cotton Candy and Foie Gras, what a combination! Yes, the foie gras is wrapped in cotton candy.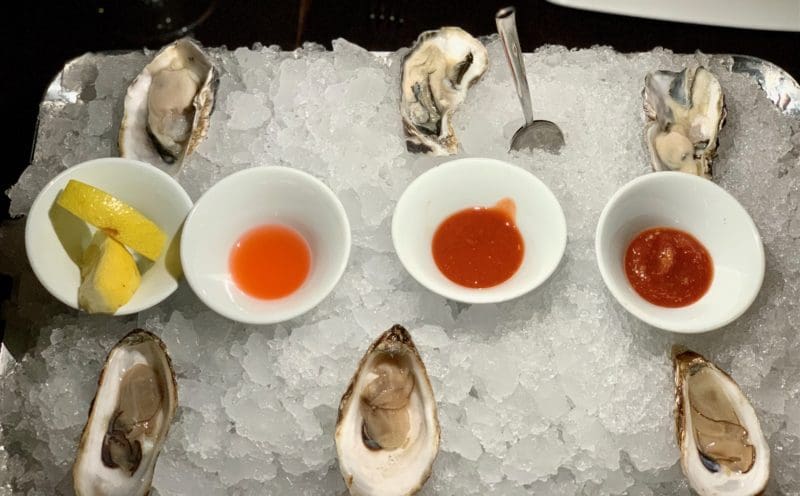 Fresh Naked Cowboy Oysters from Long Island Sound with apple mignonette, chili and cocktail sauces.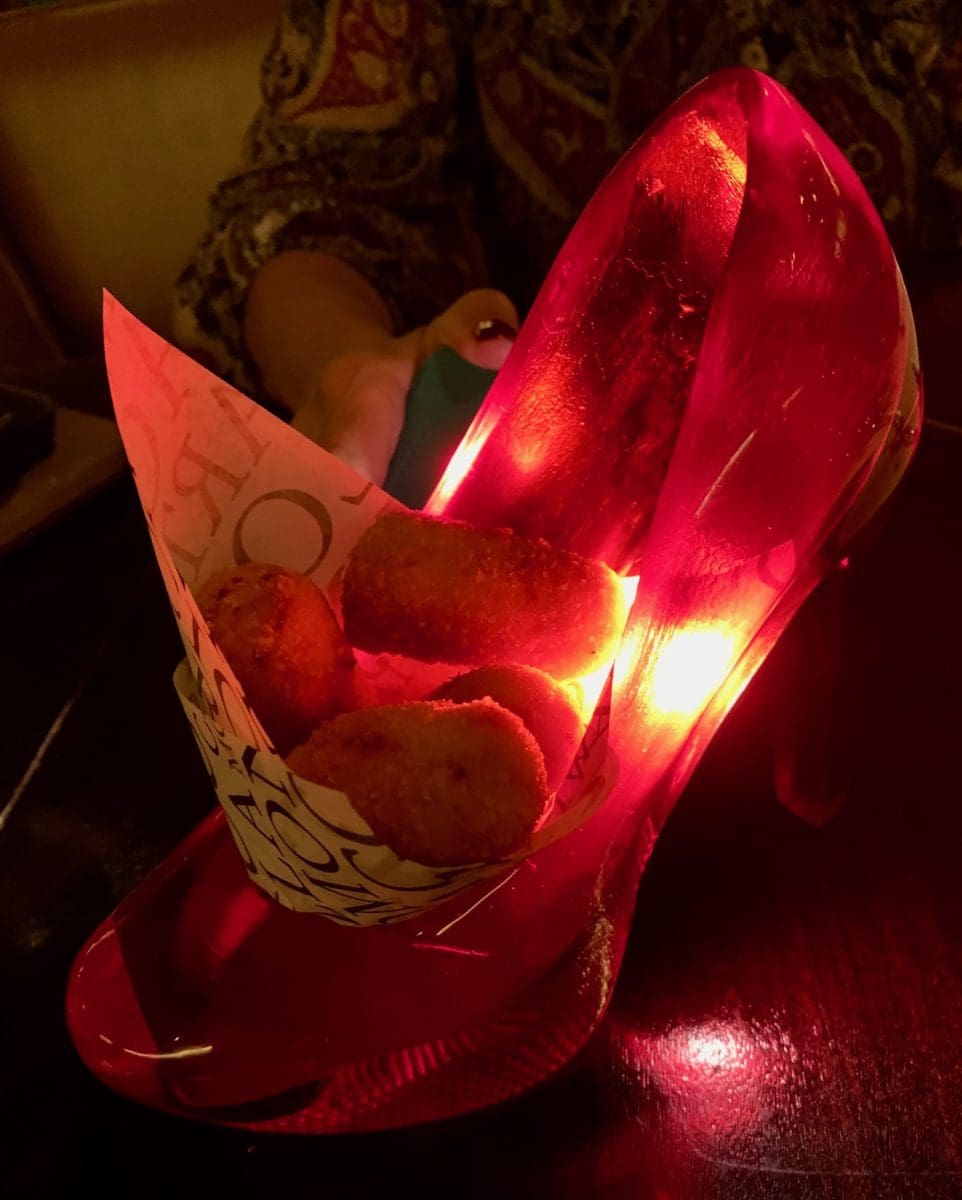 Croquette de Pollo – Chicken bechamel fritters. Originally served in a genuine stiletto heel, now served in a replica of Dorothy's red slipper!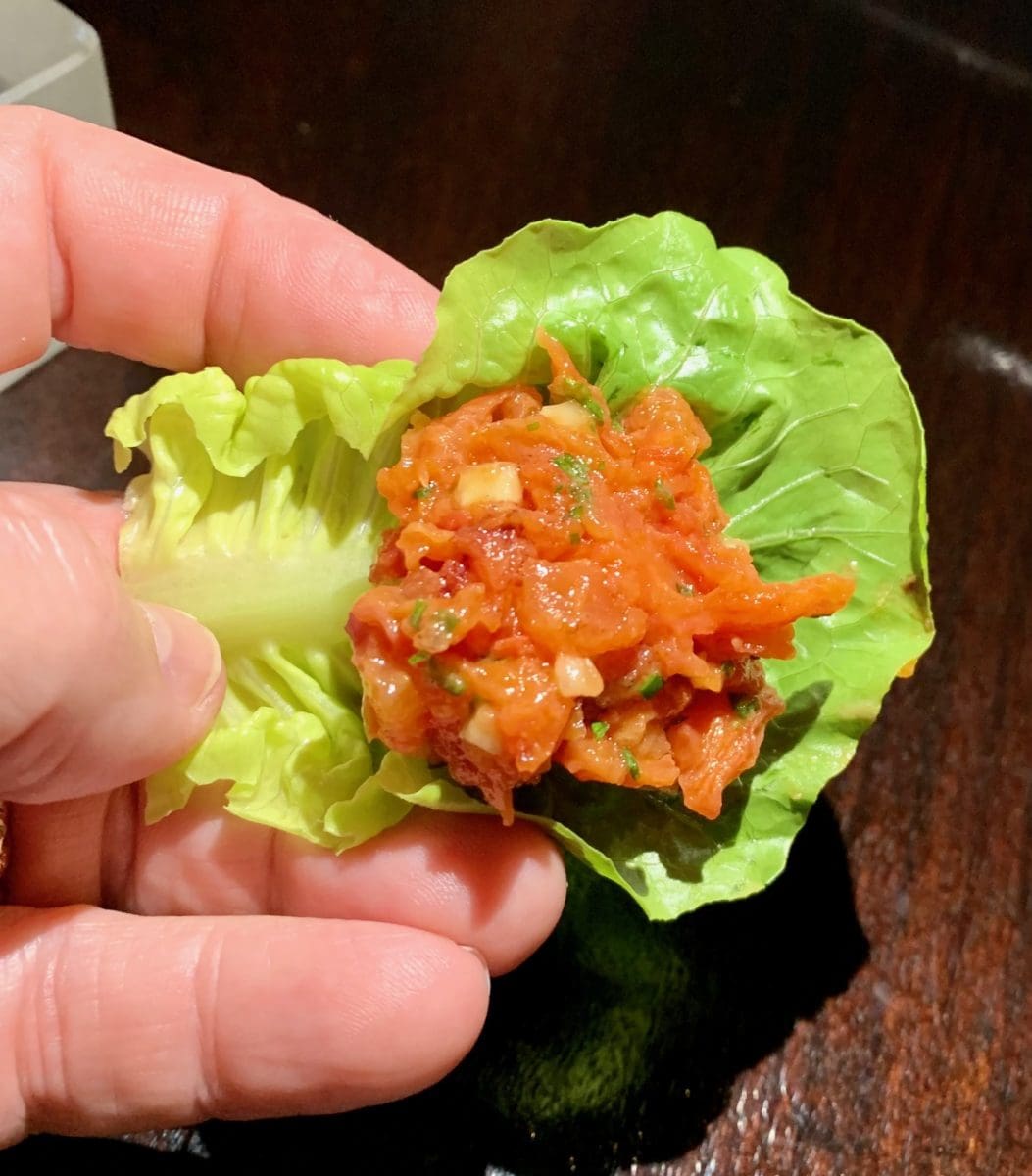 Beefsteak Tomato Tartare with balsalmic vinegar, olive oil, cucumber and black olives on a romaine leaf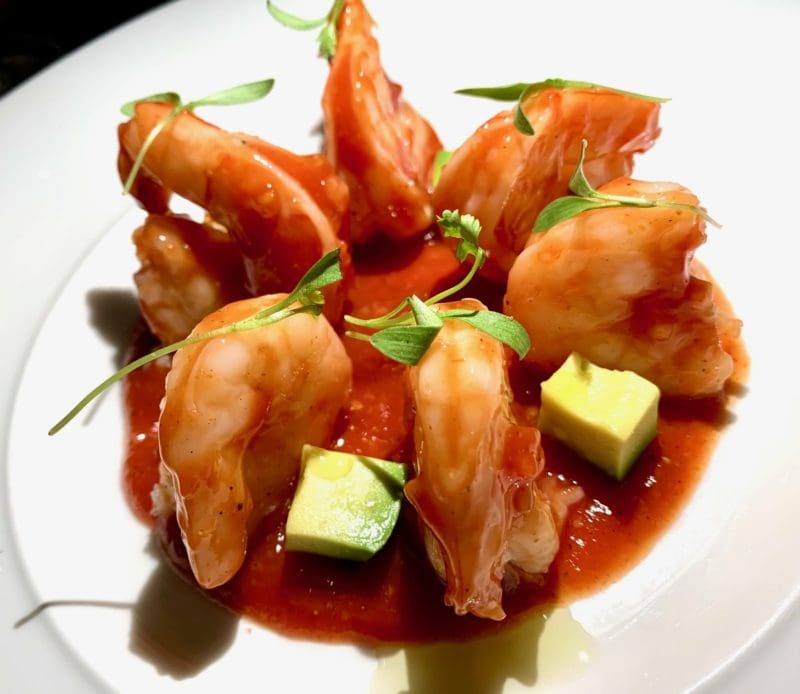 Shrimp Cocktail with sauce, avocado, radish and jicama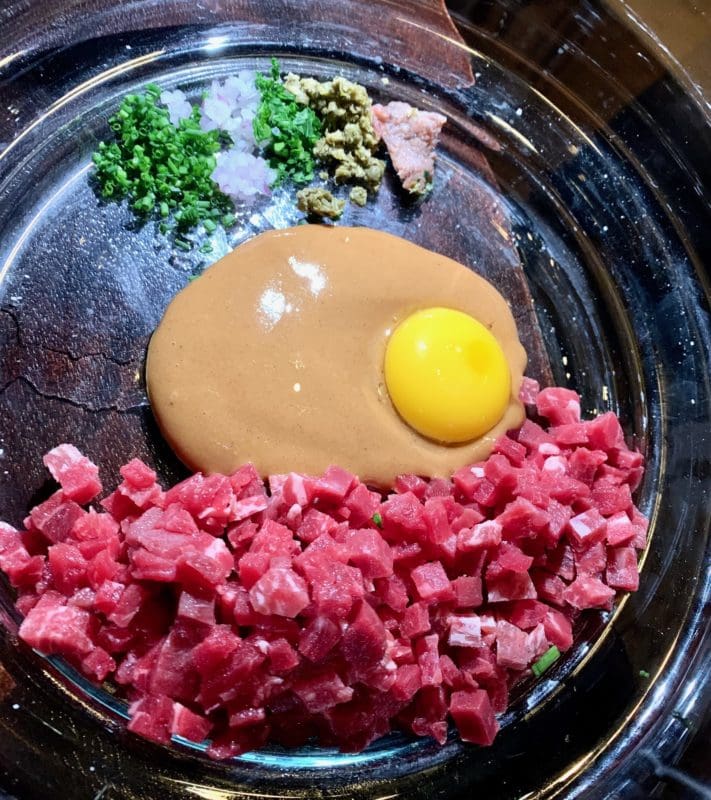 Classic Beef Tartare Ingredients – Beef sirloin, savora mustard, egg yolk, HP sauce and anchovy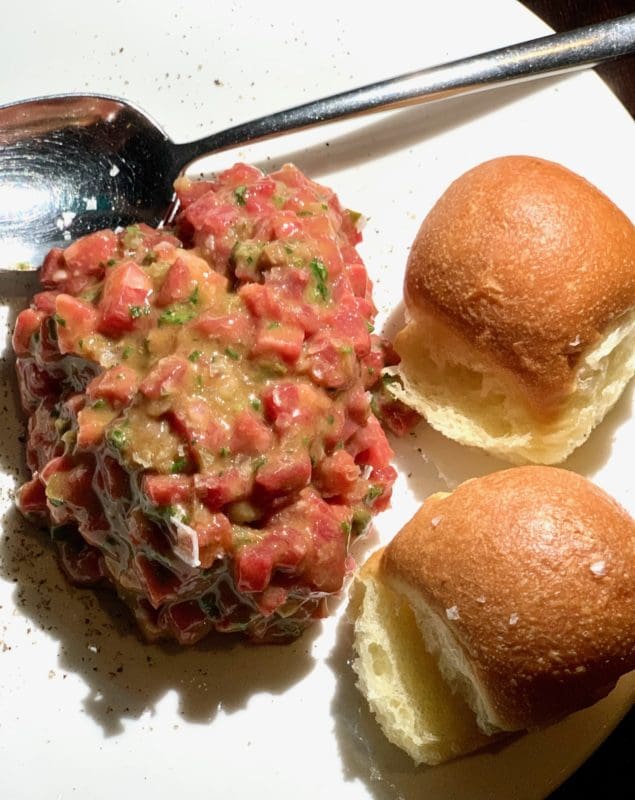 Beef Tartare and Parker House Slider Buns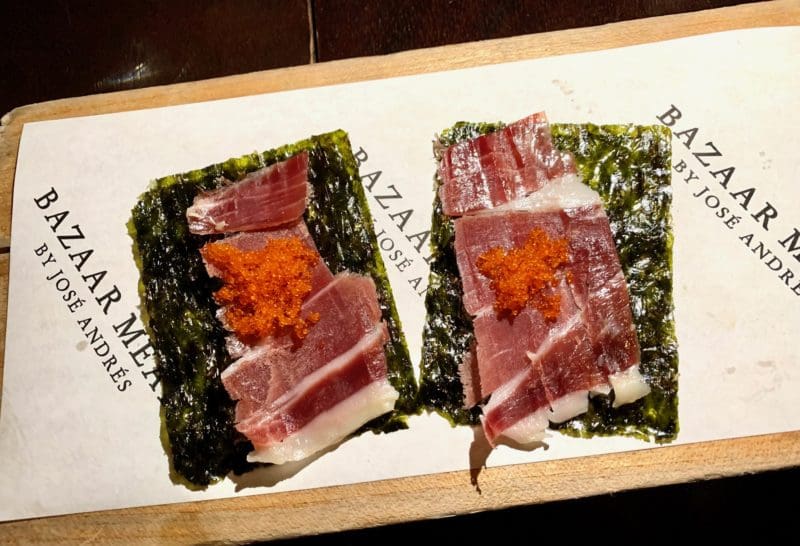 Jose's Asian Taco with Jamon iberico de belota, toasted nori and flying fish roe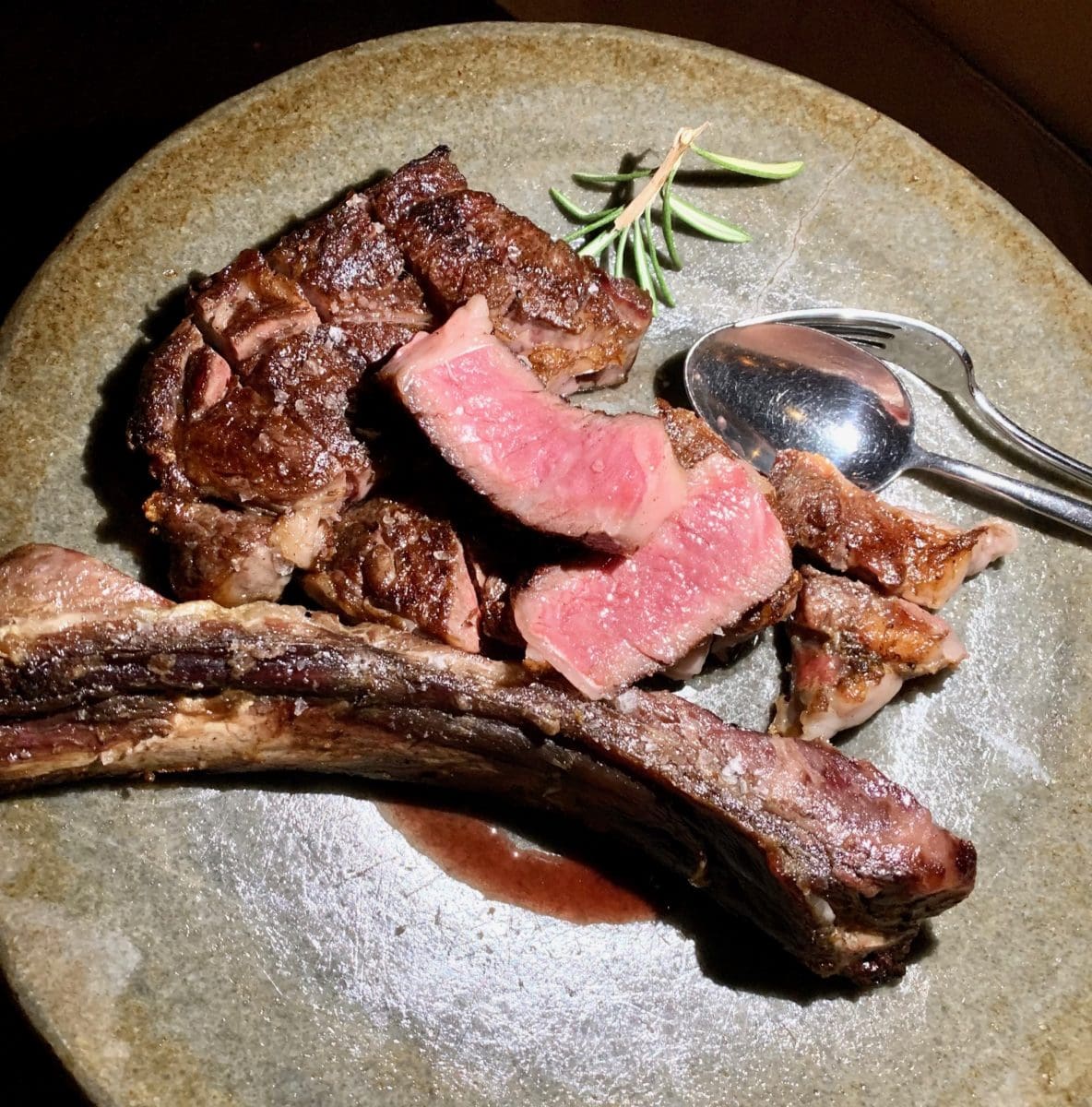 Rosewood Texas Ribeye Wagyu/Black Angus
Butter, butter and more butter with some mashed potato and a little salt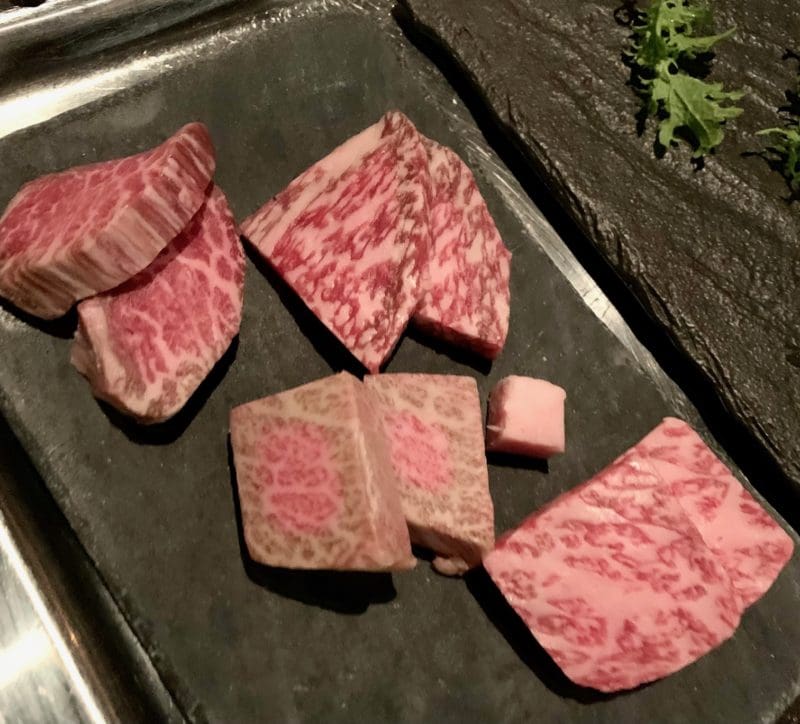 Japanese Wagyu Beef Tasting: Ohmi wagyu strip loin, Shiga Prefecture : Satsuma Wagyu Eye of the Rib – Kagoshima Prefecture : Hida Wagyu Shortrib – Gifu Prefecture and Kobe Eye of the Rib – Hyogo Prefecture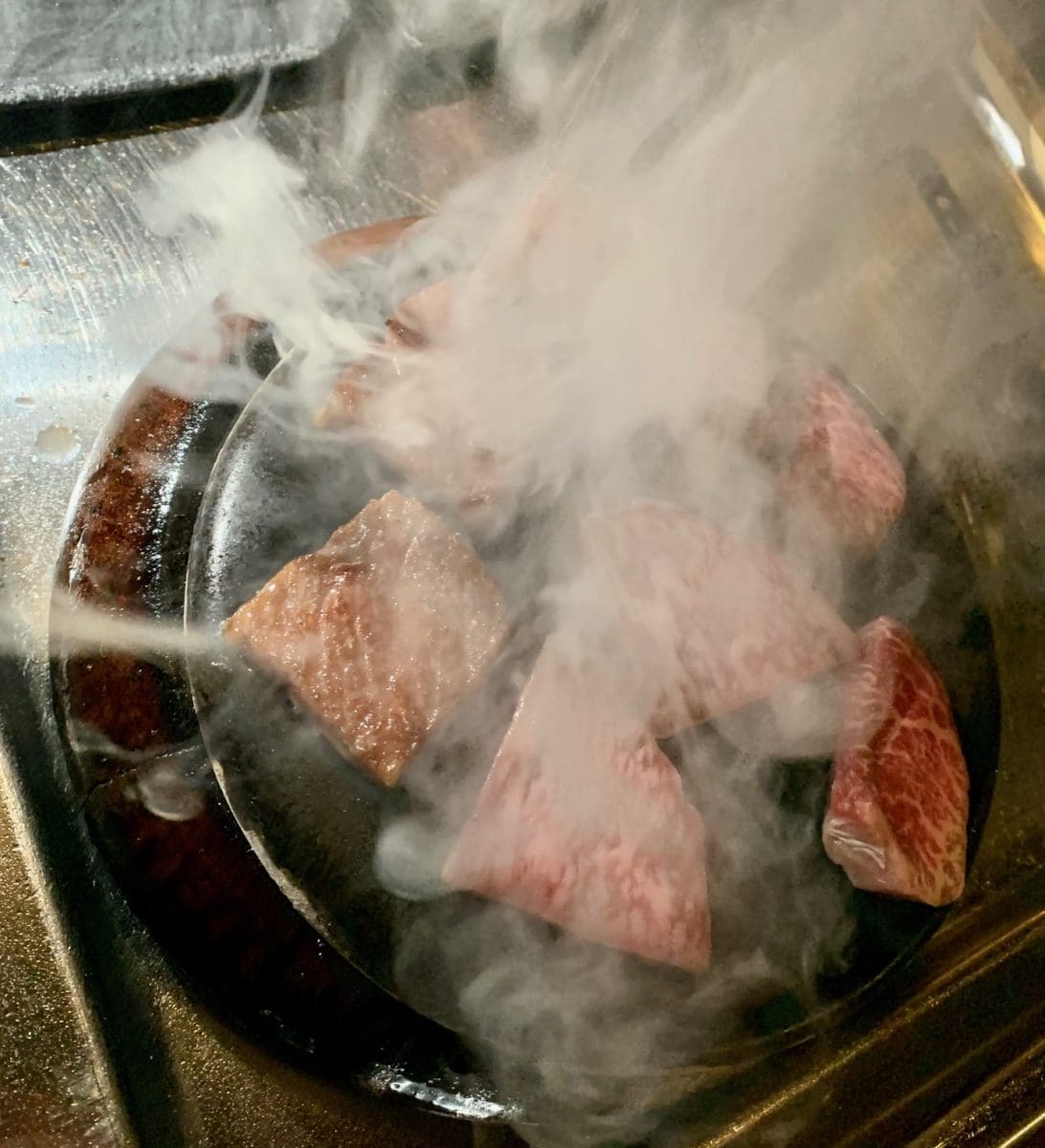 Searing tableside on a hot stone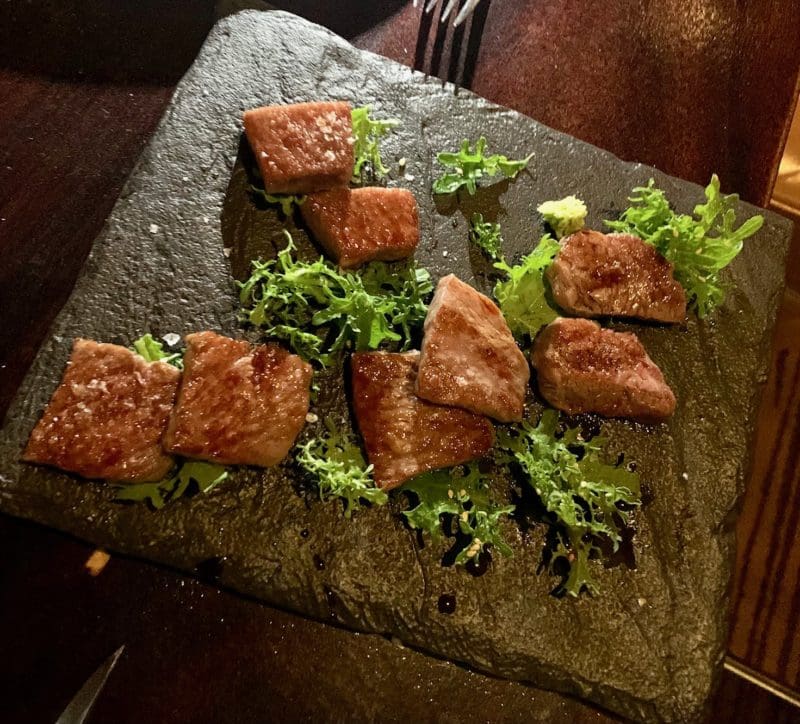 Finished Wagyu Beef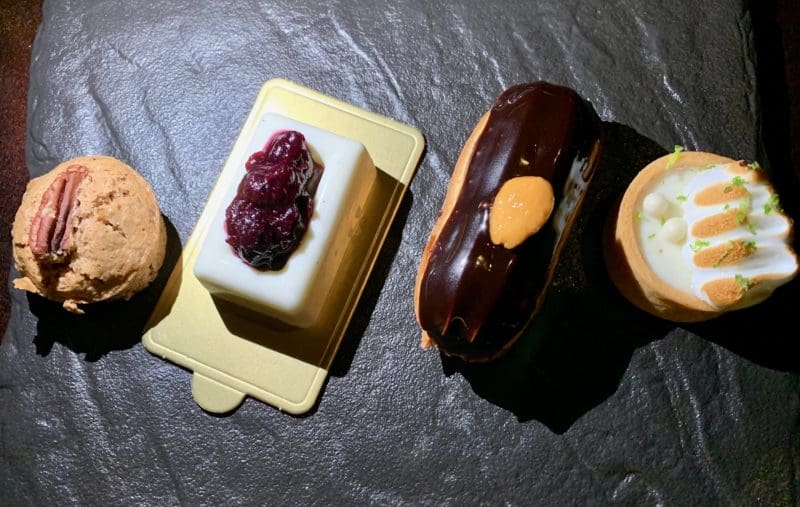 Chocolate Pecan Cookie, Raspberry Cheesecake, Chocolate Eclair, Lime Tart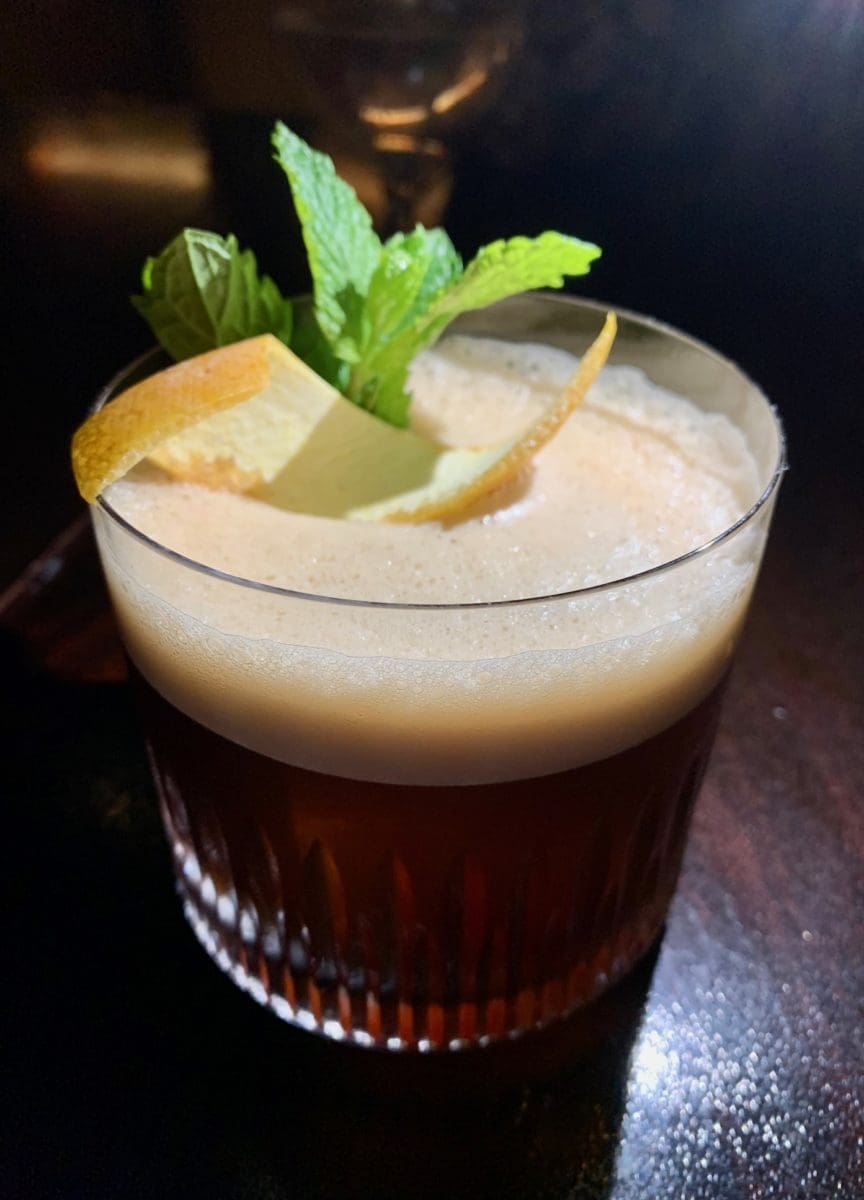 Spanish Carijillo with fresh brewed coffee and Licor 44 garnished with lemon peel and mint. Get the recipe HERE.
Chef Jose' Andres
Full disclosure requires me to say I am an unabashed fan. I have dined with him at Cafe' Atlantico, Jaleo, Minibar and Zaytinya in Washington, D.C., Bazaar South Beach in Miami and Jaleo again, here in Las Vegas.
He is much more than a chef and restaurateur. He is the founder of World Central Kitchen that provides food and disaster relief. They respond to humanitarian, climate and community crises world-wide, recently in Florida after hurricane Ian and in Ukraine. Visit World Central Kitchen to learn more.