Print
Blackened Fish Tacos with Avocado Honey Sauce
Paul Prudhomme made blackened fish famous at his restaurant in the French Quarter, but all the redfish I caught last year in the Louisiana Delta was gone.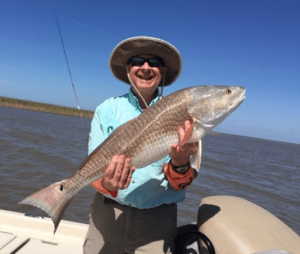 I was jonesin' for blackened fish, but what do you do without the perfect ingredient? You substitute something and in this case it's orange roughy. Near extinction due to it's popularity and a certain chain seafood restaurant, you can now find it occasionally. It was my lucky day, because the local market had some.
Orange roughy is perfect for blackening. It's mild white flesh absorbs the seasoning and is firm enough to remain in one piece. If you can't find it you can blacken many other fish species, even catfish if you are of that persuasion.
Slaw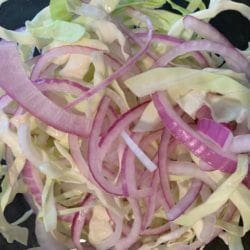 1/2

head green cabbage – thinly sliced and separated

1

red onion – sliced in half root to stem, then thinly crosswise to leave long pieces

2

large ripe, juicy limes
Avocado Honey Sauce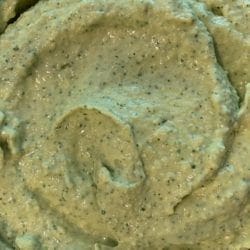 1

ripe avocado – pitted

1/2 cup

sour cream

2

TBL cilantro – chopped

1

jalapeno – seeded and diced

1

TBL honey
Pinch of salt
Blackened Seasoning
4

TBL sweet paprika

5 tsp

salt

2 tsp

onion powder

2 tsp

garlic powder

1

–

1/2

tsp white ground pepper

1

–

1/2

tsp ground black pepper

2 tsp

cayenne pepper

1 tsp

dried thyme

1 tsp

dried oregano
Blackened Fish
1

pound orange roughy fillets

1

stick unsalted butter – melted
Blackened seasoning
Assembly
White Corn Taco Shells
Slaw
Blackened Fish
Sauvignon Blanc – to drink of course!
Instructions
Slaw
Combine the cabbage and onion
Squeeze the lime juice over them
Toss it together – rest covered in the fridge for 1-2 hours
Avocado Honey Sauce
Scoop out the avocado into the food processor
Add everything else
Pulse and taste
Adjust salt and honey until desired level of sweetness is obtained.
Blackened Seasoning
Mix all the ingredients together thoroughly and store in an airtight container until ready to use
Blackened Fish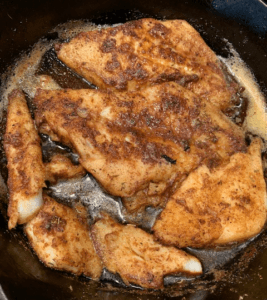 Do this outdoors and don't crowd the pan
Use your grill if you have one that will heat a skillet red-hot or use a propane grill like that used for crawfish boils
Indoors: cook on the highest possible heat without burning down the house and be prepared for the smoke alarms to go off if you get it hot enough
Or indoors at a lower heat – it will still be good, I promise
Pre-heat your skillet until it's almost smoking
Use butter to coat both sides of your fillets
Generously pat the seasoning on the fillets on both sides. If you have doubt about how much is enough – add more
When the skillet is really hot, place the fillets in it. Be careful.
Quickly drizzle butter over the fillets as they cook
Check and turn over after about 2-3 minutes!
Drizzle butter over the other side as they cook, about another 2 minutes and they will be done
Assembly
Preheat your oven to 200
Warm your taco shells for 30 minutes
Or toast them individually in a lightly oiled pan
Divide the fish into individual servings in the taco shells
Add some slaw to each one
Add sauce
Enjoy!
Notes
Wine For The Cook!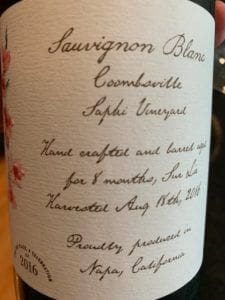 And just one more thing…


This is the perfect combination of Yin and Yang, the spicy fish juxtaposed with the sweet avocado sauce