Print
Bloody Mary
The Bloody Mary is a legendary cocktail. Its name is variously attributed to Queen Mary the First of England, Mary Pickford or a bartender named Mary that worked at the Bucket of Blood Bar in Chicago.
This cocktail changes ingredients like a chameleon changes colors, so I give little credence to any claim of creation. Instead, this cocktail is re-invented every time it's made.
The Search for a Great Cocktail
There are no two alike and a lifetime of exploration has failed to find more than a few palatable examples. The failures fall into three basic categories, Thin and watery, burning hot and those with one dimensional flavor.
A huge pour of vodka sounds appealing, but makes a thin, alcoholic cocktail. Bartenders compete to see who can make the hottest, fiery and peppery drink that quickly leads to burnout and a cry of "no mas". Flavorless cocktails, with only tomato juice and vodka round out our list of losers.
I love spicy things, but poorly conceived drinks like these turned me away from a cocktail I should enjoy. A great bloody mary requires balance, so you can enjoy the layered, mouth filling flavors of all the components.
What Makes My Mix, Bloody Fabulous
We start with 100% tomato juice, then add V-8 for body and depth of flavor. We build on that with orange juice and grenadine you won't consciously taste, but your mind will know is there. Next we add our secret Mexican ingredients. Salsa inglesa and jugo sazonador seasoning sauce contribute umami flavor that take this mix to another level. Finally, we add the heat with black pepper, horseradish and hot sauces. I aim for the perfect heat, where you immediately recognize it, but it's not overpowering. As it lingers in the aftertaste, it persuades you to take another sip.
The Vodka
Smithworks of course, because their corn mash yields a soft, smooth distilled spirit.  It's made with clean, clear water from the Boston Mountains, tempered and bottled by my local friends at Pernod Ricard. You can buy far more expensive vodka, domestic and imported, but you can't beat the value and taste.
The Garnish
When it comes to garnish, some enjoy a virtual salad bar and others prefer a more restrained approach. It's a matter of personal taste, so load it up to your heart's content!
The Videos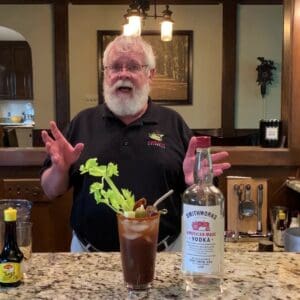 The Smithworks Vodka Contest Entry
This is big batch mixology, so recruit some friends and enjoy!
Author:
Yield:

4

-

6

cocktails

1

x
The Mix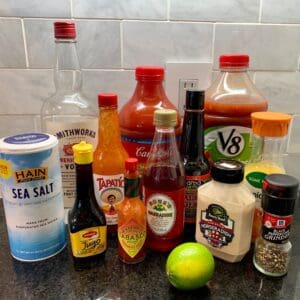 12 oz

tomato juice
V-8   1 can – 11.5 0z

3 oz

lo pulp orange juice

1/4 oz

grenadine

3 oz

  salsa inglesa

1

–

1/2

tsp kosher or sea salt

1/2 tsp

tabasco habanero sauce

3/4 oz

  jugo sazonador seasoning sauce

1/4 tsp

freshly ground black pepper

1

TBL horseradish sauce

3

dashes Tapatio hot sauce + more to taste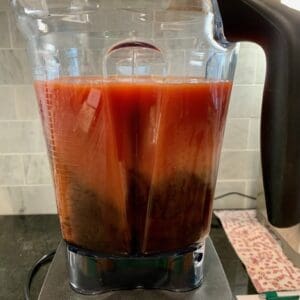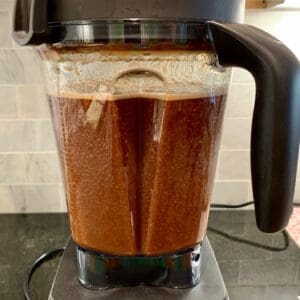 Bloody Mary Cocktail
1

–

1/2

oz vodka

7

–

8

oz bloody mary mix
Celery stalk – garnish

1

slice fried bacon – garnish
Garlic stuffed olive – garnish
Cube of monterey jack cheese – garnish
Cube of peppered salami – garnish
Pint glass or tumbler of similar size
Celery salt
Smoked paprika
Fresh lime juice – for rimming your glass
Instructions
Watch my Bloody Mary Tutorial
Fry your bacon and set aside
Cube your cheese and salami, then assemble them with an olive on a cocktail pic
Trim your celery stalk to fit your glass and set aside
Make a 60/40 mix of smoked paprika and celery salt and set aside
Rim your pint glass using lime juice and a 60/40 mix of  smoked paprika and celery salt
Make the mix by adding all the ingredients in a blender
Pulse briefly and adjust the salt and the heat to taste with tapatio sauce
Pulse again and make a final taste test
Place the celery stalk and the bacon in the pint glass
Carefully add ice, filling about 3/4 of the glass
Pour in the bloody mary mix and pour over the vodka
Add a straw (optional), jiggle the glass and garnish with the cheese, salami and olive on a pic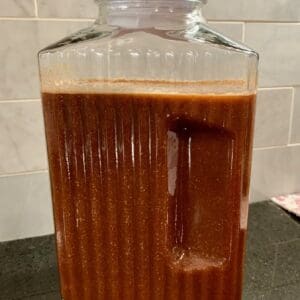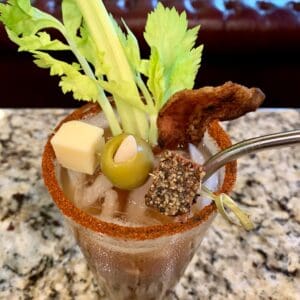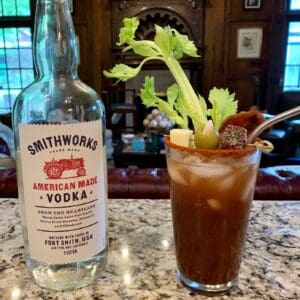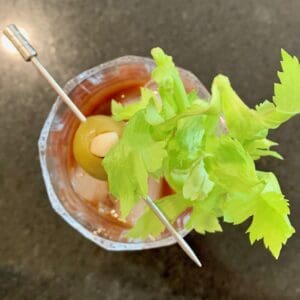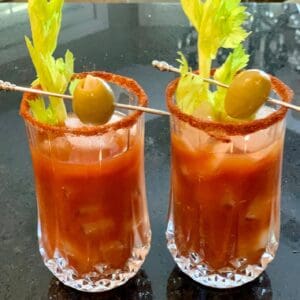 Notes
We pour over the vodka instead of stirring into the mix so we may enjoy the change in flavor with every sip as they organically mix within the glass.