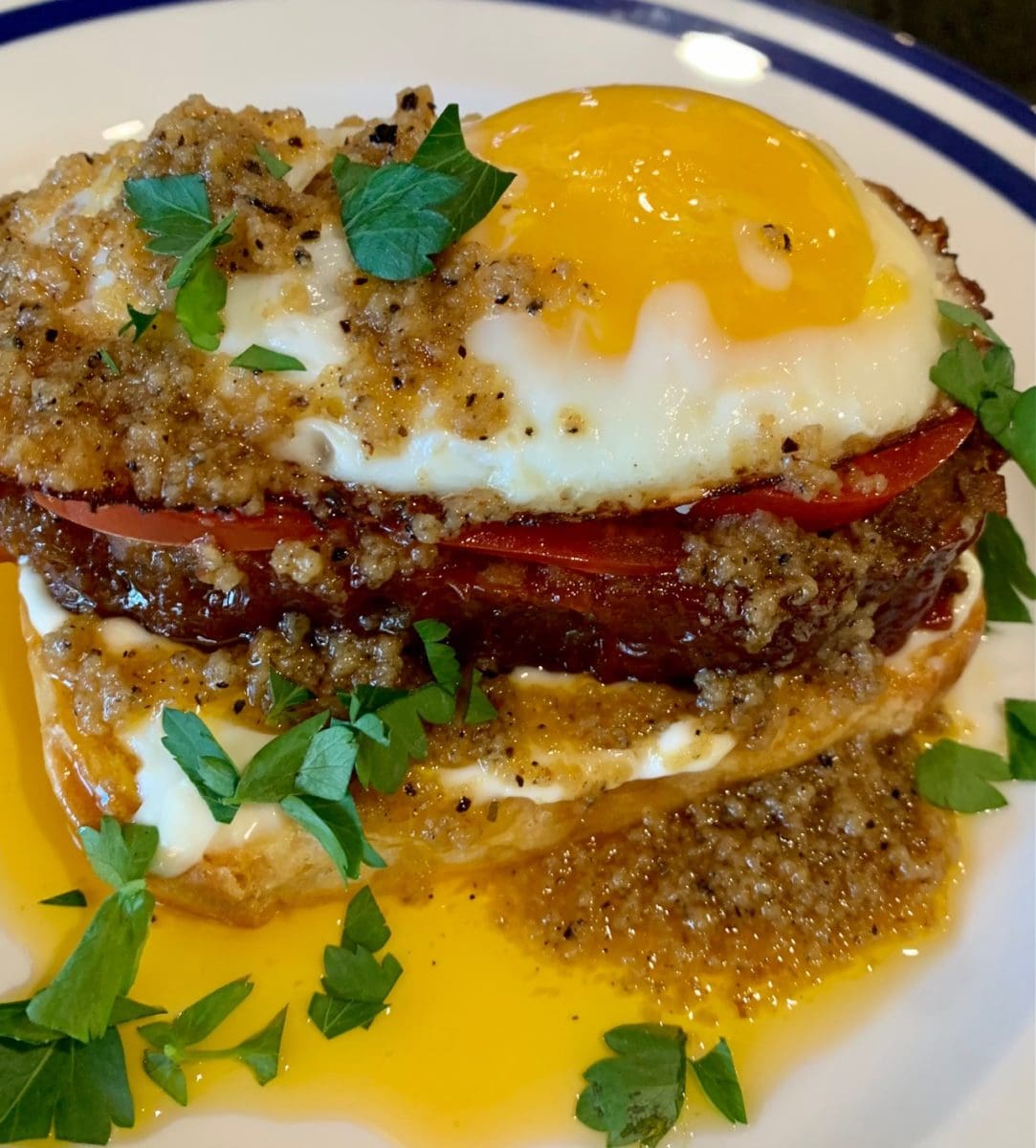 Celebrity chef Ed Lee's bourbon and coke meatloaf sandwich piqued my curiosity. I wondered if Ed hits it out of the park and if his meatloaf becomes my new fave. Let's face it, a meatloaf is all about the meat and the rest is just window dressing.
He created this for Southern Living magazine and revealed until then, he had never made a meatloaf. Think about that. Successful chef, multiple restaurants in several states, television credits with a top chef appearance and he had never made a meatloaf. Incredible!
While creating his first one, there were six failed attempts and he paused for a bourbon and coke – or two if I know Ed. With that inspiration, this meatloaf recipe became "the one" and like every sensible loaf maker, he created a sandwich. So good, I have to share it with you.
What I Learned Making Ed's Recipe
Sautéing ingredients before making the loaf
Using bourbon, coke, celery and mushrooms in a loaf
That I could eat a fried egg, the first of my life and like it – on a big sandwich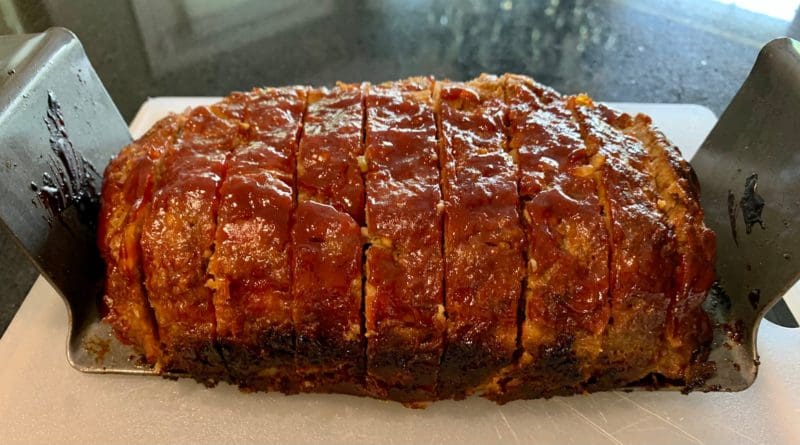 Complications, Missteps and Mistakes
I did make a mistake. While finishing the sandwich, my better half accidentally turned up the heat on my gravy, breaking it beyond recovery. I didn't have time to remake it, so heavy whisking and away we went.
What I Did When Ed Wasn't Looking
This is normally where I admit tweaking a recipe, but not this time. This one is recreated by the book. Ha, did you see what I did there?
And The Verdict Is…
This is a detailed, foolproof recipe that you can follow to the letter. I give myself an A+ for effort and a B+ for execution because of the broken gravy.
How can I say it? The meatloaf is… okay. Eaten by itself, the celery, mushrooms, bourbon and coke diminish the flavor of the meat, but this is meant for a sandwich.
On toast with mayo, tomato, fried egg and black pepper gravy it became transcendent! On a scale of 1-5, it's a 10. Unbelievably delicious!
What was that earlier remark about window dressing? This window dressing is worthy of New York City's 5th Avenue.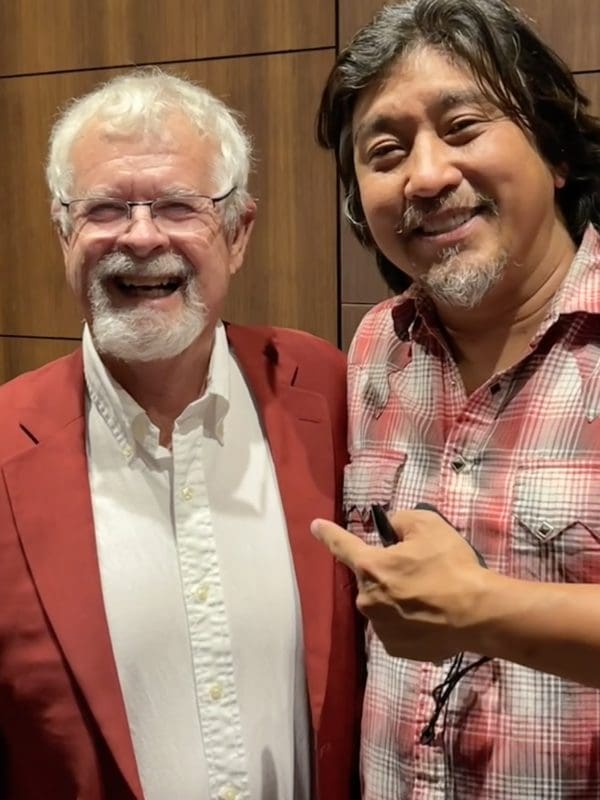 This is Ed, giving me shiest about breaking the gravy!
Print
Bourbon and Coke Meatloaf Sandwich
Bourbon and Coke Meatloaf with Mayo, Tomato, Fried Egg and Black Pepper Gravy
Author:
Prep Time:

20

Cook Time:

90

Total Time:

1 hour 50 minutes

Yield:

6

1

x
Meatloaf
1

TBL butter

1 cup

onion – finely diced

1/4 cup

celery – finely diced

1

garlic clove – minced

3

slices thick cut bacon – diced

1 cup

button mushrooms – chopped

1

lb 80% lean ground beef

1/2 cup

bread crumbs

1

large egg

1

additional egg yolk

1/4 cup

ketchup

2

TBL coca-cola

1

TBL bourbon

1 tsp

worcestershire sauce

3/4 tsp

kosher salt

1/4 tsp

ground black pepper
Glaze
1/4 cup

ketchup

1/2

TBL soy sauce

1

TBL brown sugar
Black Pepper Gravy
1

–

1/2

TBL butter

1

TBL all purpose flour

1 cup

reserved meatloaf drippings

1/2 cup

home-made chicken stock
Kosher salt – to taste

1 tsp

ground black pepper
A few drops of lemon juice
Sandwich
(1) 3/4″ slice meatloaf

1

slice white bread – toasted
Mayonnaise

2

slices tomato

3

TBL gravy

1

large egg
Fresh Parsley – garnish
Instructions
Meatloaf – Make this First
Preheat oven to 350
Melt the butter in a large skillet over medium heat
Saute the onions, celery and garlic until softened, about 3 minutes
Add the bacon and mushrooms and cook another 4 minutes until soft
Transfer to a large bowl and let it cool to room temp
When cool add the ground beef, all the remaining ingredients and mix by hand until it is evenly blended
Shape it into a loaf in a 9X5 meatloaf pan
Make the glaze by whisking together the ingredients and cover the loaf
Bake for 1 hour or until the internal temp exceeds 145 degrees
Remove from oven, drain and reserve the drippings for gravy
Black Pepper Gravy
Melt the butter in a small saucepan over medium heat
Whisk in the flour until it's smooth and then whisk in the meatloaf drippings and chicken stock
Bring to a simmer and whisk for about 2 minutes
Add the black pepper and salt to taste
Whisk in a few drops of lemon juice
Turn off the heat and keep warm until ready to serve
Sandwich
Toast the bread, smear a healthy layer of mayo on it and place it on the plate and place it on a plate
Place a slice of meatloaf on the mayo, then the sliced tomato
Add a pat of butter in a hot skillet and fry an egg, sunny-side up, then place it on top
Whisk your gravy together again and pour a generous serving over each sandwich
Garnish with chopped parsley