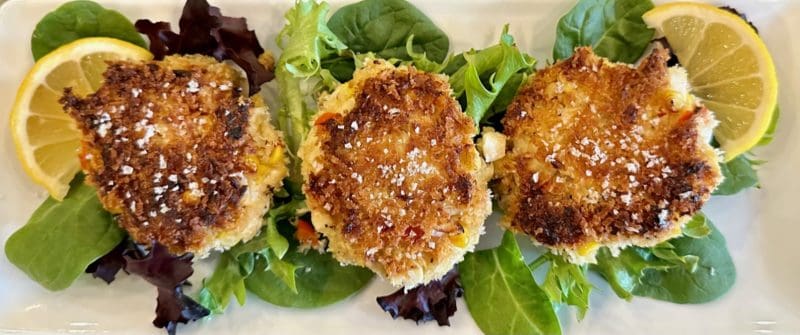 In the heartland of America where fresh crab is scarce, you make palm cakes. If you're on the coast where crab is plentiful, you still make palm cakes because they are deliciously fantastic! This scrumptious vegetarian option is deservedly featured on any menu for that very reason, no weasel (qualifying) words necessary.
Heart of palm has a mild, slightly sweet flavor and a gentle "bite" that when chopped and/or shredded resembles crab. It easily combines with crab seasonings to yield a delicious, satisfying app or main course. Accompanied with a spicy garlic aioli it's a landlocked seafood lover's delight – without the seafood.
Let's Make Palm Cakes!
Make your garlic aioli first so it has time for the garlic and lemon to infuse the mayonnaise.
Print
Garlic Aioli
Garlic and lemon infused mayonnaise
1 cup

hellman's real mayonnaise

2

cloves garlic – peeled and micro-planed

2 tsp

fresh lemon juice
Instructions
Whisk together, tightly cover and refrigerate while making the palm cakes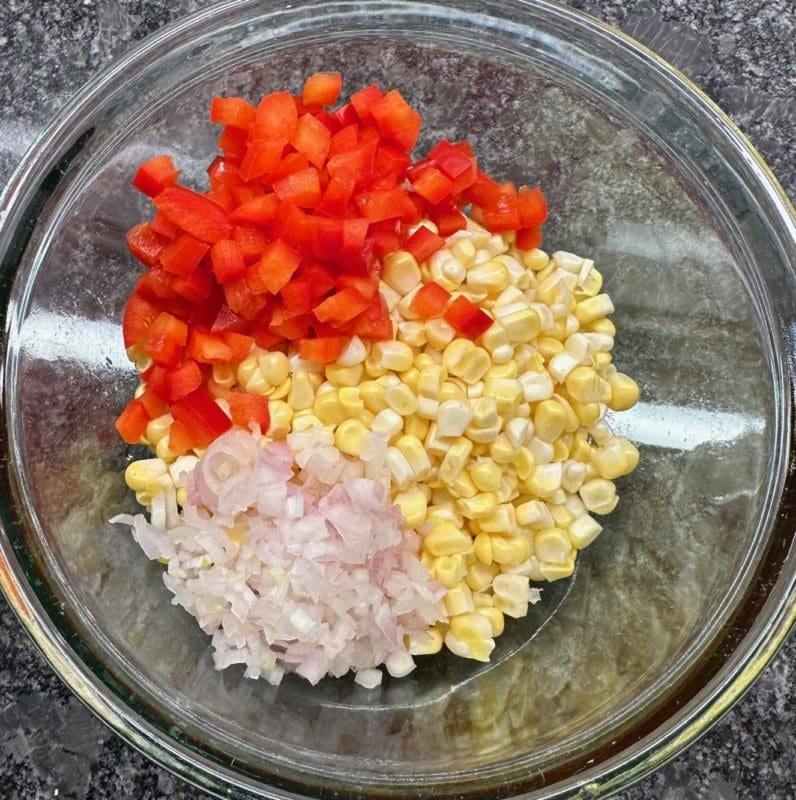 Prep the veggies, sauté, divide and coarsely puree 3/4 cup in a food processor, reserving the remainder for later.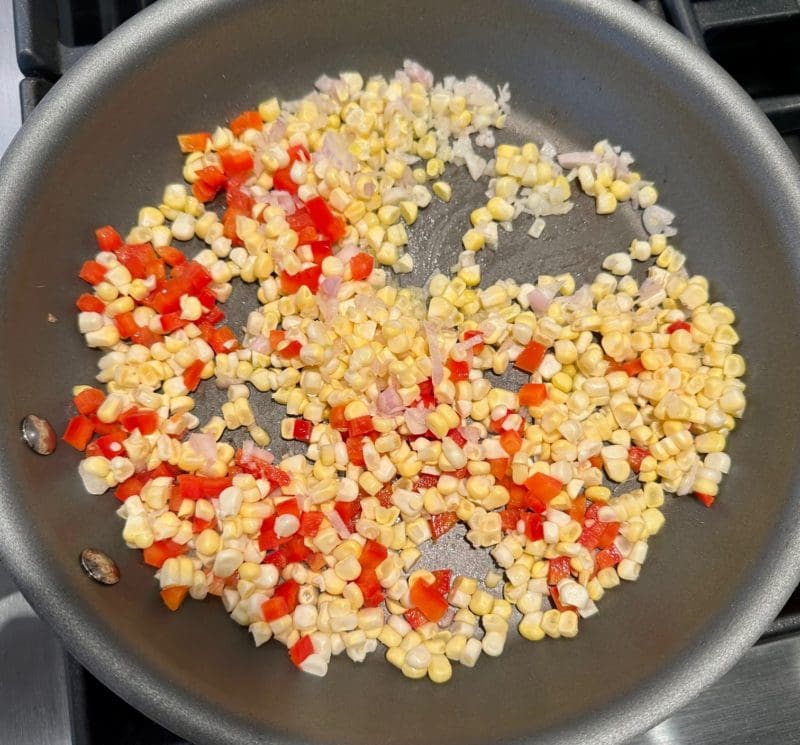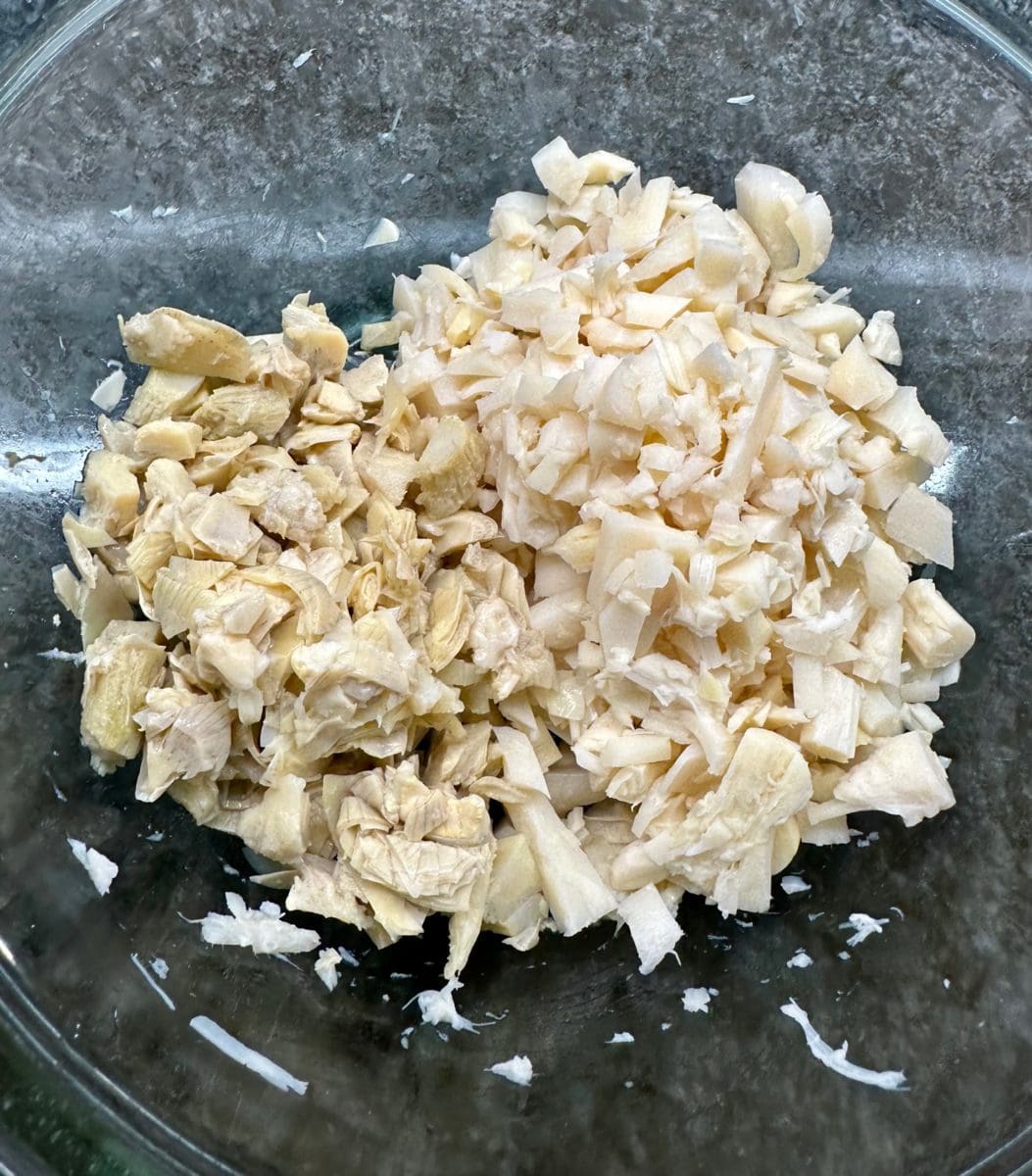 Drain and chop the artichoke and the hearts of palm.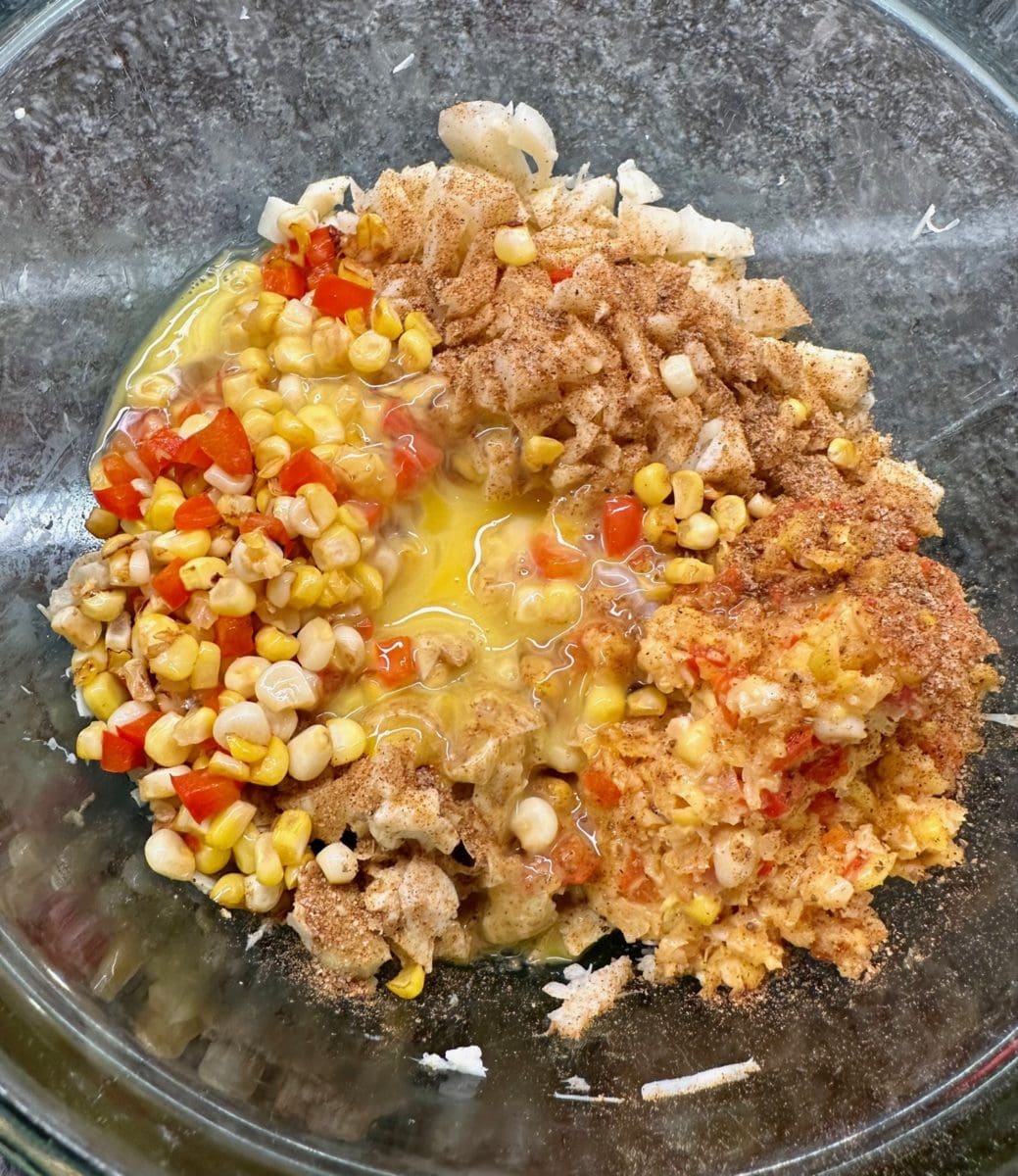 Place all the ingredients and the reserved veggies in a bowl and hand mix, adding the panko bread crumbs last. Gently mix until you have a firm texture that can be molded into cakes and will stay together.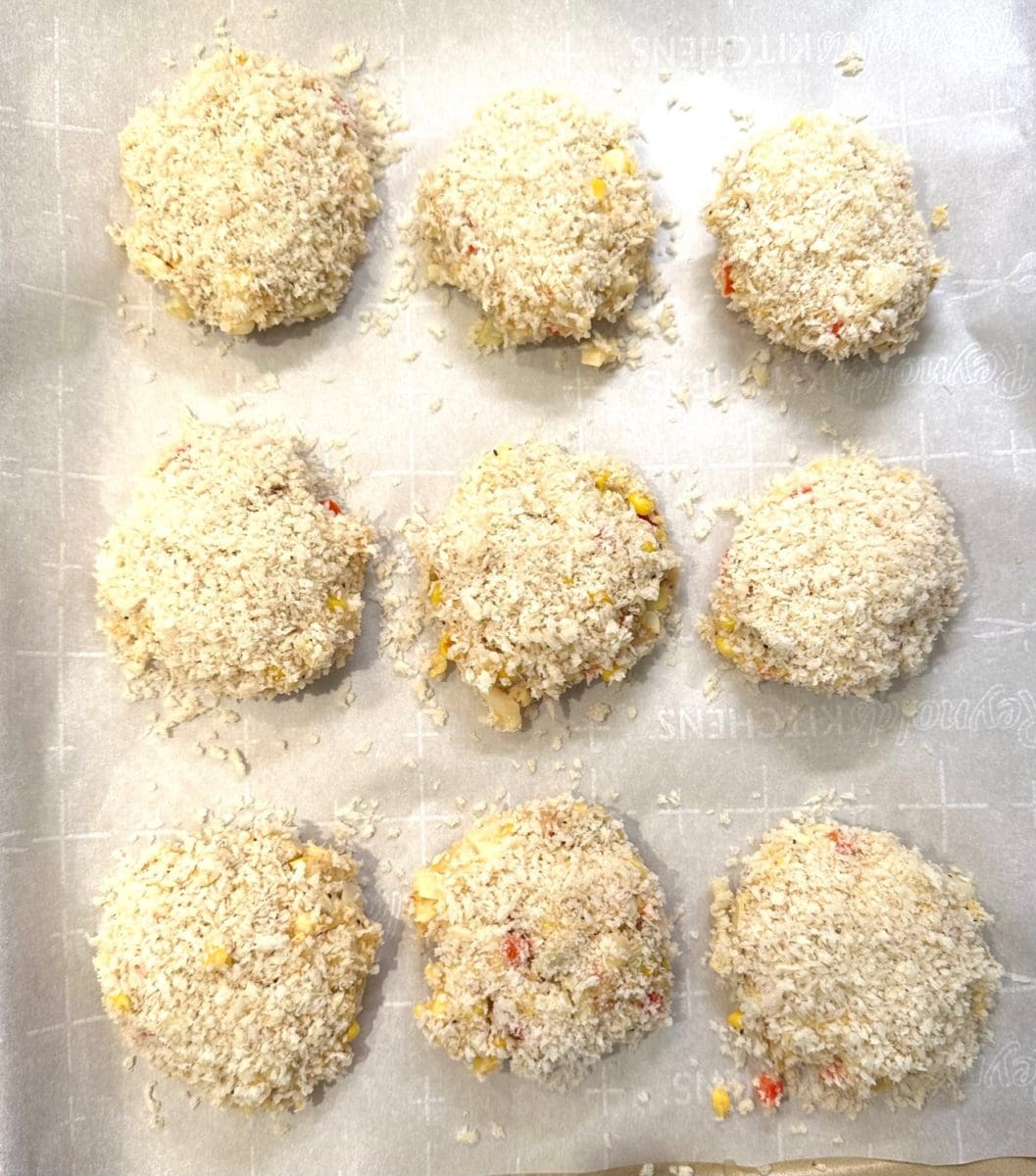 Gently cover each cake completely with more panko bread crumbs and place them on a parchment paper covered cookie sheet.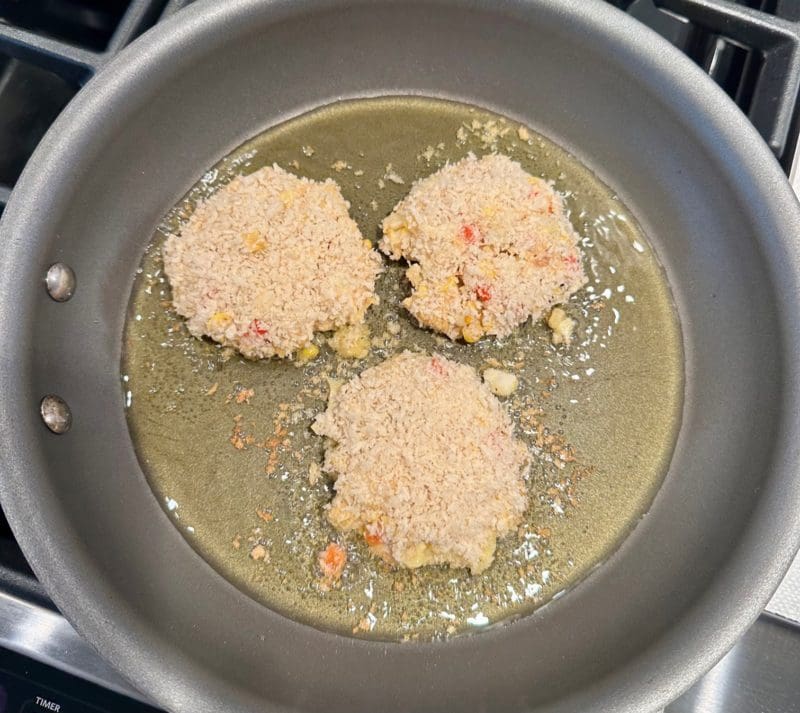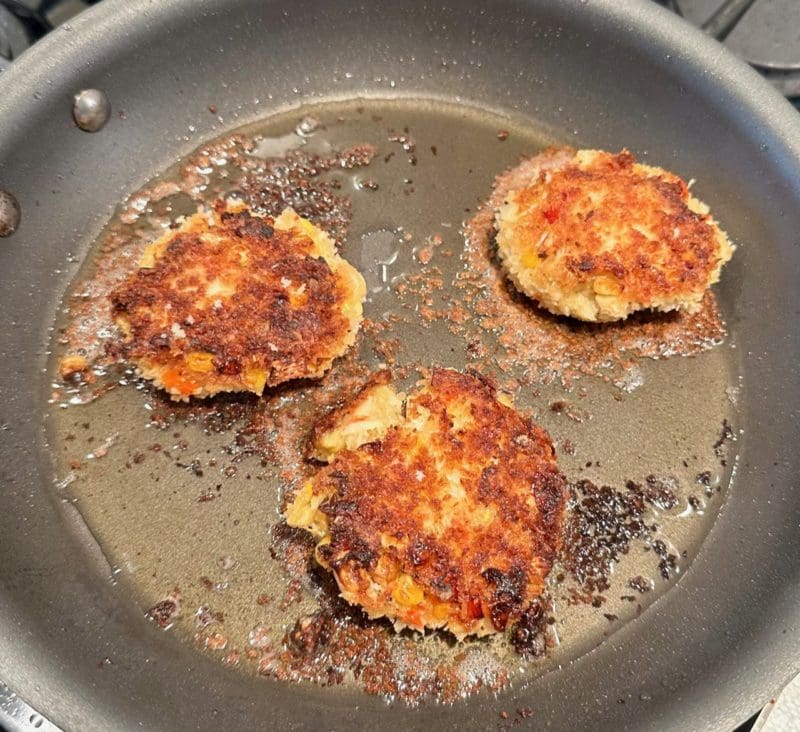 Heat 1/8″ of oil in a non-stick pan and fry until golden brown on both sides. Drain on paper towels, then serve immediately with the aioli and lemon wedges on a bed of greens.
Print
Palm Cakes
Pan-fried heart of palm and artichoke with corn, red bell pepper and shallot.
14

–

15

oz heart of palm – drained, dried and chopped and shredded like lump crab

14 oz

artichoke hearts – drained, trimmed, patted dry and chopped

1 cup

fresh yellow corn kernels – about

2

ears

1/3 cup

red bell pepper – minced

2

garlic cloves – minced

2 tsp

parsley – finely chopped

2

shallots – minced

1 tsp

dijon mustard

2 tsp

old bay seasoning

1

egg – lightly beaten

1/4 cup

mayonnaise

1 cup

panko bread crumbs – divided
Olive oil
Instructions
Heat 1 tablespoon of olive oil in a non-stick skillet. Add the shallot, corn and bell pepper and cook over medium heat until tender 3-4 minutes, then remove from the heat.
Place 3/4 cup of the veggies in a food processor, reserving the remainder. Process until you have a coarse mixture. Scrape down the sides and pulse again until you have a coarse puree.
In a large mixing bowl combine the puree, the reserved veggies, parsley, egg, mayo, mustard and spices and mix well with 1/2 cup of panko bread crumbs. Mix by hand until you have a mix that will stay together when you mold the cakes.
Form the palm cake mix into a 1/4 cup patty. Use a shallow dish or paper plate filled with more panko bread crumbs and place the patty on top. Gently cover and finish each patty by covering in the bread crumbs. Place the patty on a parchment paper covered baking sheet. Repeat the process until you have used all the palm cake mixture
Heat 1/8″ of oil in a non-stick pan over medium heat. Working in batches fry the cakes for 2-3 minutes on each side until golden brown. Turn carefully to avoid breaking them apart. I use two spatulas for this.
Remove from frying pan and drain on paper towel covered rack or plate
Serve immediately with garlic aioli and lemon wedges on a bed of greens