Arriving at Bullion
It was November 22nd, 1963, 1:30 PM. I was in Mr. Purvis' core class when the announcement was made over the loudspeaker system that President John F. Kennedy had been shot.
Certain events in our lives are etched in memory with great detail, but you might ask what this has to do with my dining experience at Bullion.
Driving there, we passed Dealey Plaza and the Texas School Book Depository where it occurred. That memory and how distraught my teachers were came flooding back. Thankfully, it was to be replaced by the anticipation of a wonderful dinner to come.
Bullion is named for gold. Specifically gold possessed by Louis XIII. At the helm is michelin starred chef Bruno Davaillon, where he serves contemporary French cuisine in a stylish bistro atmosphere.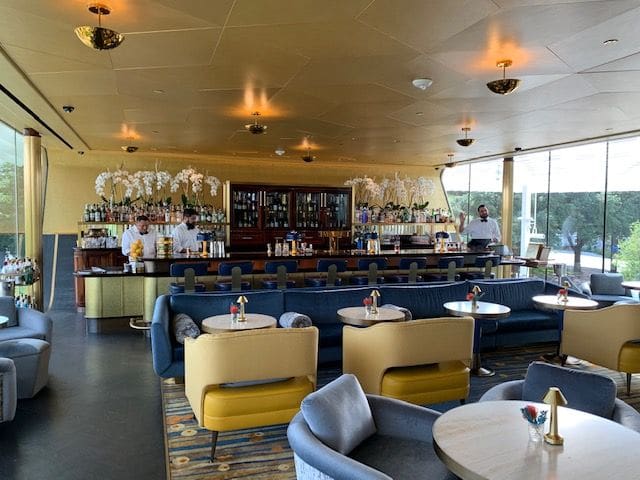 Instantly greeted by the maitre d' upon arrival and promptly seated in beautiful surroundings, we felt like special guests, just as they intend. Our server Christopher, with other waitstaff began with cocktail orders, bread and butter. The breads were made in house, while the rich, golden butter was imported from France.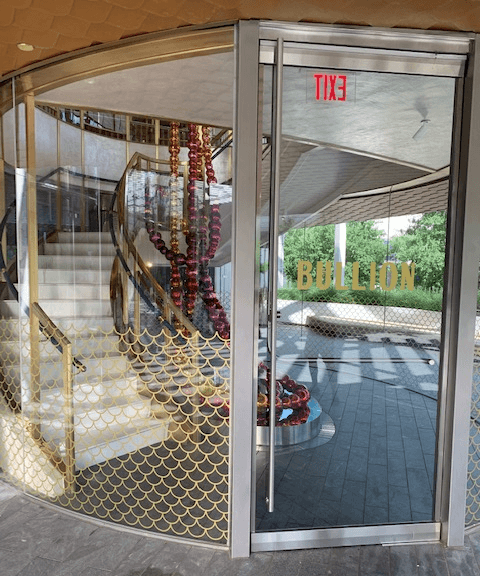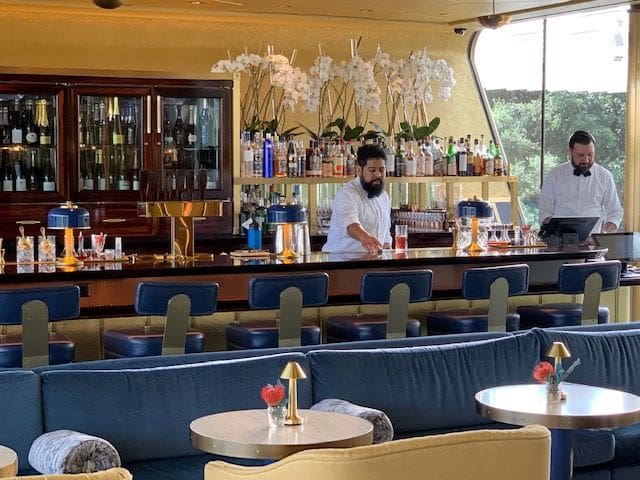 Our cocktails arrived perfectly prepared and unbeknownst to me, one of my dining companions had informed the bar of my aspirational mixology skills. They invited me to prepare a cocktail myself, behind their stunningly beautiful bar. It was certainly the most gorgeous bar I will ever tend!
Appetizers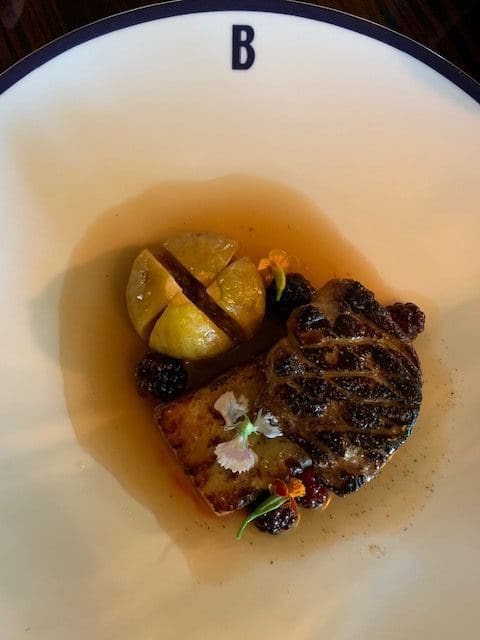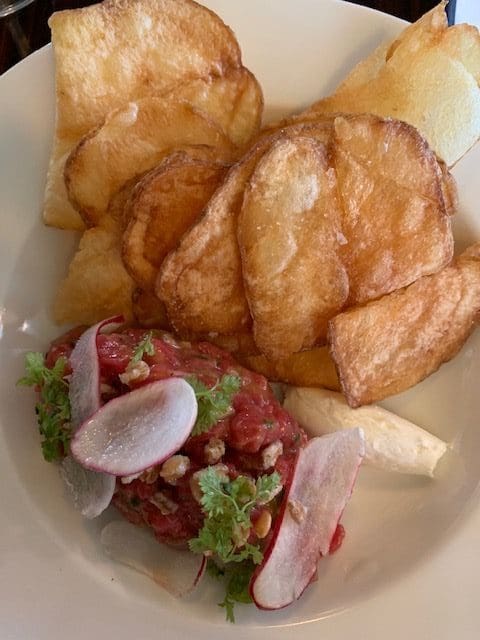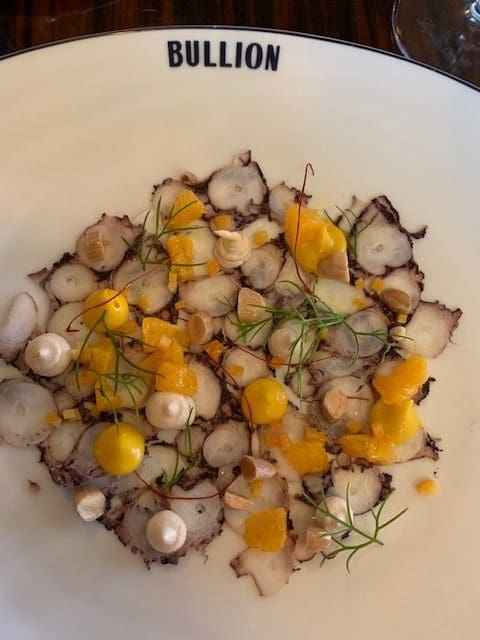 We were served our first course of foie gras torchon, steak tartare and octopus carpaccio. The foie gras was seared, accompanied by a seasonal marmalade and brioche. The richness of the goose liver was enhanced by the sweetness of the marmalade. It was perfection. My octopus was sliced thinly and garnished with almonds and orange aioli, a delicate but exquisite and beautifully plated combination. The steak tartare. What more can you say about this wonderful cut of meat seasoned in such a way that makes you want to immediately order a second serving? Accompanied by house made chips and some shaved radish, it alone is enough for a return visit.
Mains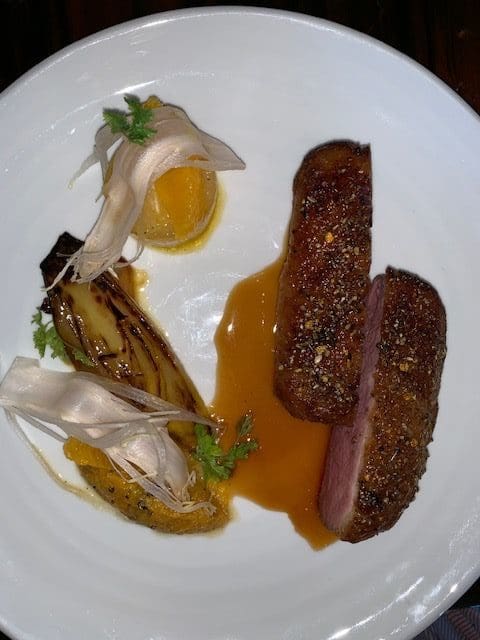 We welcomed our mains, coquelet roti and  king salmon for my dining companions and canard a l'orange for me. The roasted chicken with braised romano beans, shitaake mushrooms and a side of pomme frites deserved and received praise, as did the salmon in coconut broth with lime and chorizo. The highest accolades however, were reserved for my duck. It arrived perfectly cooked medium rare with daikon radish, endive and orange marmalade. It was so good it became a tactical battle to keep the majority for myself.
Bullion has a substantial wine list but we relied on the sommelier's expertise in providing wines by the glass because of our diverse menu selections. He did not let us down, with excellent pours of both reds and whites  complimentary to each dish.
Dessert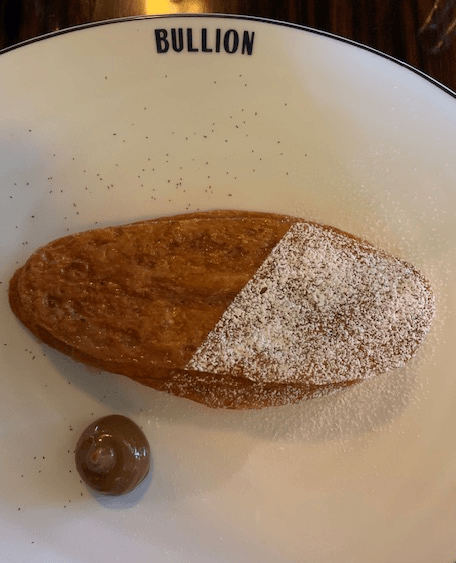 Finally, it was time for dessert. I had my eye on a favorite French pastry, mille feuille from the very beginning. Puff pastry, layered with vanilla pastry cream, sprinkled with powdered sugar and a dollop of dulce de leche on the side was heavenly. The dulce de leche, a spanish caramel, added an interesting non-traditional twist. That and an espresso concluded our meal.
Throughout our meal, service was impeccable and the cost was what one would expect of such a memorable restaurant.
You can't go wrong here, if you are in Dallas searching for a place to celebrate – anything!