Chicken Pot Pie * UPDATED *
My wife is a chicken pot pie connoisseur. She loves, and frequently orders them when dining out. In a pinch she will purchase and microwave a frozen pie at home, smiling all the while. I on the other hand shy away from them after several less than satisfying experiences.
Cold weather called for something hearty and the idea popped into my head she might like a home-made pie. I decided to surprise her when she returned home from a hard days' work, always searching for that mythical "atta-boy".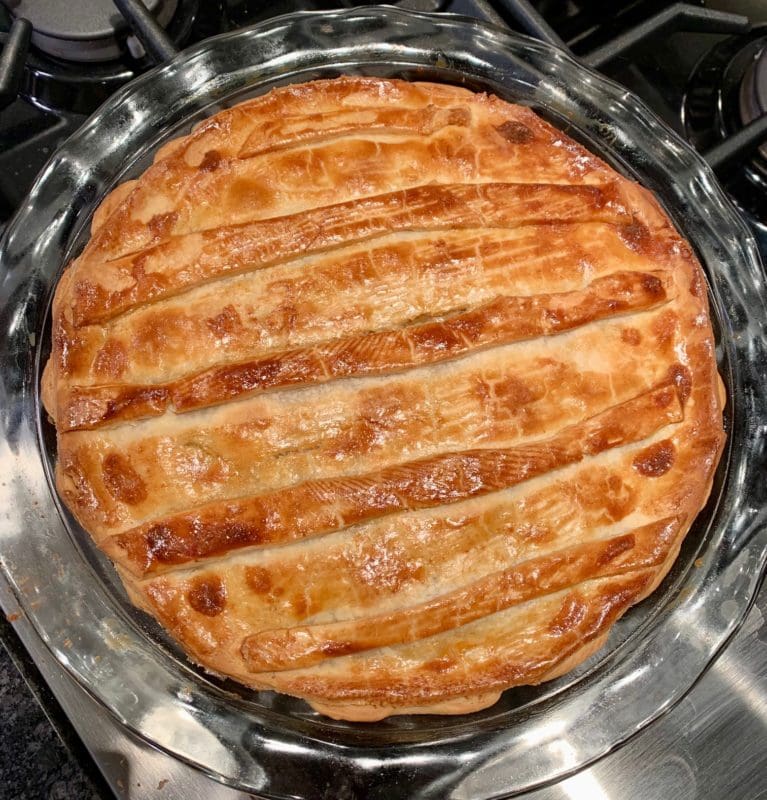 Chicken Pot Pie Adventure
My objective was to create something I would like, but she would love. Below is my first recipe for pie and it was marvelous as is. That never happens, but here it is. I put some effort into decorating the top and perhaps that's why it tasted so good. Well, that and the substitution of half and half for the milk that had spoiled in the fridge.
Regardless, my pretty lady downed two slices for dinner and raved about it to friends and family. She used the magic words "best ever" and when the dust settled I began making notes. I thought long and hard about what might be done to improve it. Using rotisserie chicken might be worth a test, but we could honestly enjoy this as is, over and over.
Oh, by the way, I loved it too. I guess I like chicken pot pie after all!
Diced Chicken vs. Rotisserie Chicken
A repeat performance used rotisserie chicken instead of diced chicken breast. I removed the skin and tore the breast and thigh meat into bite size pieces. It is now my preferred recipe, but the former will do in a pinch!
Pie by the Pictures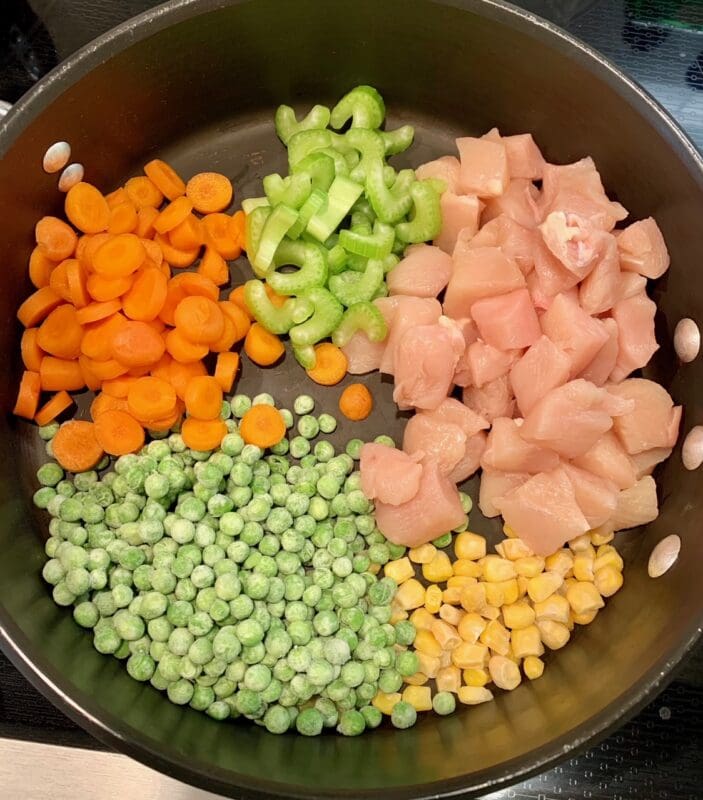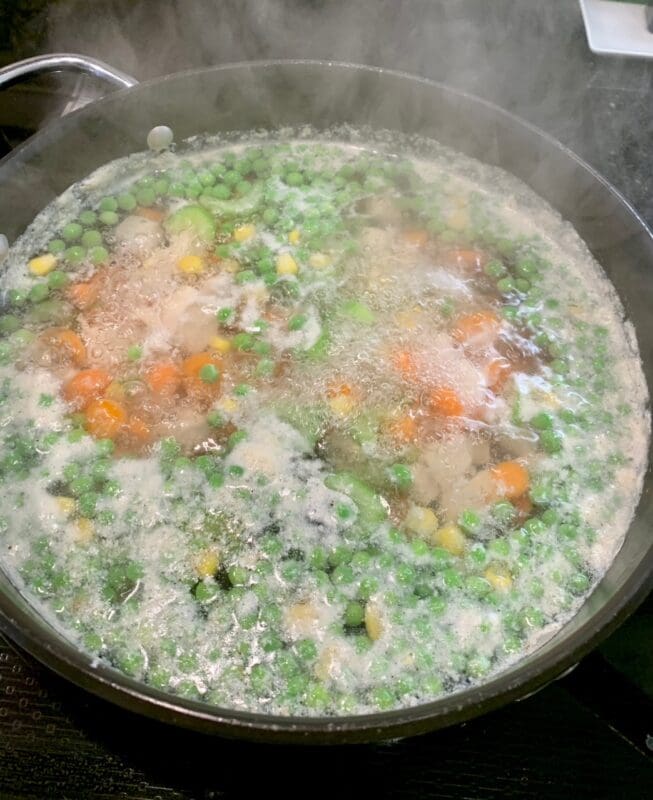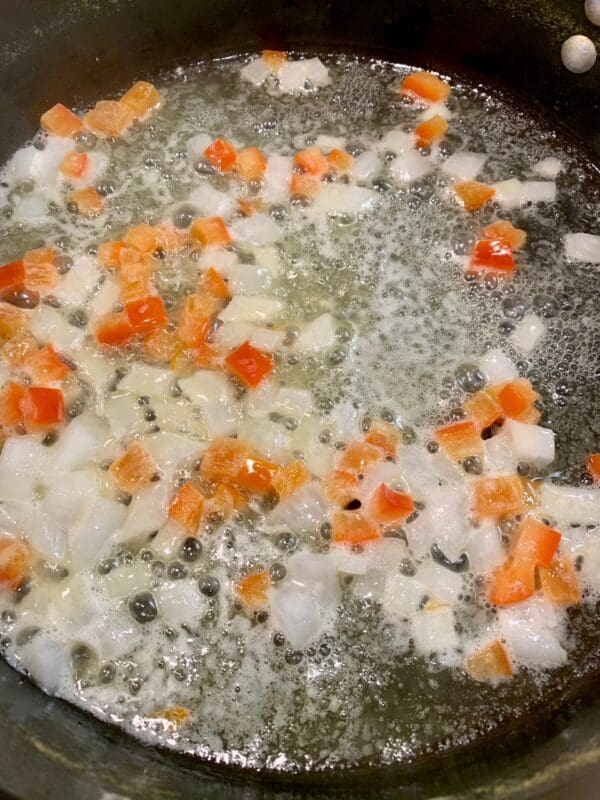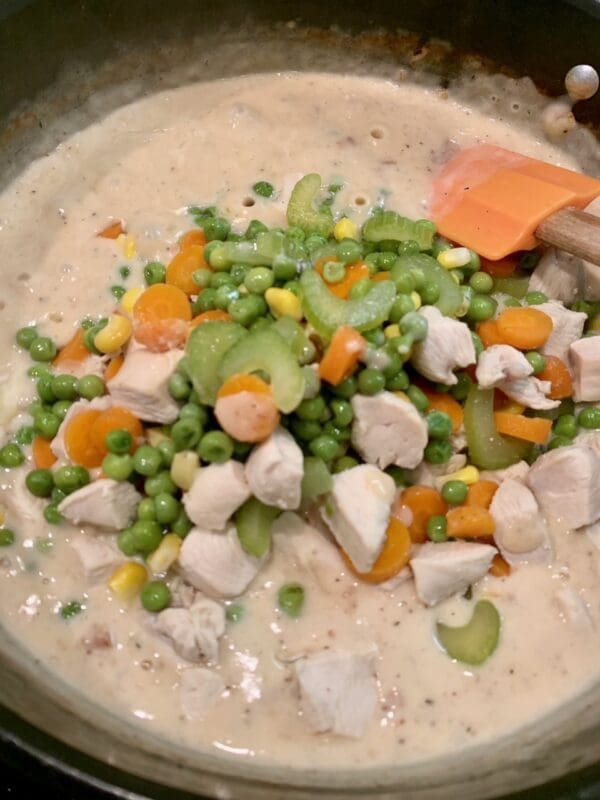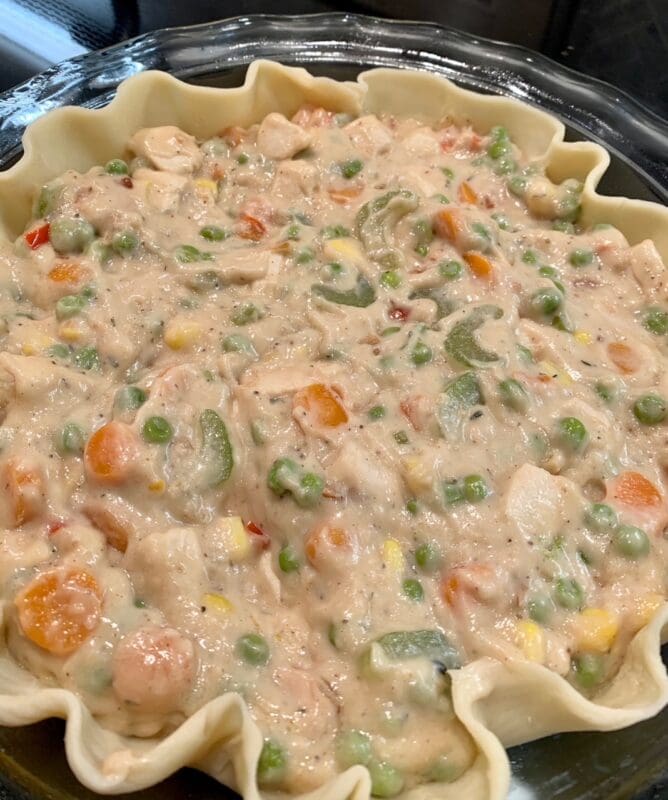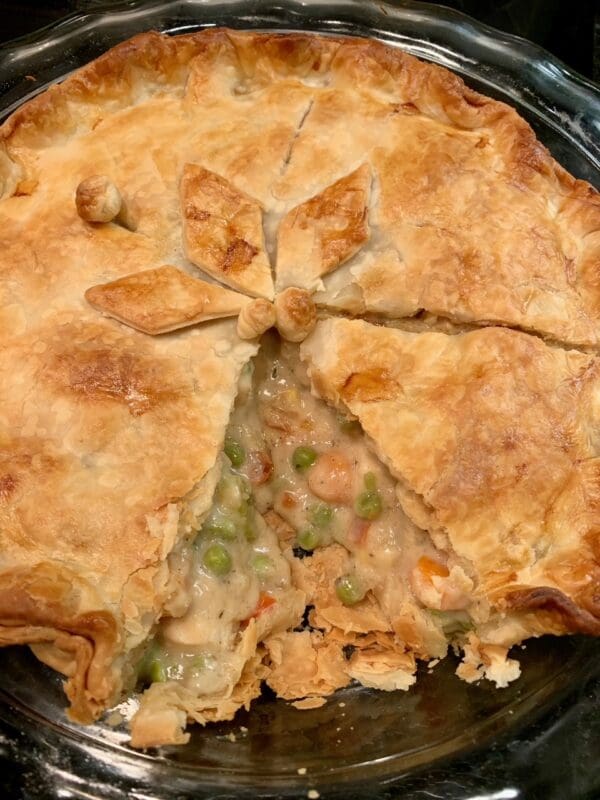 Print
Chicken Pot Pie
My Chicken Pot Pie Adventure!
12

–

16

oz rotisserie chicken breast and thigh meat – pulled into bite size pieces, OR skinless, boneless chicken breast – cubed

1 cup

frozen green peas

3/4 cup

carrots – sliced into coins and halved

1/2 cup

celery – diced

5

–

6

TBL salted butter

2

cloves garlic – minced

1/3 cup

yellow onion – diced

1/4 cup

red bell pepper – seeded and diced

4

TBL frozen sweet corn

1/3 cup

all purpose flour

3/4 tsp

salt

2/3 cup

half and half

1/2 tsp

ground black pepper

1/4 tsp

dried thyme

1/4 tsp

celery seed

2

unbaked pie crusts

1

–

3/4

cups unsalted chicken broth

1

egg
Instructions
Preheat oven to 425 degrees
Combine carrots, corn, peas and celery in a deep saucepan (add the raw diced chicken breast too, if using that)
Add enough water to cover and boil for 10 minutes (15 if using diced raw chicken breast), then remove from heat and drain in a colander
Add the butter to the saucepan, cook onions and red bell pepper on low medium heat until soft and translucent
Stir in the garlic and cook 1-2 minutes more
Stir in the salt, pepper, celery seed, thyme and flour. Cook for 2-3 minutes
Slowly stir in the chicken broth and the half and half
Add the rotisserie chicken and the pea, carrot, corn and celery mixture
Simmer over medium-low heat until thick – just a few minutes
Remove from heat, cover, set aside and let it cool for 25 minutes
Grease with butter or pam your glass baking dish and place a pie crust in the bottom
Pour the warm (not hot) filling into the pie crust and cover it with another pie crust
Seal the edges and cut away any excess dough
Decorate the top with the excess dough in any shape you want – this makes it taste better!
Lightly whisk your egg and use a pastry brush to wash the top of the pie
Bake in the preheated oven for 30 minutes, or until the pastry is golden brown
Remove and cool on a rack for 10 minutes before serving
Notes
If using raw chicken breast, boil it along with the carrots, etc.
Rotisserie chicken is already cooked, so wait to add it in after the broth and half and half are stirred in
Do not pour hot filling into the pie crust because it will result in a soggy crust!