Print
Chicken Salad
Chicken salad is a frequent lunch menu item in my house and it's quick and easy to make. One of many ways to finish off that leftover rotisserie chicken, this recipe elevates it far above your average salad. We love it on top of mixed greens and as the filling for a delicious sandwich.
The Secret Ingredient
Salted crema mexicana is my secret weapon that shoots down other chicken salads like a surface to air missile. It adds unbelievable flavor just as it does for authentic tortilla soup. Celery and nuts add a crunchy texture to go along with the savory goodness of roasted chicken.
If you feel like a sandwich instead of a salad, add sliced tomato and a toasted bun. With a few potato chips you have a perfect lunch.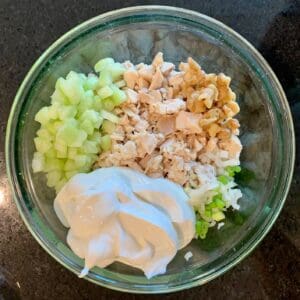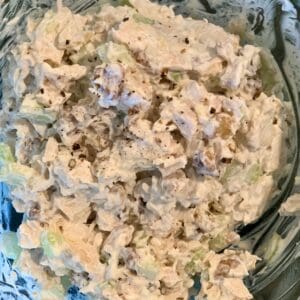 2

–

1/4

cups rotisserie chicken meat – chopped

1/2 cup

salted crema mexicana sour cream

1

TBL mayonnaise

2

TBL chopped walnuts

1

celery rib – diced

1

green onion – sliced, including tops
Salt – to taste

1/2 tsp

freshly cracked black pepper – more to taste
Mixed greens – for a salad
Sandwich buns – buttered and toasted

1

ripe tomato – thinly sliced for a sandwich
Instructions
Chicken Salad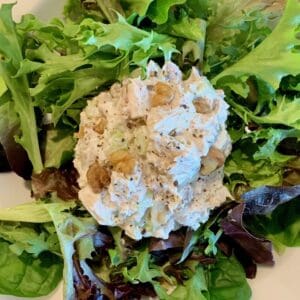 Pull and trim the light and dark meat from a rotisserie chicken
Chop and mix the meat
Gently mix the meat with the celery, green onion and walnuts
Add the crema, mayonnaise and black pepper
Fold the chicken salad together until thoroughly combined and salt to taste
Serve immediately over a bed of mixed greens and sprinkle a few chopped walnuts with cracked black pepper to taste, or tightly cover and refrigerate until ready to use
Chicken Salad Sandwich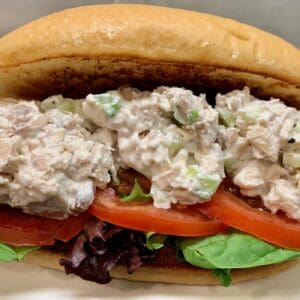 Butter and toast your sandwich bun in a cast iron pan or on a griddle
Lay a bed of greens on the bun, followed by sliced tomato
Spread a cup of chicken salad over the tomatoes
Sprinkle with more chopped walnuts and black pepper to taste