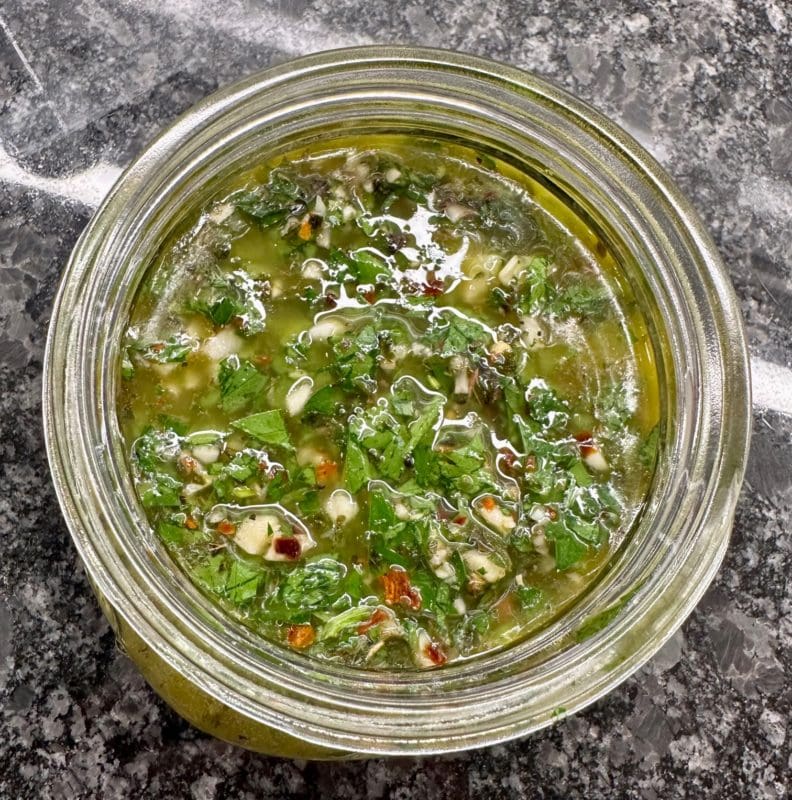 Traditional Chimichurri sauce has only six ingredients, so don't be fooled by imposters that throw in everything but the kitchen sink. I'm not saying they can't be good, but they are not the original thing.
History of Chimichurri Sauce
The name is the thing, but it's not named after Irishman Jimmy McCurry or Wee Jimmy Curry.  Nor is it some other malapropism of Scottish or English names. Instead, the most believable origin comes from the Basque language and the word tximitxurri. It translates as a "mixture of things in no particular order". This fits with the documented history of Basque migration to Uruguay and Argentina in the 1800's where chimichurri sauce, if not created there, was certainly popularized. Here in the U.S. of A. it's popularity rose in conjunction with outdoor grilling from mid-twentieth century to today.
Variations and Use of Chimichurri
You can use it both for a marinade and condiment to accompany meats, but don't forget to try it with fish and poultry. There is a red chimichurri derivative of the original made by adding tomatoes and red bell pepper. For those searching for something beyond the A-1 or worcestershire world, I highly recommend you give this a try on strip steak, flank steak and picanha.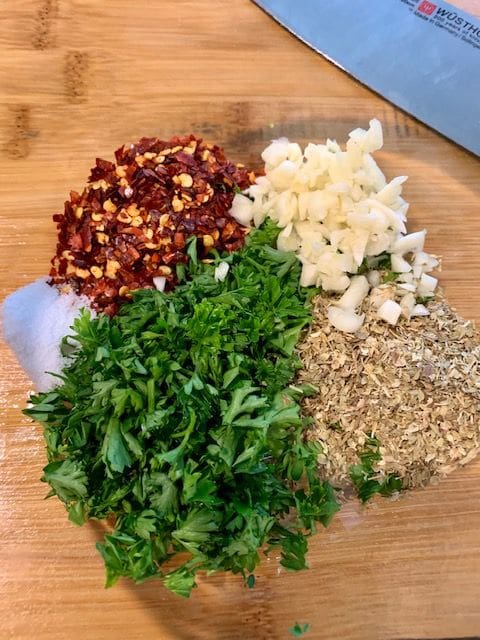 And just one more thing…
I sometimes add a little fresh sweet red chili for a little more color. Shhh.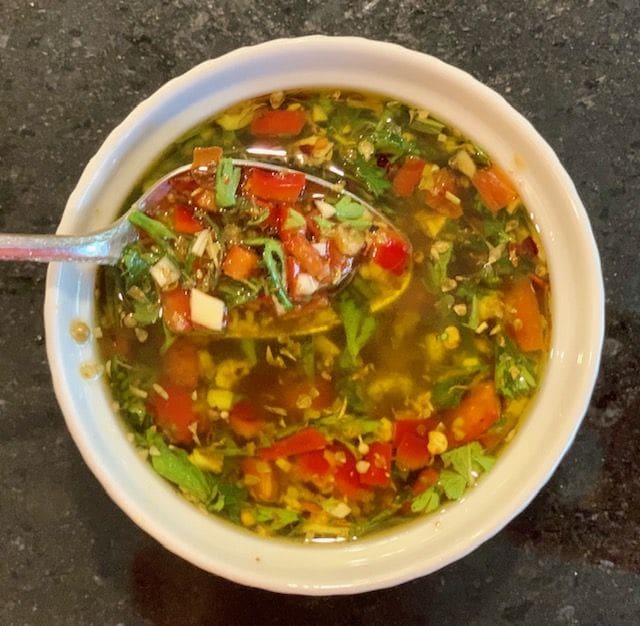 Print
Chimichurri Sauce
Parsley, oregano, red pepper and garlic in red wine and olive oil
3/4 cup

chopped parsley

2

TBL chopped dried oregano leaves

1

–

1/2

tsp crushed red pepper

2

TBL red wine vinegar

4

garlic cloves – minced

1/2 cup

extra virgin olive oil
Kosher salt to taste
Freshly ground black pepper to taste

1

red chili – seeded and finely chopped (optional)
Instructions
Combine the parsley, oregano and red pepper flakes
Grind and mix with pestle or a food processor to desired coarseness
Add vinegar, garlic, olive oil and mix thoroughly
Season with salt and pepper to taste
Add red chili (optional)
Let stand for 2 hours to allow the flavors to meld
Use as marinade or condiment
Notes
You can refrigerate this overnight. Bring to room temperature before serving
Chop as fine or coarse according to personal preference.