Print
Cosmopolitan
The cosmopolitan is proof that what's old can become new again as the current generation learns it's a great cocktail. Sipping one of these in a coupe or cocktail glass is elegant to boot.
Origins
There are as many stories as those telling them. Generally agreed to surface in the late 80's, the geographic origin is more hotly contested. San Francisco, New York, Minneapolis and Floridians make a claim to it's creation, but the truth will remain unknown. One thing is certain, Carrie, Charlotte, Miranda and Samantha propelled it to stardom.
Sex and the City
It was 1999 when Samantha drank her first one. Within the next two years she and her cohorts had created a monster. The reason is variously credited to glamour, elegance and media influence, but you can't discount the beauty and taste. They're called the female martini although the only common element is when served in a cocktail glass.
It's an indisputable fact SATC made this drink and it's also true it hastened it's fall from grace through over exposure. Now an entirely new generation is learning about this delicious cocktail and it's enjoying a resurgence of popularity, this time including men. So ladies, put on that little black dress and gentlemen, sport that bow-tie and enjoy something new – that's old!
1

–

1/2

oz vodka

3/4 oz

Cointreau

3/4 oz

cranberry juice

1/2 oz

fresh lime juice
Lemon peel – garnish
Instructions
Chill a cocktail glass
Combine the ingredients in a shaker with ice
Shake vigorously until well chilled
Double strain into the glass
Garnish with lemon peel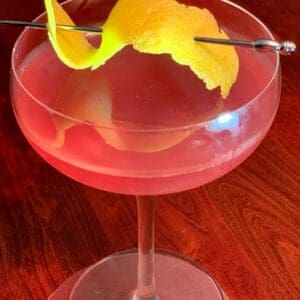 And just one more thing…
I'm willing to bet Big shared these with Carrie, when no one was looking.