Print
Sawmill Gravy and Biscuits
Sawmill gravy and biscuits is a traditional breakfast here in Arkansas and my home state of Kentucky. I can directly trace it back to the early 1800's in my family. Great, great grandpa emigrated from Germany, sailing 62 days on a tall ship from Liverpool to New Orleans. He settled in Kentucky, married a local girl and she made the gravy.
Curiously, in Arkansas it's called sawmill gravy while in Kentucky it's just gravy or milk gravy. However, there's a reason for that. Here it takes it's name from logging camps and sawmills where it was a breakfast staple and the name stuck.
This Is How You Make The Gravy
The great greats slaughtered their own hogs and made their own sausage. Grandma made scratch biscuits and made the gravy with milk from their own cows. They traded for flour, salt and pepper in the small community a few miles away by wagon and she cooked breakfast over a wood fired cast iron stove.
I make it a little differently. I buy everything at the grocery including canned biscuits. That's right, I buy canned biscuits for the convenience and because I can't make them better than Hardees or Pillsbury – yet.
Sawmill gravy is traditionally made with sausage, but my family likes bacon and sausage, so naturally we use drippings from both. The combination of the two creates a sublime mixture that can't be duplicated with only one or the other. Biscuits and gravy is not only a beloved Arkansas Original, but a revered breakfast throughout the south.
1/2

lb bacon

1/2

lb sausage
AP flour -roughly equal to the amount of grease, e.g. 1/4 cup of grease with 1/4 cup of flour

1

–

1/2

cups whole milk – plus enough to thin it to your desired thickness
Salt and pepper to taste

8

–

12

biscuits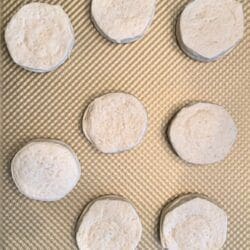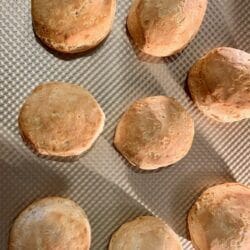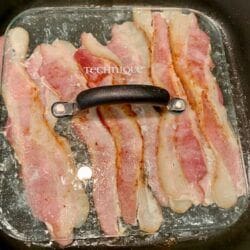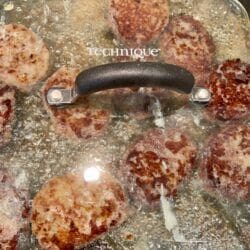 Instructions
Preheat your oven to 375 or per the biscuit manufacturers instructions
Place your biscuits on a baking sheet 1-2″ apart
Put them in the oven when it reaches temp and bake until browned – about 11-12 minutes
Fry your bacon to render the grease and set aside on a paper towel covered rack
Fry the sausage in the bacon grease and set aside on the rack
Reduce the heat to medium and whisk in the flour 2-3 TBL at a time until you have added an amount roughly equal to the grease
Whisking steadily, cook for 3-4 minutes until all the flour is fully cooked
Add the milk in a steady stream and whisk until it is fully incorporated
Reduce the heat to low and whisk until it reduces to your desired thickness
Maintain on warm until ready to serve and thin it with milk if necessary
Adjust the salt and pepper to taste
Serve with the biscuits, bacon and sausage