Print
Jasmin Cocktail
A Jasmin cocktail has it all, aromatic gin, sweet orange and a touch of bitterness to stimulate your appetite. With a little lemony citrus it is a beautiful and completely satisfying before dinner drink.
I could convince you it's named after the fragrant flower with many alternative medicinal uses. I could wax eloquent about its spiritual meaning and the fact that in Farsi, it means "gift from God". Or, I could titillate your senses writing about its use as an aphrodesiac, but I won't. Here's the true story…
Unlike most cocktails, this one's provenance is well known. Paul Harrington created the Jasmin in 1992 and named it for a friend.
The Modern Classic
Critics and craft cocktail aficionados alike have christened the jasmin a "modern classic". The term although popular, is a classic oxymoron used as a compliment despite the contradictory terms. This really means that over time people expect it to become a classic cocktail. It's good enough that I agree. It's strong, refreshing and another great choice, especially for summertime. Add this to your D.I.Y. cocktail menu and you will be glad you did.
2 oz

london dry gin

1 oz

campari liqueur

1/2 oz

triple sec

1/2 oz

fresh squeezed lemon juice
Instructions
Freeze a cocktail glass for 15-30 minutes
Fill a shaker halfway with ice and add all the ingredients
Shake like you're standing in Antarctica without a coat until it's ice cold
Strain and serve in a cocktail glass
Express and garnish with a twist of lemon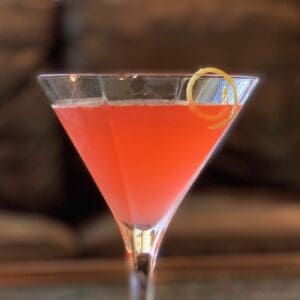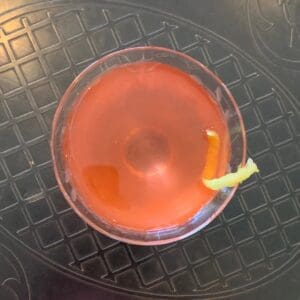 Notes
Shake/Strain/Cocktail/Lemon Twist