Print
Chicken Fried Steak and Gravy
Chicken fried steak and gravy is a favorite of Arkansans throughout the state and country fried steak is a close second. If you thought they're the same thing, you're wrong and I'll explain. The difference is in the gravy. White gravy is ladled over chicken fried when plated, and country fried is smothered in brown gravy while cooking.
The Name
Calling a breaded beef patty chicken fried begs the question why? The simple answer is because it's breaded and prepared on a stove top like fried chicken.
Origin
The town of Lamesa, TX, pop. 9,422 and incorporated in 1917 lays claim to the birthplace of chicken fried steak. It was officially recognized as such by governor Rick Perry and they host a chicken fried steak festival annually in April.
Case closed, right? Well, no, it's another example of fake news. The reporter that wrote the original story about it admitted he fabricated the entire thing. Does that sound familiar? He probably worked for the failed New York Times. I'm just kidding folks – about his connection to the NYT.
The roots of chicken fried steak are firmly planted in weiner schnitzel, brought here by Europeans. They made breaded veal or pork cutlets for centuries and didn't leave the recipes behind when they emigrated to America. It's possible that weiner schnitzel arrived in the 1700's with my 5th great grandfather, or later in 1837 with my great, great grandfather and his family. In fact, I'm sure my family is responsible for introducing chicken fried weiner schnitzel to America. Yeah, that's the ticket!
Before I get carried away let's leave it at this. Somewhere at sometime, someone got the idea to substitute beef in the weiner schnitzel and created chicken fried steak. My guess is that it happened before 1917 and somewhere other than Lamesa, Texas.
Enjoy Your Chicken Fried Steak and Gravy
This recipe makes a crispy and flavorful breading for the steak and a delicious gravy. I love it with a side of purplehull peas, mashed potatoes or okra. It's part of our culture and I call that an Arkansas Original.
4

cube steaks (about

1/3

lb each)

1

–

1/2

cups flour

1/2 tsp

smoked paprika

2 tsp

ground black pepper – divided

1/2 tsp

onion powder

1/2 tsp

garlic powder

2 tsp

kosher or sea salt – divided

1/2 tsp

baking soda

1/2 tsp

baking powder

2 tsp

tabasco sauce

1

–

1/2

cups buttermilk

2

eggs

1 cup

vegetable oil
Gravy
4

TBL reserved grease

4

TBL flour

2 cups

whole milk

1/2 cup

heavy cream
Salt and pepper to taste
Instructions
Preheat oven to 225
Whisk together flour, paprika,onoin powder, garlic powder, baking soda, baking powder, 1 tsp black pepper and 1 tsp salt in a bowl and set aside
In a separate bowl whisk together buttermilk, tabasco sauce and eggs and set aside
Pat cube steaks dry with paper towels. Mix 1 tsp salt and 1 tsp pepper together, then season both sides of the cube steaks
Dredge the steaks in the flour mixture and shake off the excess, then dredge in the egg mix. Let the excess drip off and then dredge in the flour mix again
Place the cube steaks on a sheet pan and press in any remaining flour mixture into the cube steaks to make sure they are completely coated. Let set for 10 – 15 minutes to ensure the breading will adhere to the steaks
Pour the vegetable oil to a depth of 1/4″ in a heavy skillet
Heat on medium high until the oil is shimmering and test it by dropping a bit of the breading into it. If the oil sizzles and bubbles around the breading it is ready.
Place two steaks at a time into the pan and fry for 3-4 minutes on the first side then turn and fry for 2-3 minutes on the flip side until golden brown.
Remove steaks and place on paper towels on a sheet pan. Place the pan in the preheated oven while cooking the remaining steaks and making the gravy
Reduce the skillet heat to medium to make the gravy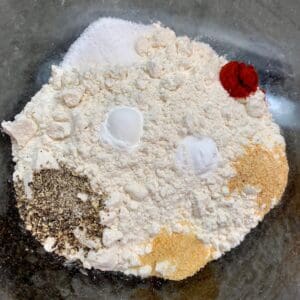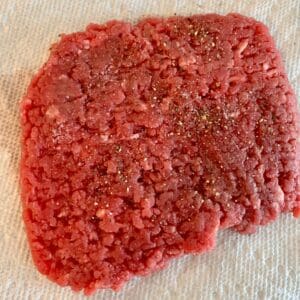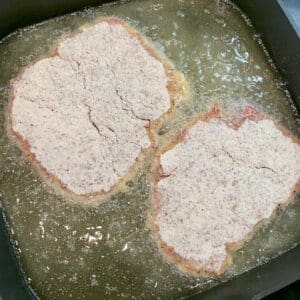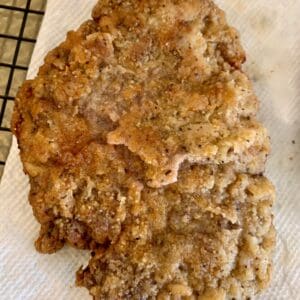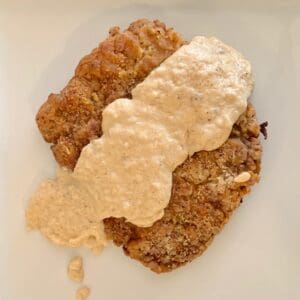 Gravy
Combine the milk and cream and set aside
Pour the oil and grease into a heat safe glass measuring cup
Add back 4 tablespoons of the grease to the skillet
Whisk in 4 tablespoons of flour for 2-3 minutes until nice and golden brown
Drizzle in the milk/cream mixture, whisking constantly
Continue whisking and bring the gravy to a simmer. Lower heat to low and cook until it's smooth, about 3-5 minutes
Thin with milk if necessary
Season with salt and pepper to taste
Plate the steak, ladle the gravy over it and serve with a side of purplehull peas.