Print
Fried Okra
Fried okra with dinner is like sitting down with a tub of popcorn, betcha can't eat just one!
It's a southern delight and a favorite side to enjoy with chicken fried steak or fried fish. My history with okra began when I migrated to Arkansas. It was the ubiquitous veggie and I quickly developed a taste for it. That was years ago, but I recently discovered how good it could really be.
I bought fresh picked okra at our farmer's market, brought it straight home and fried up a batch. The contrast to commercially prepared, buffet table fare was stunning. The combination of a fresh veggie, lightly coated in batter and straight from the skillet was easily the best I ever had. Each morsel was a crunchy but tender bite, seasoned to perfection.
What is Okra?
The short answer, is the tasty seed pod of a flowering plant. They're called ladies fingers in some parts of the world, but I'd get slapped silly if I were foolish enough to compare one to my ladies finger.
It's a versatile vegetable that you can eat raw, sauteed, stewed and my favorite, fried. Thanks to soluble fiber, it's used as a natural thickener in soups and gumbos. Okra is a hardy, heat tolerant and drought resistant plant suited to a wide variety of growing environments and an important food source for areas that suffer food insecurity.
Follow this recipe to enjoy fried okra better than anything from the buffet table and remember, it's an Arkansas Original!
1

lb fresh okra

1 cup

flour

1 tsp

salt

1/2 tsp

ground black pepper

1/4 tsp

cayenne pepper

1

egg

1/4 cup

milk
Vegetable oil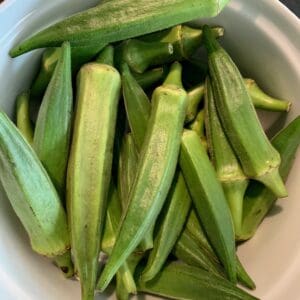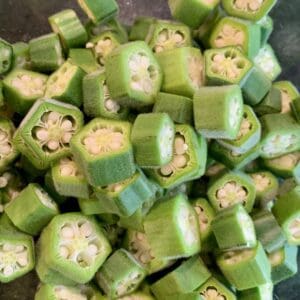 Instructions
Cut off the caps and tips of the okra and slice into 1/4″-3/8″ pieces
Mix together the flour, salt, black and cayenne peppers on a paper plate or in a gallon freezer bag
Separately whisk together the egg and milk in a bowl
Place the okra in the egg mixture and fold with a spatula until every piece is well coated
Use a slotted spoon to transfer the okra to the plate or bag, and leave any excess liquid behind
Toss and/or shake the okra in the flour mix until completely coated
Pour about 3/8″-1/2″ vegetable oil into a cast iron skillet and heat on medium high until it's shimmering, but not smoking, about 375 degrees
Test by placing a bit of flour mix in the pan and if it sizzles and bubbles, it's ready
Place a single layer of okra in the oil and cook until golden brown, turning with a slotted spoon once, about 4-5 minutes
When completely golden brown, use the slotted spatula and place the okra on a paper towel covered rack or plate
Salt and pepper to taste immediately, so it will stick
Repeat the process in batches and serve while warm