Print
Cream of Garlic Soup
Cream of garlic soup is not for everyone. It's only for special people like you and me. I must admit that I do not understand anyone that won't eat it That's okay, because it leaves more for us if there were to be a shortage.
The Garlic Restaurant
While consulting in Winnipeg my host invited me to dinner and asked if I liked garlic. I replied affirmatively and we were off to Gilroy's. Their menu is etched in memory because garlic was a primary ingredient in every appetizer, soup, salad, main and dessert. This bothered neither him nor me and we proceeded to enjoy our own tasting menu.
We left in a euphoric state but soon began to think about what we had done and how it would affect our co-workers. Yes, we reeked of garlic from every pore, noticeable to everyone within reach. They accepted our apologies, but suggested as a courtesy to them, we could wait until the weekend next time.
Medicinal Uses of Garlic
The homeopathic use of garlic includes boosting the immune system, lowering blood pressure and cholesterol. However, it's most important quality is the ability to ward off vampires. There is an active clan in Winnipeg and I'm sure the Empire of the Night is responsible for the demise of Gilroy's. Achieved under the cover of darkness, of course.
Garlic Soup
This recipe uses enough garlic to satisfy any garlic-lover, but not so much that you have to wait for the weekend. If you adhere to the single bowl limit posted at More Soup For You!. I know you won't be able to, so here's to the weekend!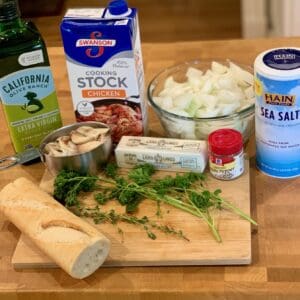 1

TBL olive oil

1

TBL butter

4

medium yellow onions – chopped

1 cup

garlic cloves, about

3

heads – chopped

1 quart

chicken stock
Day old french bread 7-8″ long – cut into chunks

1

pinch dried thyme

1

bouquet garni: 3 parsley stems, 5 sprigs of thyme and 1 bay leaf

3/4 tsp

salt

1 cup

half and half

1/8 tsp

freshly ground white pepper
Freshly ground black pepper – garnish – optional
Fresh thyme sprigs – garnish
Instructions
Heat the oil and butter in a large pot over low heat
Add the onions and garlic. Cover and cook, stirring occasionally until very soft and beginning to turn golden, about 30 minutes
Uncover, raise the heat to medium and continue to cook, stirring frequently until deep golden, about 10 minutes more.
Add the stock, bread, bouquet garni and salt. Bring to a boil, then reduce heat and simmer, about 15 minutes
Remove the bouquet garni and puree the soup in a blender until very smooth
Pour it back in the pot, add the half and half and the white pepper.
Stir continuously on medium low and adjust the salt and pepper to taste
Serve with a sprig of thyme and black pepper for garnish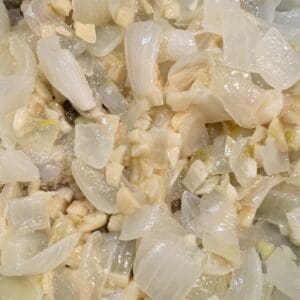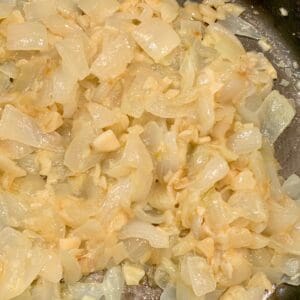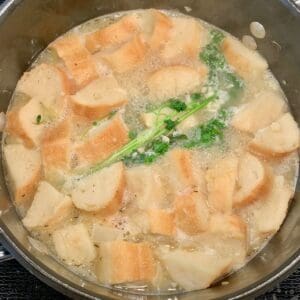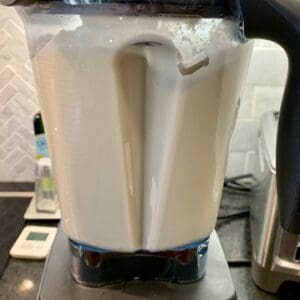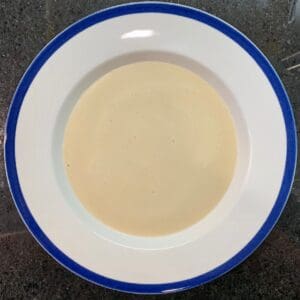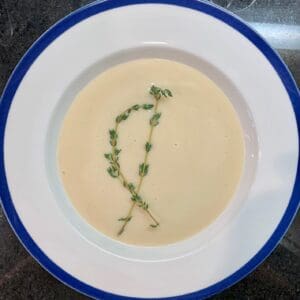 Notes
Like almost all soups this gets better and better overnight.