Print
Goat Cheese Dumplings
Goat cheese dumplings are heavenly pillows bathed in buttery sauce with a little acidity to counterpunch the taste buds. Vareniki is the Russian name for these dumplings and they are inspired by chef Bonnie Morales of Kachka in Portland, Oregon  I was drawn there by the promise of Russian cooking and the russkie zakuskie experience. Among the many dishes on our self-designed tasting menu were Siberian pelmini, a cousin of vareniki.
Vareniki vs. Pelmini
Filling is the difference between the two. Pelmini are stuffed with meats or fish, and vareniki are filled with cheeses, fruits and vegetables. Vareniki is Russian, but these are called pierogi in other Eastern European nations.
Tvorog Vareniki vs. Goat Cheese Dumplings
Fresh farmer's cheese is called tvorog, but unavailable in my locale, so I used goat cheese. My wife and I love it, but beyond that change, I followed Bonnie's recipe faithfully.
Tips and Tricks
I recommend you buy a $13 pelminitsa, because the recipe is portioned to take advantage of its efficiency. Then use that spray bottle to seal the vareniki because it's fast and easy. Weigh the flour as suggested to avoid packing your cup and using too much.
Dosing the cheese filling was tricky. A piping bag was very messy and wasteful because it warmed quickly and became runny. Spooning the filling was slow and tedious. Use a large squeeze bottle and refrigerate it between batches, because it's fast and easy.
My final bit of advice is another about the filling. Resist the temptation to eat too much or you won't have enough for all the dumplings!
Goat Cheese Filling – Yields 4 Batches of Dumplings
1

lb goat cheese

2 tsp

kosher salt

1/2 cup

kefir

1

extra large egg
Scant

1/2 cup

flour

1/2 cup

parmesan cheese – freshly grated

1/4 cup

chives – freshly chopped
Dumpling Dough – Makes 4 Batches = 156
450 grams

of flour, about

3

–

1/2

cups – weigh the flour to avoid using too much

3/4 cup

+

2

–

3

TBL of cold water

1

large egg

1

TBL kosher salt
Sauce and Presentation
1

pat of butter per portion

1

dash of champagne vinegar
A pinch of kosher salt
Chives – chopped – optional
a dollop of sour cream – optional
Instructions
Goat Cheese Filling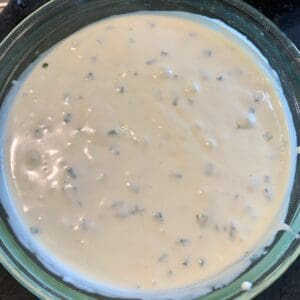 Add the cheese, kefir, salt, egg, parmesan and flour to a blender
Blend in pulses and scrape down the sides a few times to fully incorporate all the ingredients
Stop when you have a smooth, liquid mixture
Fold in the chives until they are dispersed throughout the filling
Pour into large squeeze bottle(s), cap and refrigerate overnight to give it time to firm up
Dumpling Dough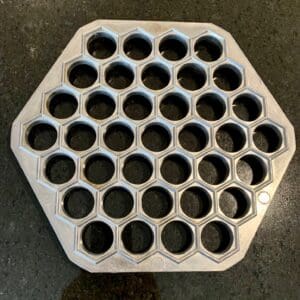 Weigh the flour, add that and the salt to a stand mixer on low speed with a dough hook
Mix the two ingredients for 1 minute
Add the egg, mix on low speed and immediately begin drizzling in the 3/4 cup of water until it is all mixed in.
If any dry ingredients remain, add 1 tablespoon of water at a time until everything is incorporated into the dough. This entire process should only take a few minutes.
Remove the dough and knead for 10 minutes on a very lightly floured surface with only enough to prevent sticking to the surface – do not over-flour
When the 10 minutes are up, form it into a ball and wrap tightly with plastic wrap and let it rest at room temperature for 1 hour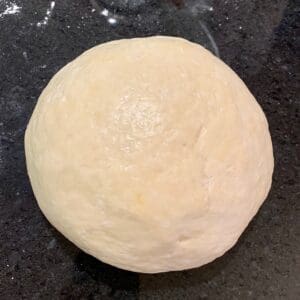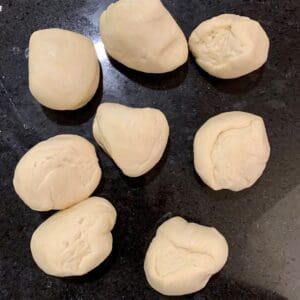 Assembling the Dumplings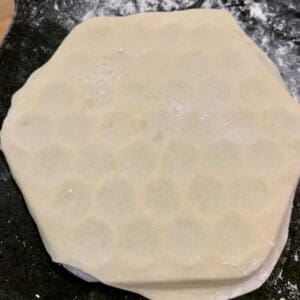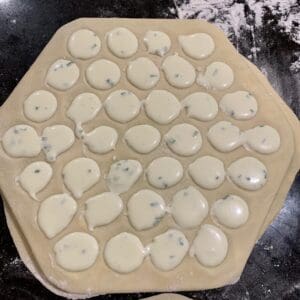 While the dough is resting, lightly flour a baking sheet
Get your water bottle ready with cold water
Lightly flour your work surface and your pelminitsa
Unwrap the dough and cut the ball into 8 equal parts by cutting it in half, cutting the two halves in half and cutting the quarters in half a final time. Each ball will be used to make a bottom or a top for each of the 4 batches of dumplings. Cover the balls with a dry, clean dish towel to prevent drying them out before use
Use a floured rolling pin to roll a ball out large and round enough to cover the pelminitsa
Place it over the pelminitsa and lightly press each depression ready for filling
Repeat the process to make the top for the dumplings
Squeeze a dollop of filling into each depression of the pelminitsa and return the bottle to the refrigerator to keep it cold between batches
Lightly spray water over the dumplings to help seal them and cover with the second dough layer
Use your rolling pin to seal the dumplings, pressing and rolling hard enough to trim the excess dough
Discard it or save it to make a few "bonus" dumplings
Invert the pelminitsa over the baking sheet and gently coax them out
Repeat the process three more times and all the dough is used
Lightly dust the dumplings with flour and make sure they are all separated to prevent sticking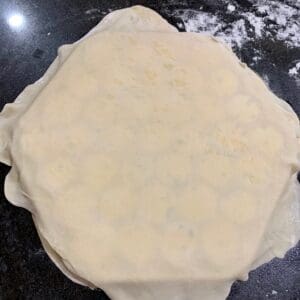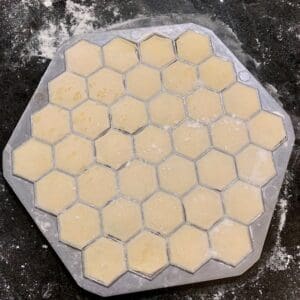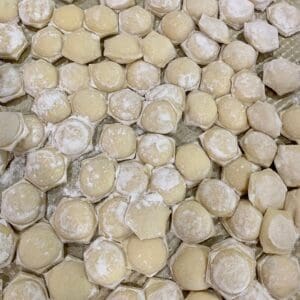 Cooking and Serving the Dumplings
Prepare a well-salted pot of water and bring it to a rolling boil
Place 15-25 dumplings into the water, stir briefly and gently to prevent sticking to the bottom and boil for 4-5 minutes until they float to the surface
Strain them out with a spider, shake to drain briefly and place them into a bowl for saucing
Repeat the process until you have cooked the desired amount of pelmini. The average serving is 15-20 for a main course
Sauce the dumplings with a pat of of butter, a dash of champagne vinegar and a pinch of kosher salt per serving. Swirl the hot dumplings in the bowl to melt the butter and coat them, then sprinkle the salt on top.
You can freeze the remaining dumplings on the baking sheet overnight and then place them into air tight bags until ready to use!