The Restaurant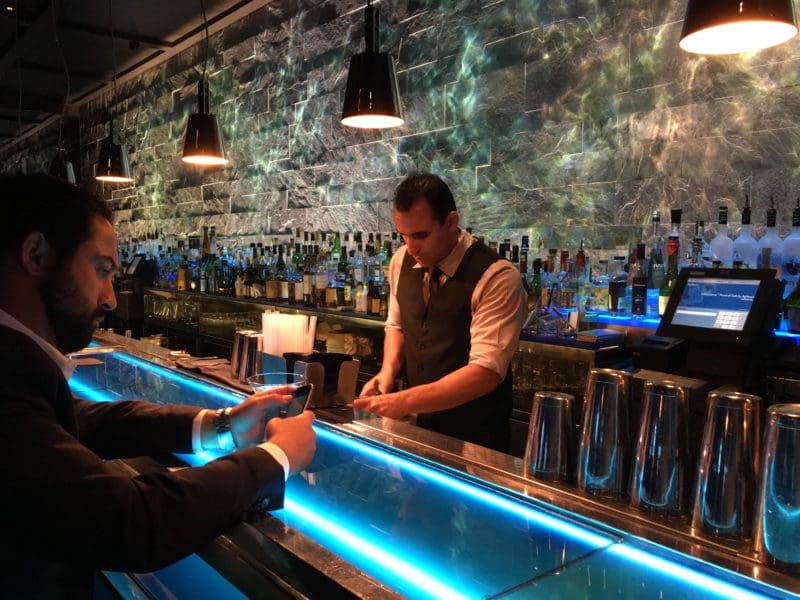 Hakkasan, located in the legendary Fontainebleau Hotel, takes its name from the Hakka people of Guangdong province in China. They serve a refined version of Cantonese, one of the eight regional cuisines.
Trekking the labyrinthian passages of the hotel to the dedicated elevator for the restaurant, we exit onto a small landing with muted lighting at the host station. From there we enter the bar for an attitude adjustment period. The bar, illuminated by images of flowing sea current, creates a very tranquil atmosphere and after a short wait, just long enough to enjoy our drinks, we were escorted to our table.
The dining area is a dimly lit, almost foreboding space. One might imagine entering an opium den, secluded not only from outside scrutiny but also from others within. There are many small partitioned booths with only one or two tables, illuminated by pinpoint lighting.
Our Menu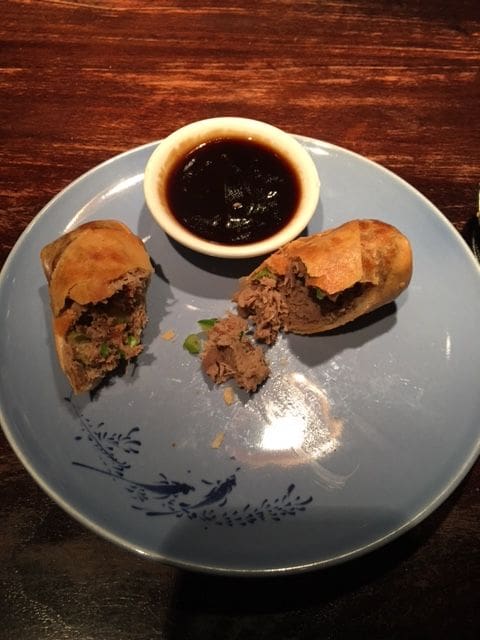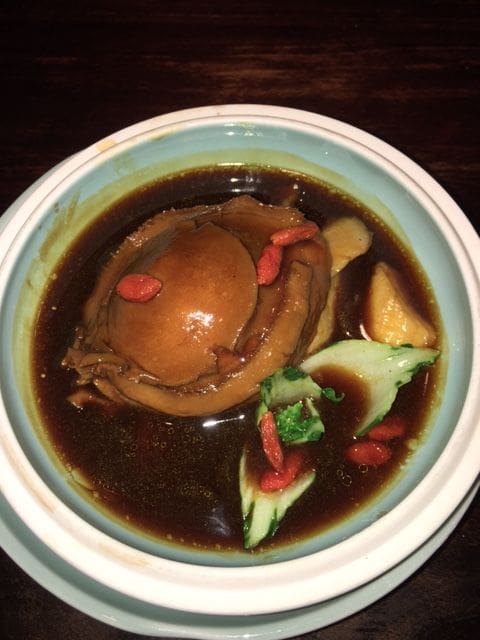 A rich, savory duck roll was our starter, followed by braised abalone with royal trumpet mushrooms. This was my first taste of abalone and I can't find enough superlatives to adequately describe the complexity of flavors. I love squid, octopus and escargot and each could play a role in it's description. Firm flesh with the texture of a large clam, the ever so slight chewiness of properly prepared octopus and the earthy flavor of escargot, all swimming in a rich brown broth.
Our next dish, a light and delicate mushroom soup readied us for the mains.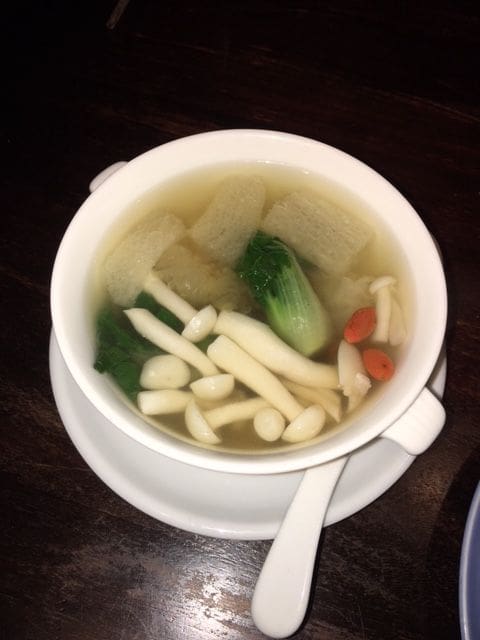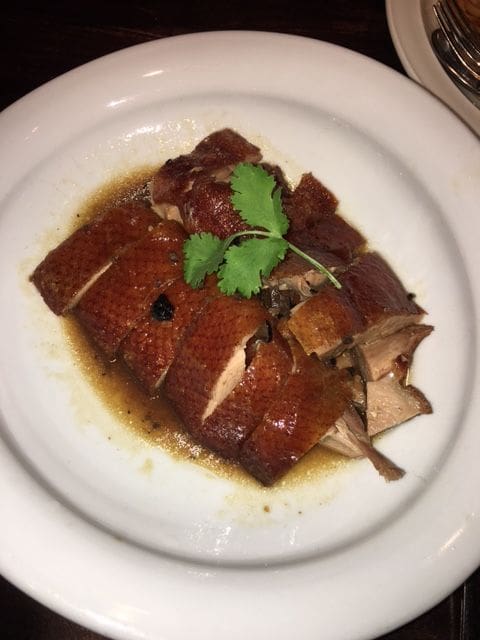 Both of us chose duck, mine roasted with black truffles and my friend's with hoisin sauce. They were prepared perfectly, so juicy with crispy skin. The truffles added earthiness to mine while the hoisin sauce added a savory component to his.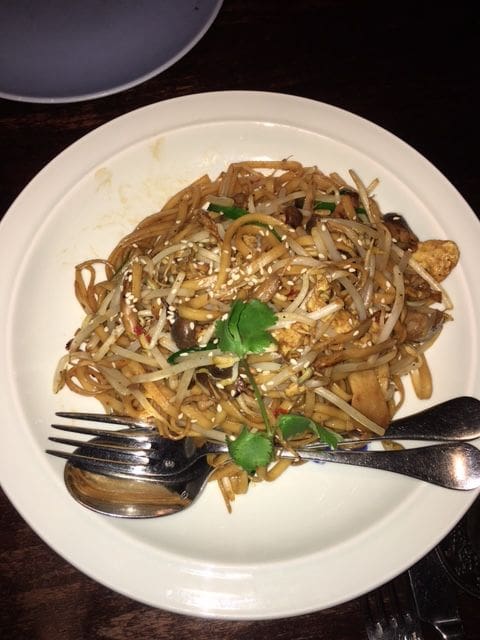 Hakkasan rice noodles and sesame seeds in soy were a nice complement to our duck.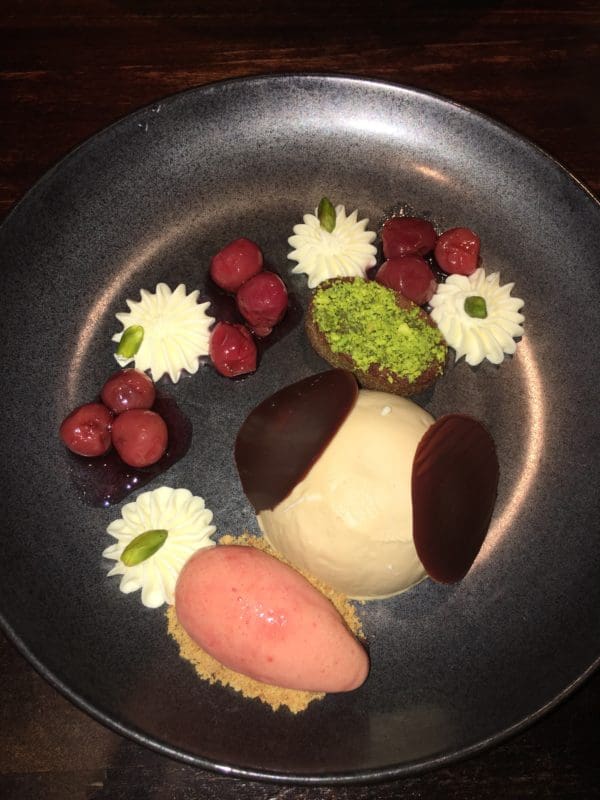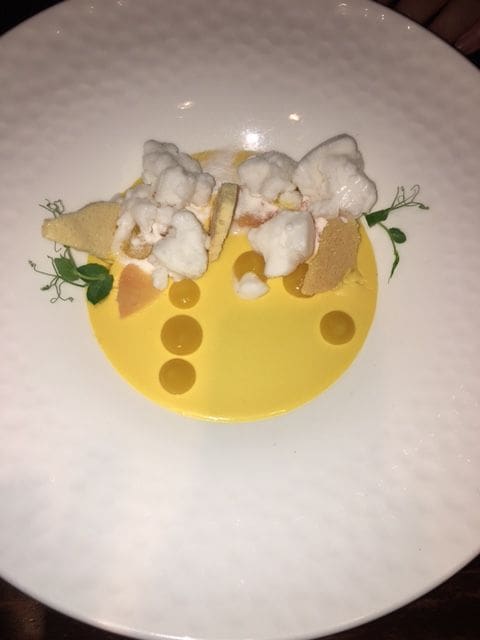 I chose dulce panna cotta for dessert. The cooked cream included two milk chocolate wafers, a dollop of blood orange sorbet, pistachio frangipane and sour cherries. My friend chose mango custard, a silky smooth offering garnished with grapefruit, calamansi and coconut sorbet. We savored each bite and said we can't wait to do this again.
The pace of dinner was perfect. Time to savor the course before us, a short pause between for reflection, then the next. Our servers emerged from and disappeared ninja like into the shadows so effortlessly we barely noticed.
And just one more thing…
I score Hakkasan 98 on a scale of 1-100. You might ask why. It's simple. 捌 发. Even numbers, or Yang, bring wealth and prosperity. That technically makes it better than a 99. Got it?