We arrived at Bazaar, celebrity chef Jose Andres Miami outpost and the house was filling quickly. We dined in the ocean room, created by celebrated French designer Philippe Starck. It was imagined as a private library and dominated by a stunning seashell chandelier. The first thing we noticed was the high energy of fellow diners, expressing delight as each new course arrived.
I was plagued by a cold, while on vacation and against my better judgement ordered a cocktail. The alcohol worked some magic and I was ready to enjoy our meal..
Our Bazaar Menu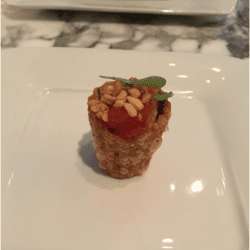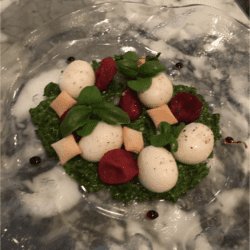 Kueh Pa Ti. Not Your Everyday Caprese Salad, with pesto, cherry tomatoes and liquefied mozzarella balls.
Secreto de Jamon Iberico Bellota
While describing specials and answering questions about the menu our server gave us a crucial piece of information. The iberico pig, raised, fed, slaughtered and cured with the same care as the best veal, is the source of a transcendent ingredient, secreto de jamon iberico bellota. Only two butchers in the world can extract this small "secret" cut of the shoulder.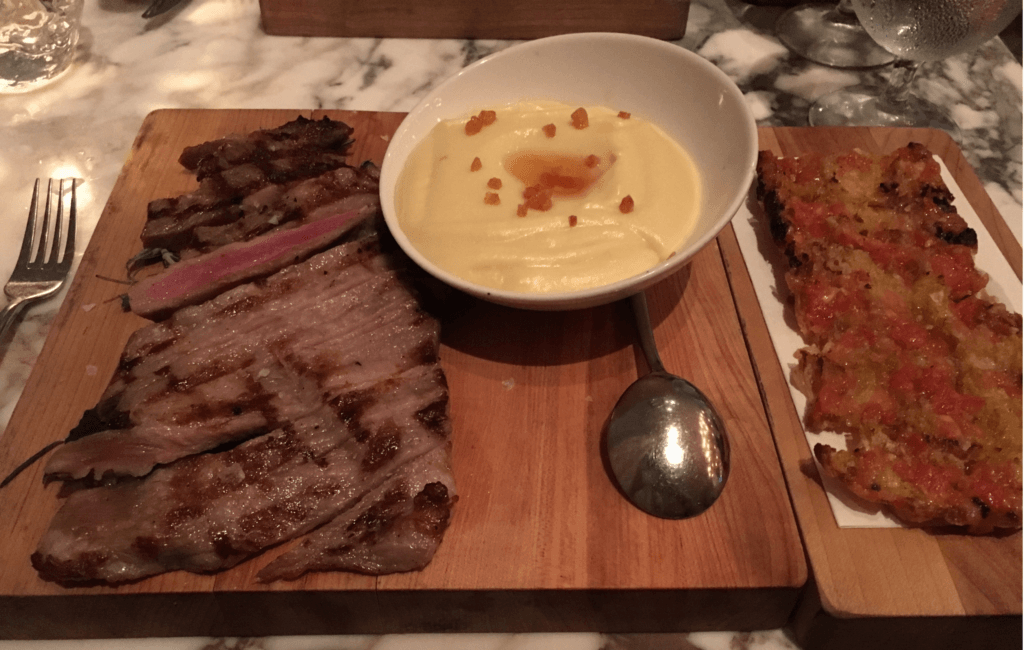 We enjoyed a ten ounce portion of perfectly marbled pork, alternating lean and fat, every bit equal to A5 wagyu beef. It was served on a bed of fresh aromatic rosemary and thyme, accompanied by tomato bread, pureed potatoes drizzled with lardo and topped with crispy bits of pork skin. This was one of the most indulgent and satisfying entrees I have eaten in ages, but before I forget to mention it, we both ordered this to avoid a fork fight.
Dessert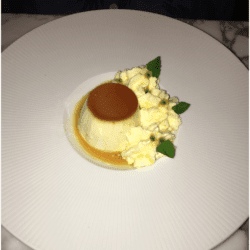 It was time for dessert. Yes, we made room and we chose the Spanish flan with caramel sauce and passion fruit whipped cream. Add a cup of espresso and we were finished, or so I thought.
The dining room was winding down and we struck up a conversation with our server. In the small world category, he had recently attended a wedding in Little Rock. His friend's groom was an acquaintance of mine. Then the house manager visits and begins to chat. Marty had told him that I was from Arkansas, our appreciation of chef Andres cuisine and love of iberico ham. In the middle of our conversation, Marty arrives with a portion of freshly sliced ham for each of us. It was a non-traditional final course, but much appreciated.
Our evening at Bazaar ended on that high note and we exited to a clear, starlit Miami night.