Print
Japanese Sour
Imagine awakening to the sound of birds chirping, the rising sun and the glow of cherry blossoms. Your morning is filled with massage and meditation and the afternoon spent bathing in the natural hot springs. No work, no media, no politics and no worries – only relaxation. Then it's cocktail hour and you're presented with a Japanese sour.
The simple beauty of this cocktail, like the gardens of your retreat belie the effort behind the scenes. I dream of visiting Japan, but for now, I will make do with a beautiful and delicious cocktail. As I hinted above, what I thought would be an easy task turned into a great deal of research, trial and error before success.
Oh The Foam, The Foam
Foam, enough of it and the right consistency is the key. It must float, completely cover the whisky and contain the bitters. If it's too thin, the bitters will instantly spread and cover the cocktail. Too dense and it coagulates, but when Goldilocks says it's just right you have a paintable canvas.
Warm ingredients are easier to foam. Bring the egg to room temp and dry shake everything first
Don't use standard freezer ice. The soluble chemicals hinder formation of tiny foam bubbles. Use distilled water if possible, but filtered will work.
Use cocktail ice, fewer cubes is better
Foam sticks to ice, so re-read the instruction above
Pre-mix the molasses with the whisky or it will turn into a rocky blob when you chill it in the shaker
Paint the bitters onto the foam by touching the eye-dropper to it like a brush
2 oz

Nikka Coffey Grain Japanese Whisky

1/3 oz

molasses

1/2 oz

freshly squeezed meyer lemon juice – divided
Pinch of unflavored powdered gelatin

1

egg white – room temp
Peychaud's bitters – garnish
Angostura bitters – garnish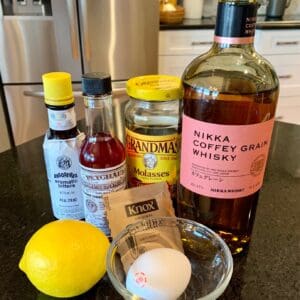 Instructions
Chill a coupe glass in the cooler
Allow an egg to come to room temperature, crack it and separate the egg white and reserve
Pour the whisky into a shaker without ice
Add the molasses and 1/4 oz meyer lemon juice and stir until the molasses is fully combined and set aside
Pour the egg white, the remaining 1/4 oz lemon juice and a small pinch of unflavored, powdered gelatin into a mixing glass and set aside
Dry shake (without ice) the whisky mix for 5-10 seconds
Use an immersion blender to whip the egg white mixture
Working quickly, place 3 rock ice cubes, about 1-1/4″ square into the whisky mix
Pour the egg white mix into the shaker and shake vigorously and briefly until chilled – about 5-10 seconds
Strain into the chilled coupe glass
Let it set for 30 seconds to a minute to allow time for the foam to rise to the top and create a thick layer above the whisky, lemon and molasses
Garnish carefully using an eye-dropper with several drops of the peychaud's and angostura bitters
Connect the dots by dragging a toothpick through them to create a pleasing pattern