Print
Voodoo Pasta
Voodoo pasta gets its name from black pasta, cajun spices and because it's sinfully good. Required ingredients include sausage, alfredo sauce and pasta, but beyond that it's open to many interpretations.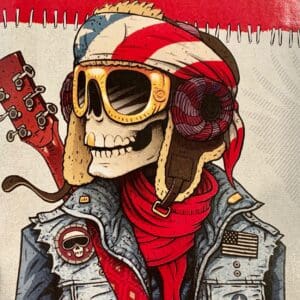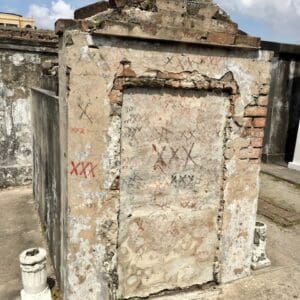 Alternates and Substitutions
The squid ink pasta is the first thing you may change because it isn't widely available off the shelf. Don't worry, because the shape is also optional. Use spaghetti, penne, fusilli or any other favorite (or leftover) pasta, because it will taste equally good.
There are also options for the sausage, and andouille, smoked or even polish kielbasa will work. Most recipes use chicken or shrimp, but you may include both if you can't make up your mind. The color of the bell pepper isn't critical and feel free to use your favorite home-made or commercial alfredo sauce.
One of the fun things about voodoo pasta is the flexibility, including the spiciness. If you're a pepper-head, crank up the heat, but if you're not, just chill. It's your choice
Voodoo Pasta
1

lb squid ink (black) linguine pasta

1/2

lb. andouille sausage – sliced into

1/4

" coins
One dozen shrimp – peeled

1

–

1/2

tsp blackened seasoning

1

dz small pieces julienned sun dried tomatoes in oil – drained

2

TBL olive oil

1

–

1/2

cup alfredo sauce

1

yellow bell pepper – sliced 1/4″ wide
Tabasco habanero sauce – 5-6 dashes to taste

1

small yellow onion – sliced
Freshly grated parmigiana reggiano – optional
Garlic bread and butter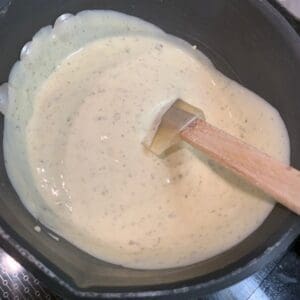 Blackened Seasoning
1/2

TBL spanish paprika

1/2 tsp

salt

1/4 tsp

onion powder

1/4 tsp

garlic powder

1/4 tsp

cayenne pepper

1/4 tsp

ground white pepper

1/8 tsp

dried ground thyme

1/8 tsp

dry oregano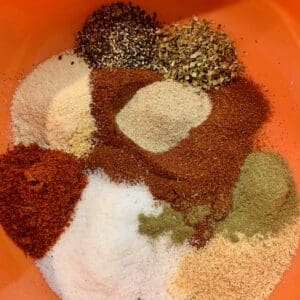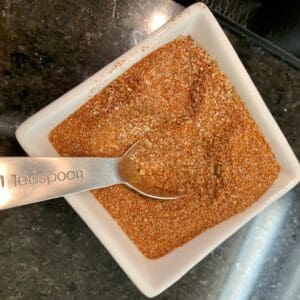 Instructions
Make the seasoning, prep the veggies, sausage and shrimp
Bring well salted pasta water to a boil and begin cooking the pasta per the producers instructions
Warm the alfredo sauce
In a large saute pan on medium heat, add the olive oil, sausage, onion and bell pepper
Sprinkle with blackened seasoning and cook, stirring occasionally until the sausage is browned, the onion is translucent and the bell pepper is limp
Add the shrimp and sun dried tomatoes about halfway through cooking the sausage and saute about 5 minutes more
Drain the pasta in a colander
Add the alfredo sauce to the sausage and stir to combine
Add the pasta and the tabasco sauce to the pan and gently stir until everything is hot
Adjust the tabasco sauce to taste
Plate with each portion receiving sausage and shrimp equally
Serve with buttered garlic bread, a cajun house salad and a hoppy ice cold beer!