Print
Kentucky Burgoo
The confluence of late summer and the bluegrass political season mean it's time for Kentucky Burgoo. A favorite place for both is the 140 year old Fancy Farm picnic in Western Kentucky. It is famous for the food, foibles and faux pas of politicians stumping for statewide office.
Kentucky Burgoo
Wild game is used in traditional recipes with three different meats like squirrel, deer and rabbit or more exotic choices like possum and raccoon. However, if you're a squeamish city-dweller you can make it with chicken, pork and beef, but still call it burgoo.
Restaurants use chicken and beef because of the large quantities required. Unfortunately they tend to offer a thinner version that is more akin to soup than stew. We don't suffer the same constraints, so we're free to make it as nature intended.
There are no limitations on vegetables, so we throw in a smorgasbord with a myriad of seasonings and create a thick, scrumptious stew. Cook it down slowly until a spoon will stand straight up and you have real Kentucky burgoo!

Meats
1

lb rabbit loin or chicken

1

lb venison or mutton or beef stew meat

1

lb pork shoulder or squirrel or wild hog back strap

4

large knuckle or beef bones

4 quarts

water
Vegetables
6

medium onions – finely chopped

4

cloves garlic – minced

2

green peppers – seeded and finely chopped

1

medium turnip – peeled and small diced

28 oz

canned marzano peeled tomatoes – chopped

1

large carrot – peeled, sliced and chopped

2 cups

freshly shelled small butter beans

6 oz

tomato paste

2 cups

celery – thinly sliced

2 cups

green cabbage – finely chopped

1

whole red pepper pod
Seasonings and Thickeners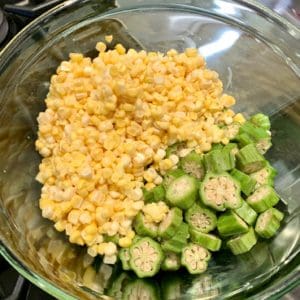 1

lb fresh okra – sliced

5

–

6

ears fresh corn – kernels sliced off the cob, milk reserved

1/4 cup

salt
Juice from

1

large lemon

1

TBL worcestershire sauce

1

TBL sugar

1

–

1/2

tsp coarse black pepper

3/4 tsp

cayenne pepper
Instructions
Day One
Combine the meats, beef bones and water in a large pot, bring it to a boil, cover and lower the heat to a simmer for 4 hours, let cool, strain and reserve the stock
Remove and discard any skin, bone or gristle from the meats
Cut the meats into 1″-2″ pieces, then shred them with forks, return the meat to the reserved stock and refrigerate overnight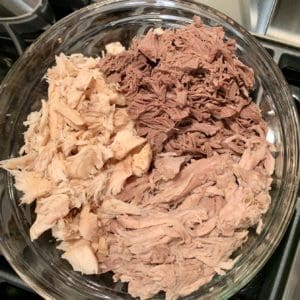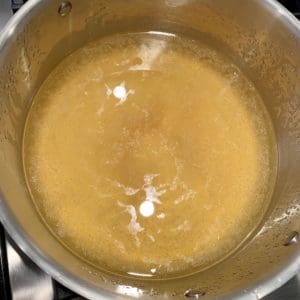 Day Two
Skim off and discard half the congealed fat
Whisk together the dry seasonings
Return the pot to the stove, add the vegetables and 2/3 the dry seasonings, bring to a simmer for an hour until it begins to thicken
Slice the okra and cut the kernels off the corn cobs, scrape the cobs for the milk
Add the okra, kernels and milk to the pot
Add the worcestershire sauce, lemon juice, remaining dry ingredients and stir to combine
Continue to cook uncovered, until the consistency is a thick stew in which a spoon will stand straight up – about two hours
Serve in a mug with a slice of cornbread