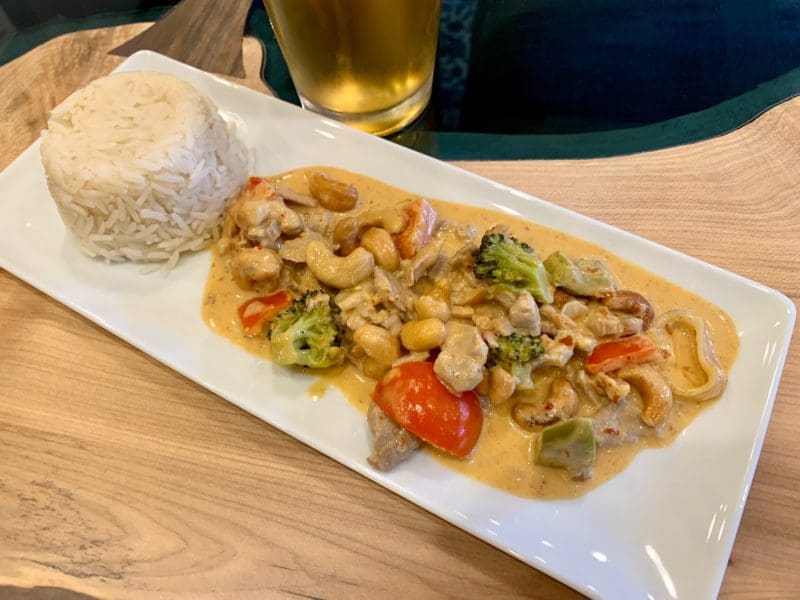 My introduction to Thai food was panang curry and it became an obsession. With it as a gateway, I have learned to love the entirety of Thai cuisine. To borrow a phrase, I've "gone bamboo".
When traveling I make it a priority to visit the nearest Thai restaurant, always ordering pad Thai and panang curry. It's interesting that no two restaurants prepare the dishes alike. There are similarities, but never the exact same ingredients. Initially I found it disappointing, but quickly learned to appreciate the differences, sometimes subtle, occasionally bold. Regardless, the outcome is always delicious.
Options
Beef, chicken and pork are usually available, or you can go meatless. When considering vegetables it becomes obvious that the variation among recipes depends on availability. This recipe uses bell pepper, onion and broccoli, but I have dined upon a virtual horn of plenty. Zucchini, carrot, baby corn and peas are frequent inhabitants of restaurant curries.
Pork Panang Curry
Like other dishes I learned to make it because of distance from my favorite Thai restaurant. Luckily we have a good Asian market nearby for the critical ingredients.
Dining out is a game of cat and mouse ordering my desired level of spiciness. Level 1 through 6 is a broad spectrum and the choice between 6 and Thai hot is a chasm. Servers try to gauge my tolerance for heat and I try to anticipate their instructions to the kitchen. Cooking at home, tasting as I go easily solves this dilemma.
Step-By-Step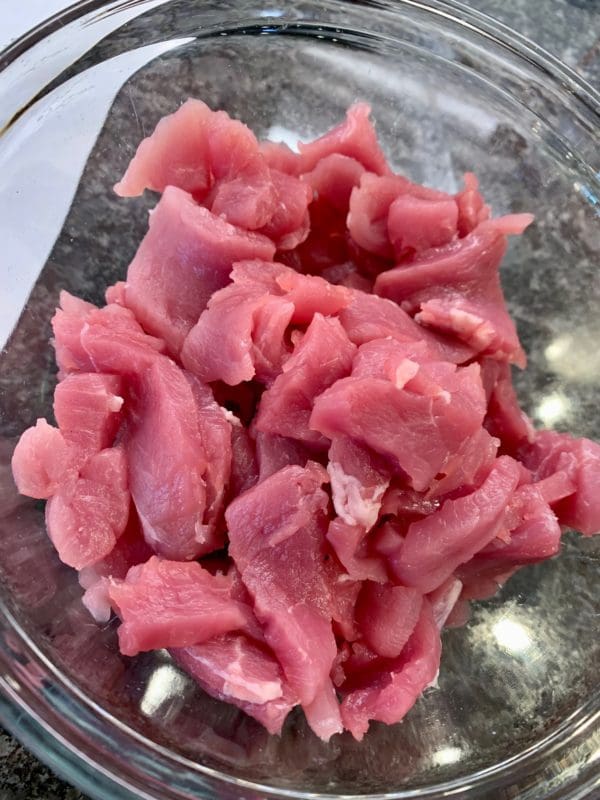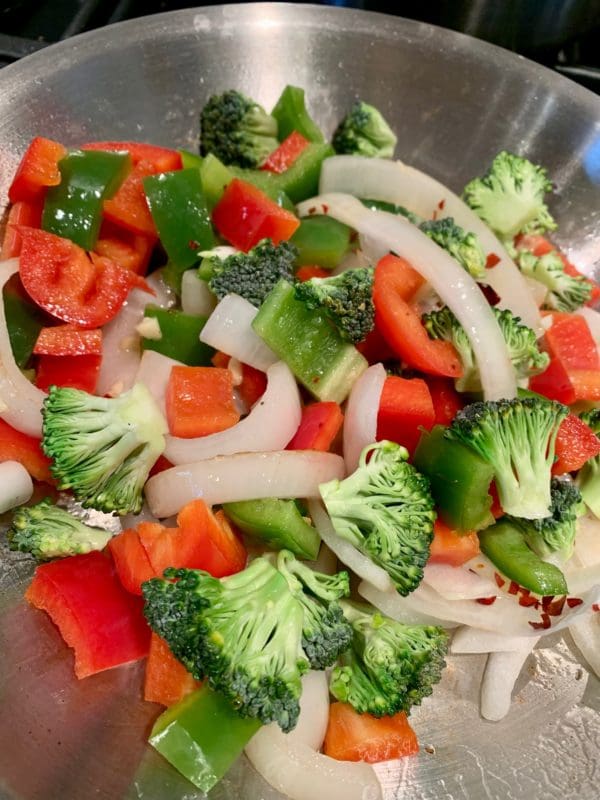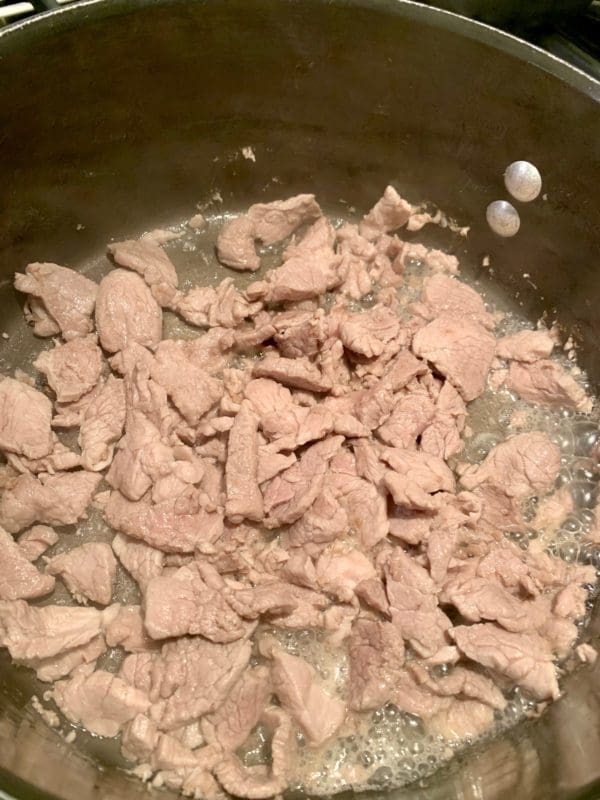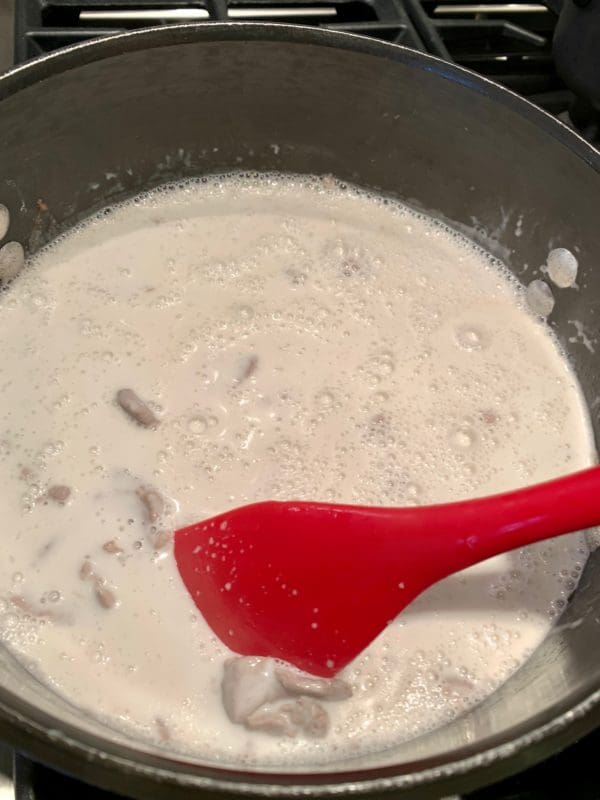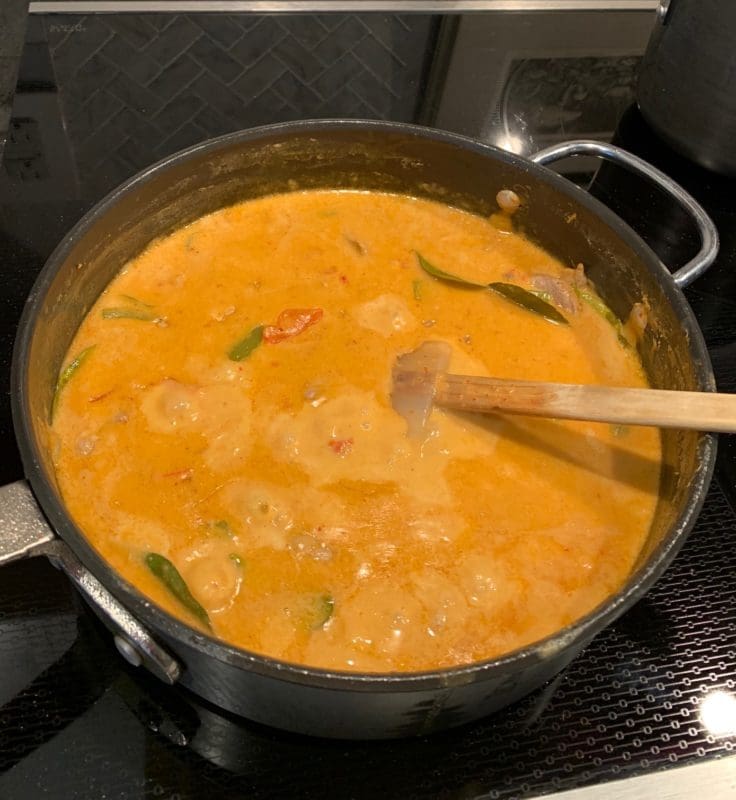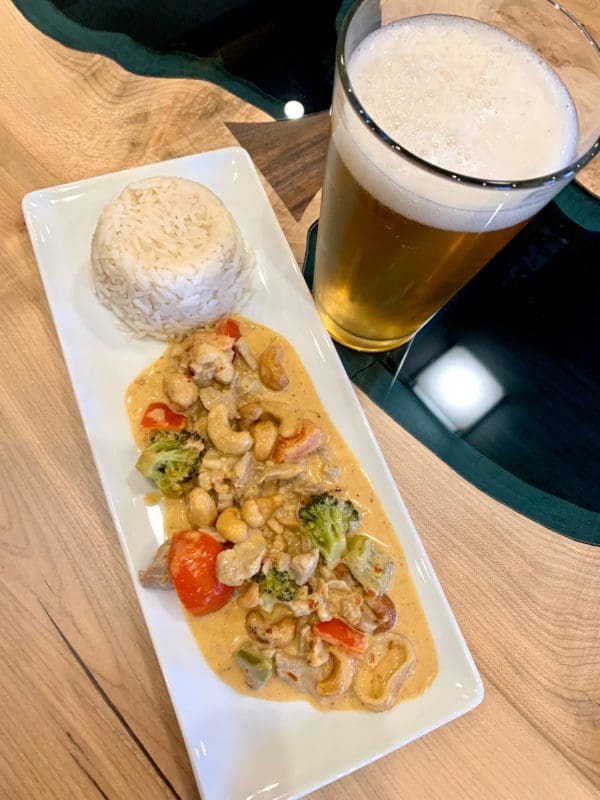 Print
Panang Curry
Introduce yourself to Thai cuisine with this delicious, spicy cashew curry!
1

lb pork tenderloin sliced thinly into bite size pieces

2

TBL sesame oil – divided

4 oz

red panang curry paste

1

onion – halved, sliced and separated

1

green bell pepper – roughly chopped

2

garlic cloves – minced

1

red bell pepper – roughly chopped

1 cup

broccoli florets

4

seeded and minced red Thai chili peppers

35 oz

coconut cream (

2

cans)

2

TBL fish sauce

2

TBL brown sugar

1

heaping spoonful crunchy peanut butter

1/2 cup

crushed cashews

6

kaffir lime leaves

1/2 cup

whole cashews

1

Thai basil leaf
Crushed red pepper – to taste
Coconut milk – to thin the curry if necessary
Jasmin rice
Instructions
Heat the coconut cream until it begins to give off steam, but do not boil
Heat 1 TBL of oil over medium heat in a rondeau pan and saute the pork until almost done
Add the hot coconut cream, stir in the fish sauce and bring to a slow boil, then reduce to a simmer
Heat 1 TBL of oil in a saute pan and saute the onions for 1 minute on low heat
Add the bell peppers, broccoli, chili peppers and garlic and cook for another 1-2 minutes and set aside
Add the panang curry paste, crushed cashews, brown sugar and peanut butter
Stir simmer and reduce to intensify the flavor until the sauce thickens
Add the vegetables, stir, taste and adjust pepper if necessary
Reduce heat to low, crush the lime leaves and add them and the bay leaf. Stir and reduce to desired thickness
Taste and adjust spiciness with crushed red pepper and stir in the whole cashews
Serve with jasmin rice and a cold Singha beer
Notes
If it becomes too thick you can thin it with coconut milk