English pea soup finds its way onto our menu every spring while they are fresh and available. I love peas and my job is to bring you the best recipe possible. Despite my best efforts I could not create or find one better than Kansas City restaurateur and chef Colby Garrelts. My thanks to him and his wife Megan for their permission to share the recipe.
I tasted Colby's delicious pea soup while dining at Bluestem. I had no idea what the ingredients were at the time, but I reveled in the fresh grassy sweetness of the peas. He shows remarkable restraint with seasonings that compliment and allow the flavor of the peas to shine in all their natural glory. The finished dish is velvety smooth with fleeting tastes of lemon, creme fraiche, potato, citrus and pink peppercorns.
Secret To The Bold Green Color
This soup is a gorgeous bright green and that comes from the peas and parsley. The question is how to preserve the color making large batches for restaurant menus? The answer is to refrigerate it immediately unseasoned before cooking. When ready, season and warm to order.
English pea soup is simple to make. A bowl chilled or warmed with a few crackers and a glass of white wine make a perfect lunch. Dress it up with a few select garnishes and you have a wonderful soup course for dinner.
Let's Make The Soup!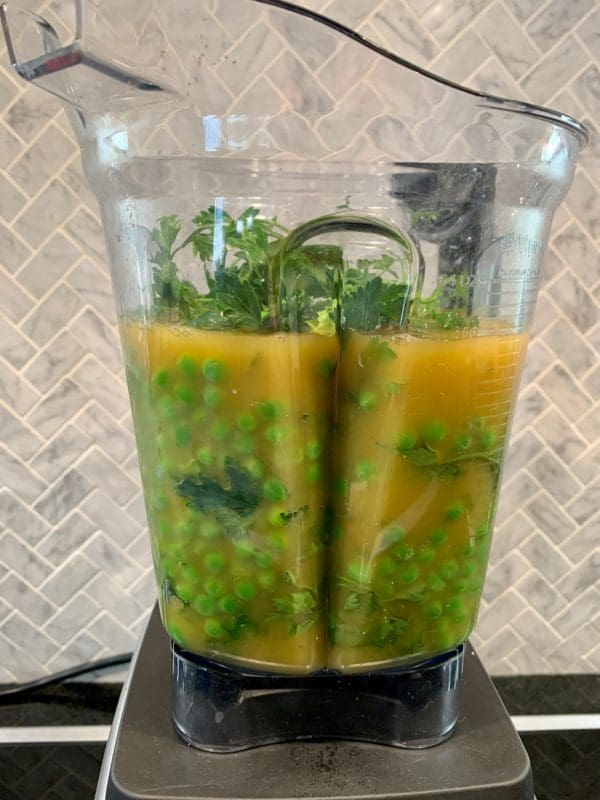 Combine the ingredients in a blender.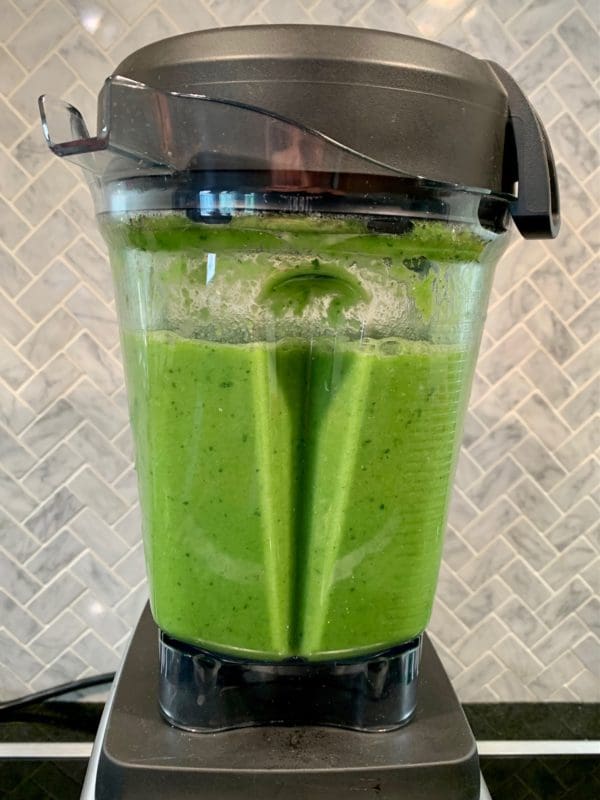 Blend on high speed until it's a smooth puree.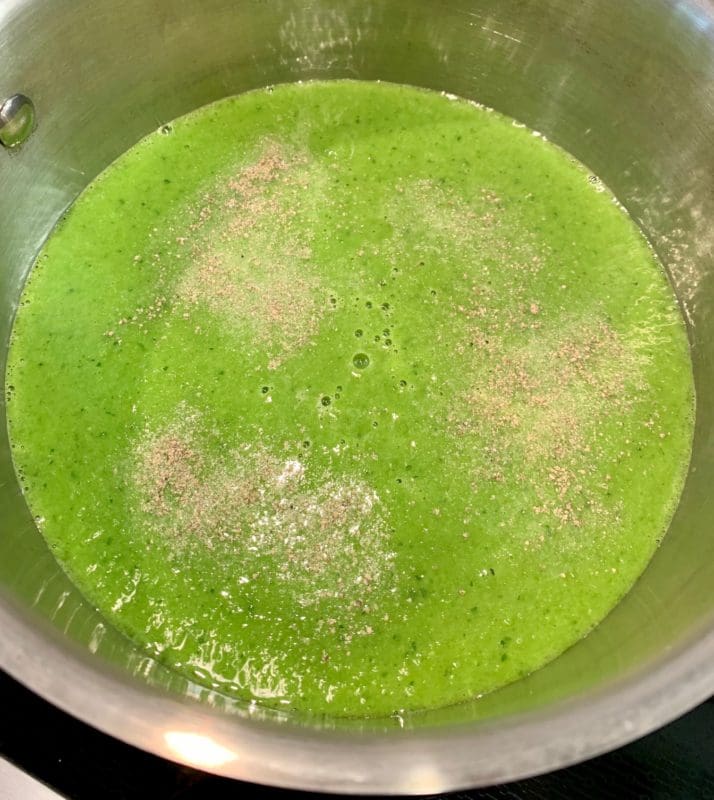 Season the soup
Heat to serve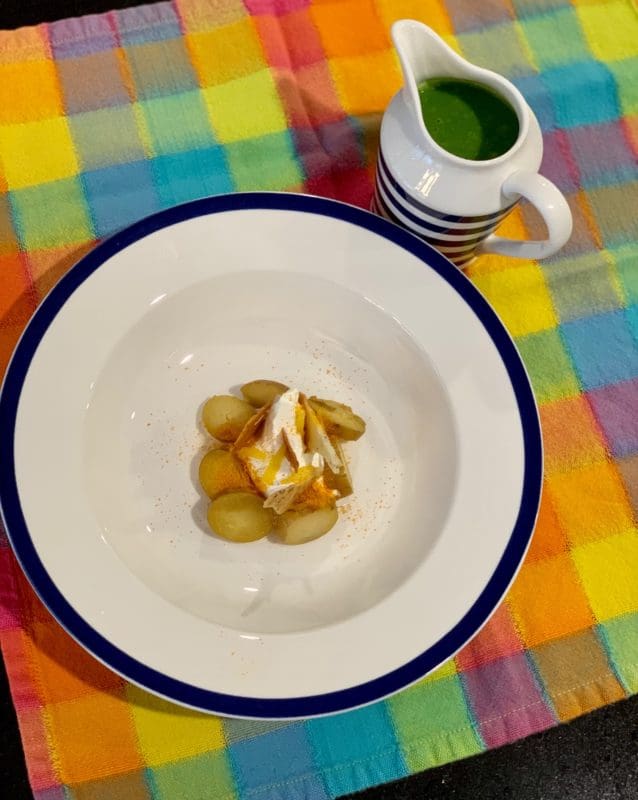 Transfer to a heat proof carafe, prepare a bowl with garnish and pour tableside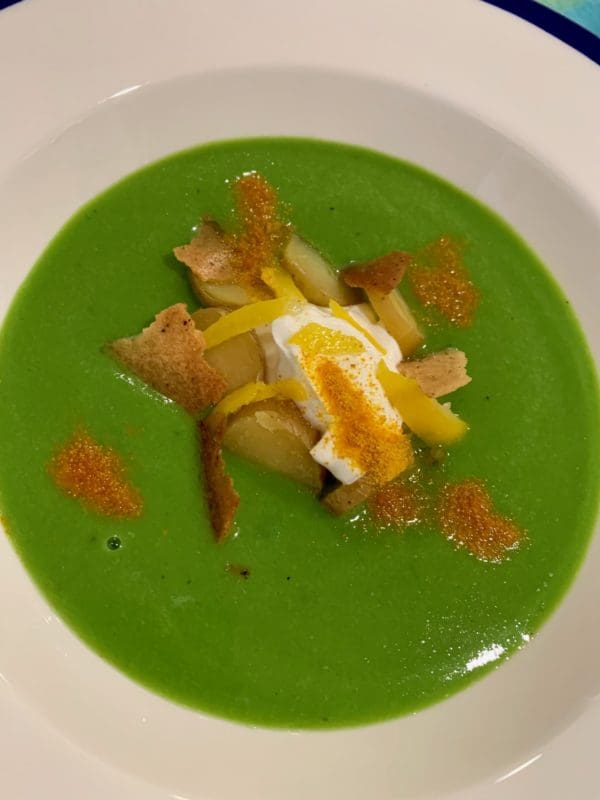 Garnish
Here is where chef elevates this soup to another level in taste and presentation. Some of these will challenge your skills and some require time and planning.
Preserved Lemon: Easy, but requires two to three weeks preparation
Orange Powder: Easy, but requires two to three days processing
Baked Tuiles: Medium difficulty, but adds a wonderful sweet and peppery crunch
Creme Fraiche: Buy it, make your own or substitute sour cream
Pink Peppercorns: Difficult to find, but available through internet sources
Confit Potatoes: Easy and something you will crave from this day forward
What I Did When Chef Colby Wasn't Looking
I poached the potatoes in duck fat instead of olive oil. O.M.G.!
Print
English Pea Soup
Fresh, grassy, velvety, spring pea flavor!
English Pea Soup
4

–

1/2

cups fresh English peas – divided, shelled, blanched and chilled -OR- frozen peas on a 1:1 basis, thawed, drained of excess water, do not blanch

1

bunch Italian flat leaf parsley – chopped

4 cups

vegetable stock – chilled

1

–

1/2

tsp kosher salt

1/2 tsp

freshly ground white pepper

1

pat unsalted butter
Confit potato – sliced into coins or halves – recipe HERE
Fresh pea shoots – optional garnish

1 tsp

orange powder – garnish – recipe below

1

TBL preserved lemon – finely chopped – recipe below
Black pepper tuiles – garnish – recipe below
Creme fraiche or sour cream – optional
Pink peppercorns – optional
Black Pepper Tuiles
4

TBL butter

2

TBL heavy cream

5

TBL + 1 tsp caster (very fine) sugar

2

TBL agave or corn syrup

5

TBL +

1 tsp

instant polenta
Freshly ground black pepper
Instructions
English Pea Soup
Combine 4 cups of peas, vegetable stock and parsley in a blender on high speed until the ingredients become a smooth puree. Transfer this to an airtight container and refrigerate up to three days until ready to use
When ready, pour into a sauce pot, stir in the reserved half cup of whole peas, salt and pepper and warm on medium low until thoroughly heated, but do not allow the soup to boil!
Finish by melting in a pat of butter
Transfer the soup to a warm, heat-proof pitcher or serving vessel
Arrange the garnish in individual bowls using any combination you like
Serve the garnished bowls and pour the warmed soup around them at the table. Every guest loves table-side service and it prevents sloshing and staining the sides of the bowls
Orange Powder
Use a Y peeler to peel the rind off an orange with as little white pith as possible
Place the pieces in an uncovered dish and set in the direct sun for two to three days until they have completely dehydrated
Grind into a fine powder using a coffee bean grinder or small food processor
Sift and reserve the powder in an air-tight container until ready to use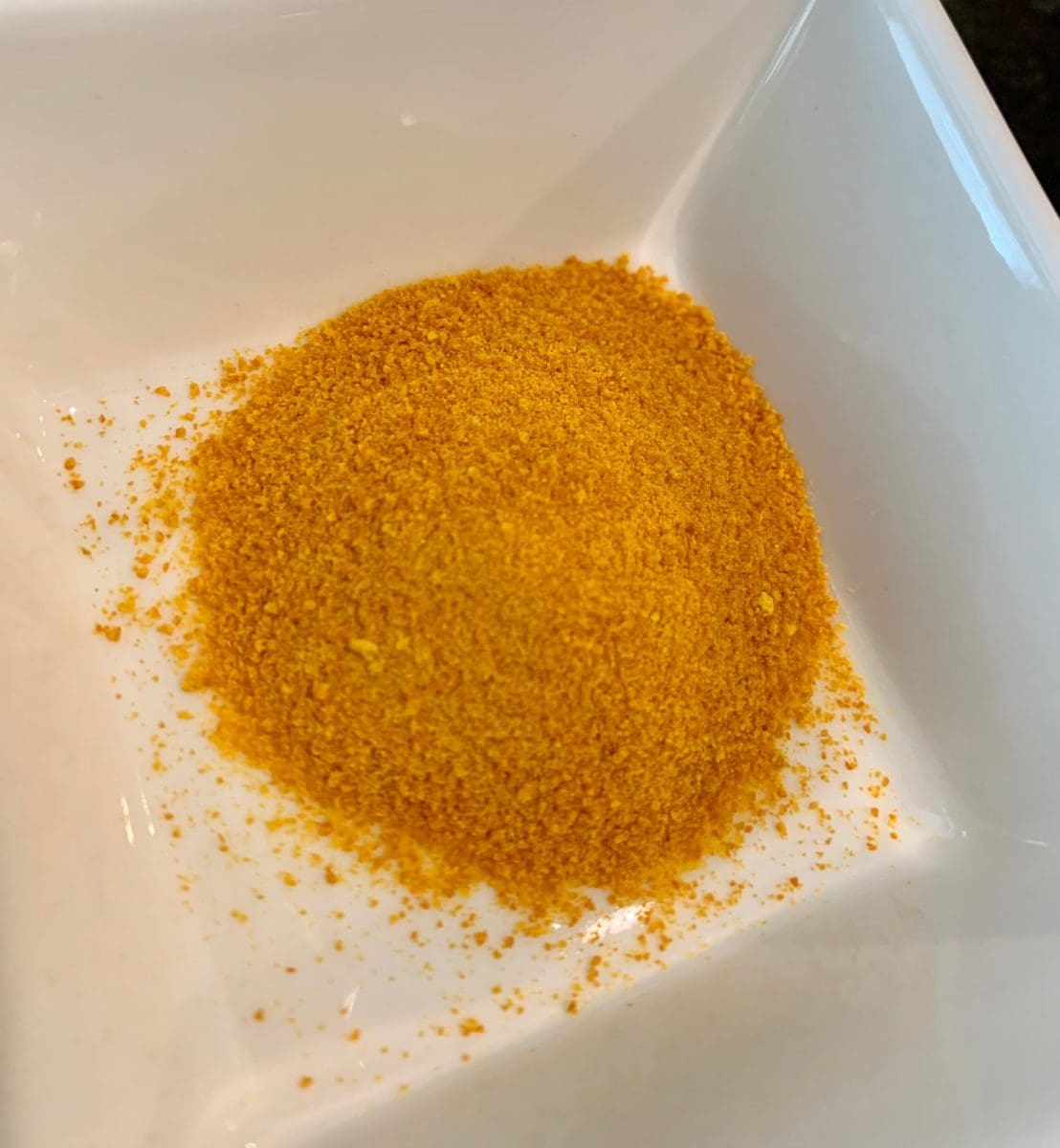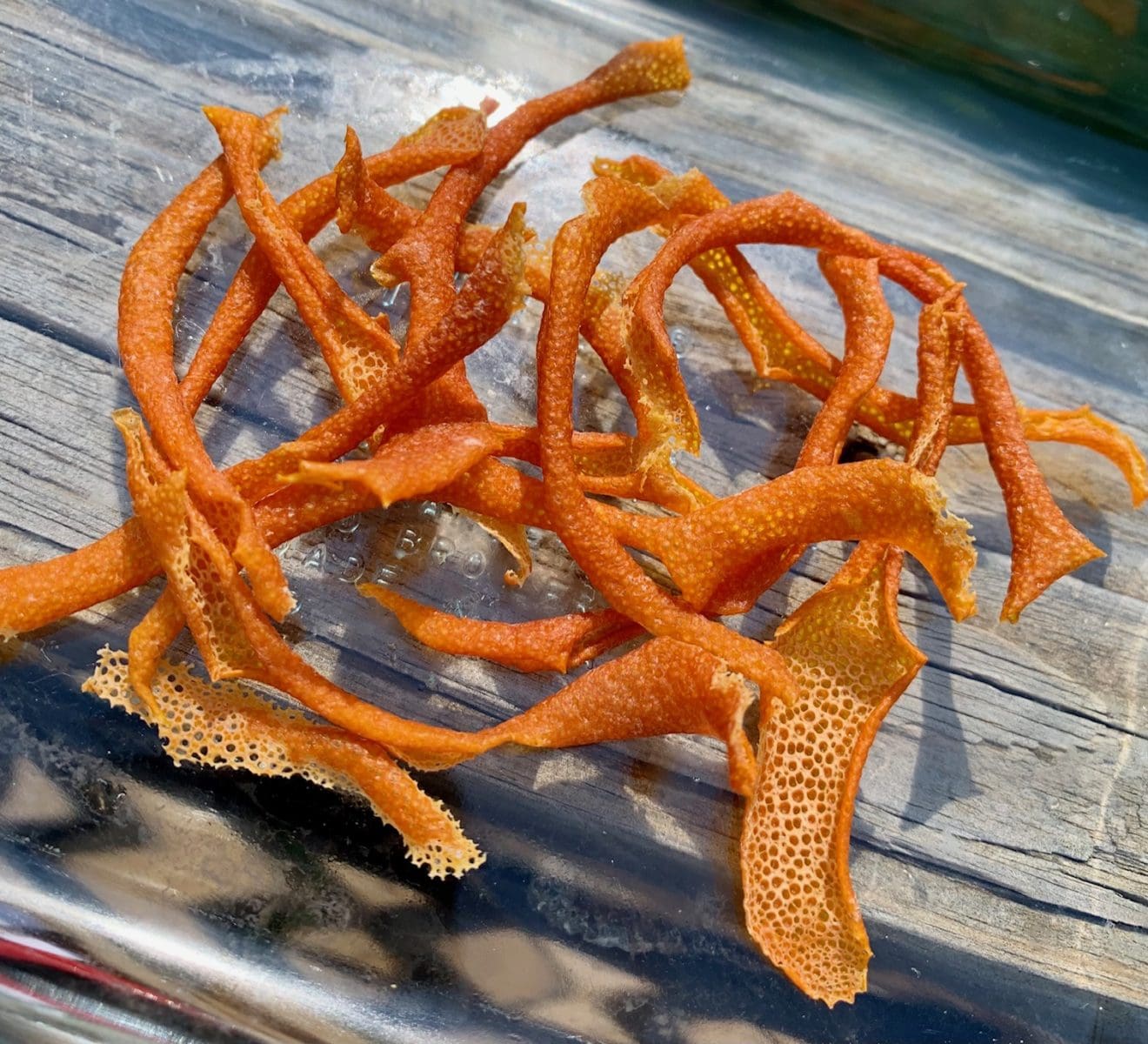 Black Pepper Tuiles
Preheat oven to 340
Put all the ingredients except the polenta and pepper into a pan and stir over low heat until the sugar is completely dissolved
Bring it to a boil briefly, then remove from the heat and slowly whisk in the polenta to prevent lumps
Pour into a wide dish and allow it to cool and get firm – refrigerate a few minutes if necessary
Take half the mix and roll it out between two sheets of baking parchment paper until it is very thin
Carefully peel off the top parchment paper and transfer onto a baking sheet
Grind black pepper over the tuile
Bake until golden brown, about 10-15 minutes
Remove from the oven and let cool for just a minute
Use a knife to cut it into triangles or break it into random pieces
Repeat the process with the remaining half or cover and refrigerate it until ready to use. Allow it to come to room temperature to make it pliable enough to roll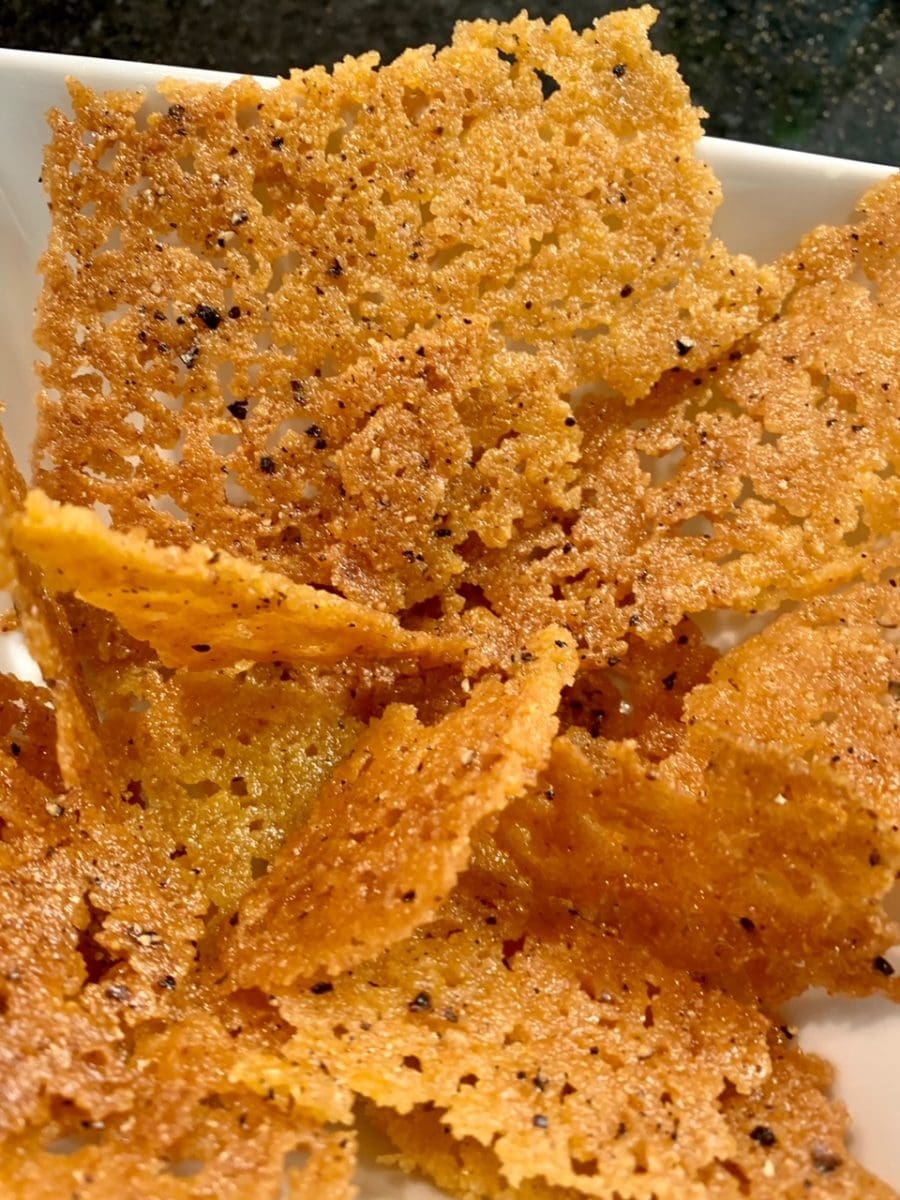 Preserved Lemon
Cut 3-4 meyer lemons into 1/4″ slices and discard the ends
Cover the bottom of a half-pint mason jar with sea salt, then layer in the lemon slices adding
salt between each layer
Stuff the jar as tightly as possible with lemon, packing it in
Add more salt on top, use the remaining lemon for juice to cover the packed lemons
Cover, tightly seal the jar and let stand at room temperature for a week
Open and inspect to ensure the lemon remains covered by juice and re-seal to set for another week
Open and test to see if it has softened. Use immediately, or set for an additional week.
Remove the lemon, trim and chop the rind for garnish – refrigerate for up to a week