Print
Roasted Asparagus
Asparagus can be the most delicious of the vegetable kingdom and roasted asparagus is especially delicious. It can also be the most bedeviling of all vegetables. It can be stringy, soggy, tough and woody or limp and lifeless. To avoid the pitfalls you must carefully choose and cook your spears. Good asparagus has a season and can't be found year 'round. Enjoy it when in season and avoid temptation to buy poor quality spears by using these guidelines.
I made this to accompany my Crawfish Cardinal. Check it out.
How to Choose Asparagus
Choose firm spears. If they sag and bend under their own weight when you hold one horizontally, do not buy them
Cook it the same day. Asparagus does not keep well nor for long. If you must store it, trim the ends, place them in water like bamboo and store in the fridge covered until the next day
Medium size spears with tight tips are best. Tiny, thin spears usually disappoint me
The best have moist, plump ends. If they are dry or cracking they are not fresh and will be woody or stringy.
Take a deep breath and smell them. Any musty odor means they are past their prime
Tip color should be a hearty green or slightly purple. If faded and pale colored, pass and wait for another day.
Preparation Guide
Peel them or not? I have tried both ways and peeling has never helped me to avoid stringy or woody results. It's in the spears or it's not in my experience. If you are in doubt and want to peel them go right ahead. It won't hurt anything. It's just extra work.
Trim or break the ends? The ends always need trimming it's just the matter of how much. Common practice is to to hold each spear with one hand on each end and bend until it finds its "natural breaking point. This is a great way to waste a lot of asparagus. To get an idea of where the trim point should be grasp a stalk in the center and on the end, then perform the bend test. Trim them all at that point while still bundled with your chef's knife. I usually trim about 1-2". It's fast and doesn't waste asparagus.
The bottom line is, your success with asparagus is going to be determined primarily by what you buy, so choose carefully. You can't make a silk purse out of a sow's ear, or so my grandma used to say.
One bunch fresh asparagus
Extra virgin olive oil
Coarse sea salt
Fresh ground black pepper
Balsamic vinegar
Shaved parmesan
Instructions
Preheat oven to 400
Line a rimmed baking sheet with aluminum foil to aid cleanup
Trim your spears
Wash and dry them so the oil, salt and pepper will stick
Place the prepped asparagus on the baking sheet in a single layer
Drizzle olive oil, grind the pepper and add the salt to the spears and hand toss to ensure each spear is fully coated
Roast for 12-15 minutes depending on the thickness of the spears until lightly browned and tender
Remove and plate
Drizzle balsamic vinegar onto the spears and add some shaved parmesan if desired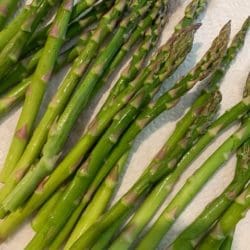 And just one more thing…
A known heckler commented on a post, asking if I ever ate vegetables. For the record, this was the first post I wrote tagged "vegetable". Yeah, I was surprised too.