Print
Roasted Brussels Sprouts
Unlike one of our former presidents, my family loves roasted brussels sprouts. In fact, I like 'em boiled, steamed and even raw. We refer to them as little cabbages, and you will frequently find them on our menu at home.
Fun Facts about Brussels Sprouts
It's proper name is a brussels sprout, but who can eat only one? They're named after the capital city of Belgium and that makes it easier to remember, but we won't make fun of you if you fall back to brussel sprouts.
They are actually part of the cabbage family, and are the edible buds that grow from a long stalk instead of the typical small round one. It's a winter vegetable and the majority for U.S. consumption are grown in California.
Brussels sprouts contain a lot of vitamin K, so if you are a hemophiliac, or already take other anti-coagulents don't eat too many.
1

lb fresh brussels sprouts

1

–

1/2

TBL olive oil

1 tsp

sea salt

1/4 cup

honey
Sriracha sauce – to taste
Instructions
Preheat oven to 375
Trim the ends and discard any dried or damaged outer leaves
Cut them in half vertically
Season with olive oil by tossing in a bowl while sprinkling the salt to coat them evenly
Let rest for 15 minutes to give the oil time to soak into the inner sprout
Spread evenly on a roasting pan covered with aluminum foil, cut side up – do not crowd them
Roast until the outer leaves begin to crisp and beginning to blacken, about 15-20 minutes
Mix the honey and sriracha together, tasting with each addition of sriracha until it's just right for you
Drizzle it over the sprout or serve it on the side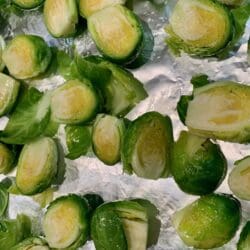 And just one more thing…
It's rumored that cartoonist E.C. Segar, the creator of Popeye, originally envisioned brussels sprouts as the source of his prodigious strength. He could "pop" them into his mouth like candy to initiate his transformation. When word reached the spinach lobby it "persuaded" Mr. Segar to change his mind. Hmmm.