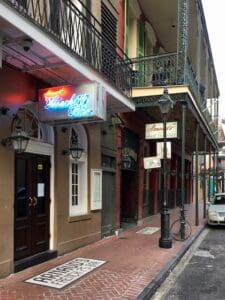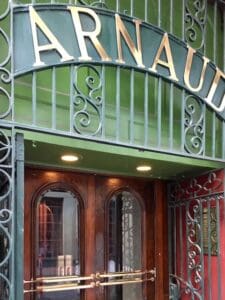 Lunch at Arnaud's begins in the French 75 Bar with a, you guessed it, French 75 cocktail. It's named after the 75mm howitzer used in WWI because like the artillery, it's a strong drink. The Men's Grill was converted into the bar and today, the staff still wear white jackets. It's a James Beard Foundation award winner for Outstanding Bar Program and not to be missed.
The Restaurant
Established in 1918 and though not the oldest of the grand dames, there is no lack of colorful, interesting history. Count Arnaud Cazenave opened his restaurant with the intent that it provide all the pleasures fine dining can afford. Unfortunately prohibition was just around the corner and he defied the law using every subterfuge possible. The law prevailed and a prison sentence forced him to close the doors. Eventually Arnaud was able to persuade those in charge to release him and after prohibition ended in 1933, led the restaurant to new heights. Through the remainder of the 30's and 40's Arnaud's entertained both locals and travelers with food, drink and…private quarters where patrons might spend time with their mistresses. Ghosts, politics and traditions are also part of the story and you can learn more by visiting their web site.
When the Count died, he left the restaurant to his daughter, Germaine Cazenave Wells. She was as bold and brash as her father and became known for leading Mardi Gras festivities. Her greatest success was promotion of Arnaud's and New Orleans near and across the big pond. In her later years she developed a friendship with Archie and Jane Casbarian who became the next owners in 1978. They immediately began restoration of both the physical property and the cuisine to it's glory days. Today, next generation Casbarians Katy and Archie guide operations.
Lunch at Arnaud's
After my cocktail, I moved to the dining room. There I could not resist the pomme de terre souffle with bearnaise sauce and the magnificent smoked pompano bourgeois. It's the inspiration for my own smoked salmon creole served at our Creole Dinner. These and many other delicious dishes perfected over the last 100 years is why Arnaud's is on "The List".