Print
Shrimp Cocktail
The iconic shrimp cocktail didn't begin life as we know it today, it began as a cocktail you drink, and with oysters instead of shrimp. Are you surprised?
In the 1800's oysters ruled the bars and restaurants as Americans ate more and more of them. Oyster consumption peaked around 1895 when pollution decimated oyster beds and prices rose. Shrimp die quickly after the catch and they rot and decay very fast. If you didn't live near the fishing grounds you didn't see them on menus.
Circa 1860 a cocktail made with oysters, a splash of absinthe and mixed with cocktail sauce appeared. Served for breakfast, lunch and dinner, it originated in San Francisco and spread eastward.
At the turn of the 20th century diner's attention turned to shrimp, as the refrigeration and logistics problems were solved. By the 1930's oyster cocktails were no longer, or rarely found on menus and replaced by shrimp. The same cocktail we enjoy today.
Making Your Own Shrimp Cocktail
It's so simple you would be right to question what I can add, but I have a few tips that might make yours easier and tastier.
Make your own cocktail sauce. I know it's more work than buying a commercial blend off a store shelf, but you can customize the taste to suit your own discriminating palate.
The easiest way to peel shrimp. Follow the directions.
1

lb. jumbo (20-25) or extra jumbo gulf shrimp, (

16

–

20

per pound)

1

lemon
Sea salt

1 cup

of cocktail sauce. Get the recipe HERE
Instructions
Add the juice of 1 lemon and generously salt the water in a pot large enough for the shrimp
Bring to a rolling boil on high heat
Add the shrimp and boil for 4 minutes
While boiling, prep a bowl with ice and water
Remove the shrimp and immerse in the ice-water to stop the cooking provcess – it will prevent the shrimp from becoming "rubbery", and it will make the shells separate from the shrimp and very easy to peel
Leave the tails on, they make great "handles" when you eat them
Devein them. It's not really a vein!
Serve in a cocktail glass with a big dollop of cocktail sauce in the bottom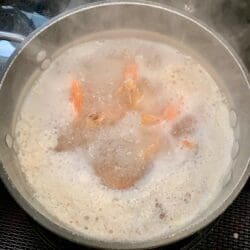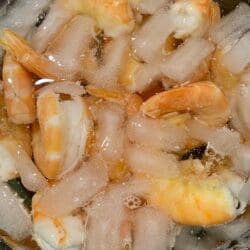 And just one more thing…
Shrimp poo won't kill you, but it's unsightly and unsavory. Always devein. Don't eat the poo!