There's something comforting about a steakhouse menu that hasn't changed in my lifetime. From a budget conscious chain to an opulent temple of wagyu, there's a common thread. Like a lion dining on the African savannah, we carnivores enjoy nothing more satisfying than a big juicy steak. It has the look, the smell, the chew and the rich flavor we're hardwired to crave.
Steakhouse Menu
A classic menu is an easy read because you know why you're there. Choose from the list of mouth-watering cuts of beef, then add an app, side and dessert. Don't overthink it, just go with your gut and your favorites, because they set the stage for the entire experience. Yes, I said it. A steak dinner is more than just a meal.
Here is my menu for the perfect, iconic steakhouse experience… at home! Just follow the links.

Tim's Steakhouse Menu
Classic Martini
This means gin aaand vermouth, but go ahead, I won't judge if you prefer vodka!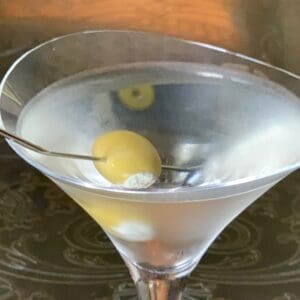 Caesar or Wedge Salad
I'll never forget my first caesar salad and the way it was prepared table side. The show added pizzazz and made it taste especially good. Those were the good old days but you can do the same for your family or guests. Theirs will taste better too with the same fresh ingredients and anchovies on top are optional! If you or yours can't deal with the fishies, or if you want a change of pace, a wedge salad is the way to go. Customize it with your favorite garnishes and dressings.
Shrimp Cocktail or French Onion Soup
Unfortunately this course is either one or the other and I can't pass up a shrimp cocktail. However, if it isn't on the menu I would gladly accept french onion soup as the choice. This one is "almost" Julia Child's version and easily the best I have ever tasted.
Seared Porterhouse for Two
For the main event I love to share a porterhouse with my dining companion. She gets the filet but I can count on her to share a bite, which I gratefully accept. This beauty is briefly pre-smoked before searing at extremely high heat for a deliciously caramelized exterior. Pair it with a nice burgundy or cabernet sauvignon to maximize this experience!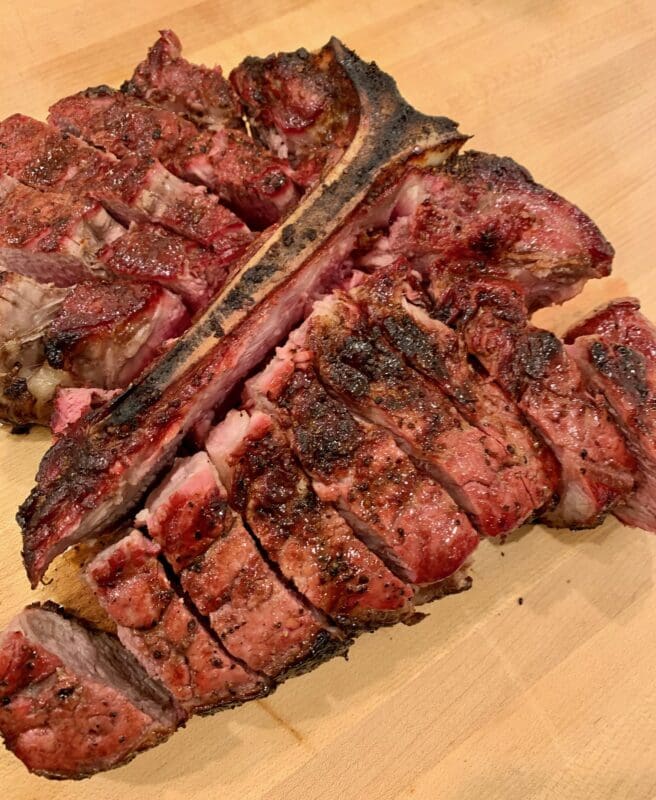 Salt Encrusted and Loaded Baked Potato
Why is a steakhouse baked potato so much better than what mom used to make? Follow the link and I'll show you step by step how to make one at the pinnacle of any steakhouse menu. You will have a salty, crispy potato skin enveloping a pillowy soft interior and you know what loaded means. Enjoy!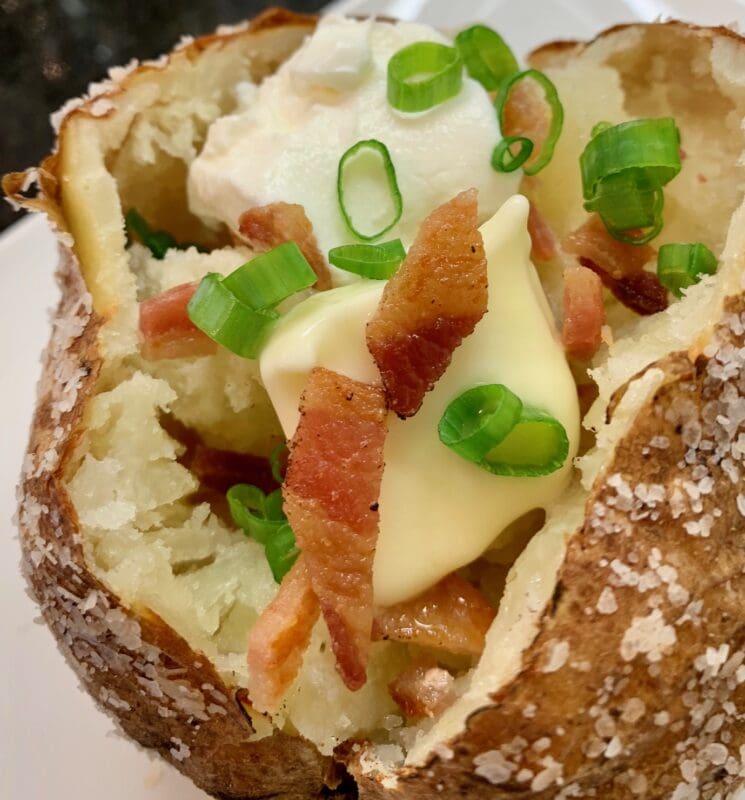 Sauteed Mushrooms or Asparagus
Yes, please add some sauteed mushrooms on the side is the only response when your server asks for the up-sell. They're a steakhouse menu classic and these are a labor of love that take a full day to reduce to savory goodness. They are worth it and your guests will in turn, love you. The caption above implies you may have only one or the other, but we know better. Fresh spring asparagus cannot be denied and when paired with a silky smooth hollandaise sauce is essential.
Togarashi – Not Your Average Steakhouse Menu Cheesecake
This is a dessert found exclusively on my steakhouse menu. With a goat cheese filling on a graham cracker crust topped with blackened pineapple and miso caramel, it blows old style cheesecake out of the water. Follow the link to discover an entirely new happy ending!