Print
Almost Julia Child's French Onion Soup
Who am I to try improve upon Julia's french onion soup? Well, it was more of an accident than a plan, and I can't claim it's definitely an improvement, but I know it is delicious.
Early on I had to follow directions to the letter, because I didn't trust my own taste buds. Now I have reached the point where I trust my palate to tell me what I like best. I have grown metaphorically and unfortunately literally, according to my bathroom scale, but cooking is even more fun.
Learning from Mentors
Maybe it's a stretch to call someone I have never met a mentor, but I was lucky enough to watch her groundbreaking television cooking show The French Chef. Actually, my grandmother watched her show and I was just a captive audience but I heard the passion in her voice as she cooked. She wanted anyone that tried her recipe to be successful, because mentors are teachers. I confess that I have had trouble caramelizing onions. I don't know why, but with her directions something clicked and now I'm confident that I can do it again.
What makes this "Almost" Julia Child's French Onion Soup?
What did I change? I reduced the cognac because my better half isn't a fan of the taste of alcohol. Then because we were so hungry, in a rush to get it on the table I omitted the grated raw onion. Regardless, this recipe rocks and is easily the best french onion soup either of us has ever tasted.
6 cups

yellow onion – thinly sliced about 1/8″ (

2

very large onions)

1/2

small yellow onion – raw and grated

1

TBL vegetable oil

2

TBL unsalted butter

1 tsp

salt plus more to taste

1/2 tsp

granulated sugar

3

TBL flour

6 cups

beef stock

1 cup

white wine

1/2 tsp

ground sage

1

bay leaf

1

TBL cognac
Black pepper to taste

4 oz

Parmigiana cheese – grated

12 oz

swiss cheese – grated

1

loaf french bread
Olive oil
Instructions
Slice the onions 1/8th inch
Shred the cheeses, mix together and set aside
Bring a dutch oven or 12″ pan to medium low heat. Add the olive oil, then the butter to melt
Add the onions, toss to coat evenly, cover and cook 20 minutes until soft and transparent
Uncover, add salt and sugar and stir while cooking until browned and caramelized, about 25 minutes
Stir in the flour
Cook 2-3 minutes until it forms a paste (add more butter if necessary)
Stir in 1 cup of beef stock and raise heat to medium high
Add the remaining beef stock, wine, sage, and bay leaf
Bring to a boil, then reduce to a simmer for 30 minutes
Taste, adjust salt and pepper and hold on warm
Preheat oven to 325
Slice the bread into 1/2″ pieces then trim if necessary to fit the crocks
Brush both sides with olive oil then bake for 15 minutes on each side
Ladle the soup into the crocks, cover with bread then completely cover with a thick coating od cheese
Drizzle a little olive oil over the cheese of each crock
Bake uncovered for 30 minutes at 325
Remove and cool for a few minutes before serving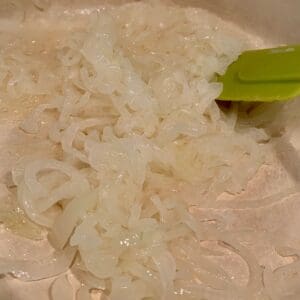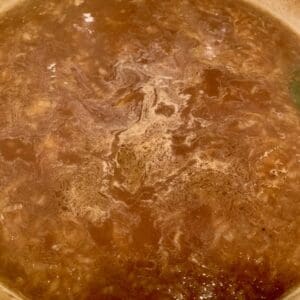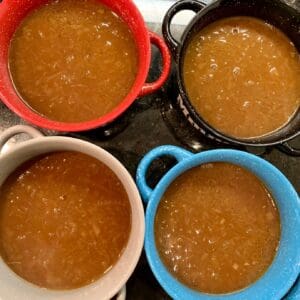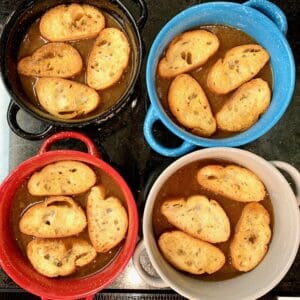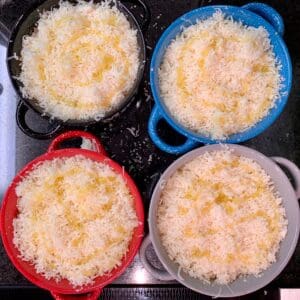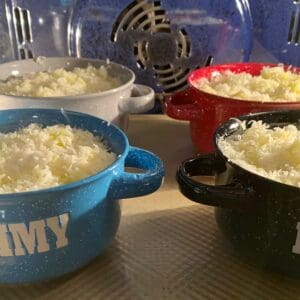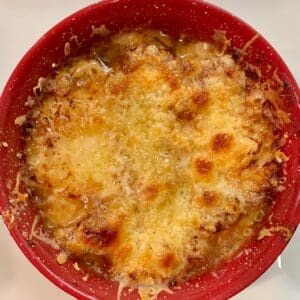 And just one more thing…
Next time I might add the raw onion, or I might not because I can't imagine it can taste any better!