Print
Classic Martini
Juneteenth is the oldest nationally celebrated holiday commemorating the end of slavery. On June 19th 1865 Union General Gordon Grainger read the proclamation declaring all formerly enslaved people in Texas to be free. June 19th is also national martini day. Is it a coincidence? I don't think so. What better way to celebrate that historic event than with the best, classic martini!
What Makes a Classic Martini?
Martini's can be and are made with gin and vodka, but it's gin that ticks the classic box. Specifically, they're made with with London dry gin. London Dry is a quality designation, that means the base spirit is equal to or above 96% ABV, or alcohol by volume. Furthermore, all flavors must be added during the distillation process, using natural plant materials including juniper and then it may be tempered to a lower proof. Many producers add flavorings after distillation, but they can't label theirs as London dry.
Today, many call straight vodka or gin in a cocktail glass a martini, but the classic version includes dry vermouth. It tempers the spirit, rounds out the flavor and allows you enjoy another without regret.
Finally, it must be stirred, not shaken to preserve that crystal clear beauty and garnished with an olive.
Read more about the story of the martini, history and legends  HERE.
The Best Martini
Begin with a crystal cocktail glass that has rested within a freezer for an hour. This will keep your drink cold while you savor each and every drop. Use London dry gin. My favorite is Bombay Sapphire, but you can't go wrong with Beefeater. Complement that with a high quality dry vermouth such as Noilly Pratt. Procure some large Napa Valley olives, stuff them with Kerrigold blue cheese and you're ready.
Ice cubes

1/4 oz

dry vermouth for rinsing

1 oz

dry vermouth

2

–

1/2

oz London dry gin
Blue cheese stuffed olive on a pic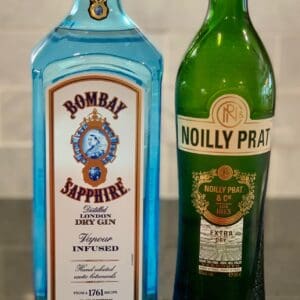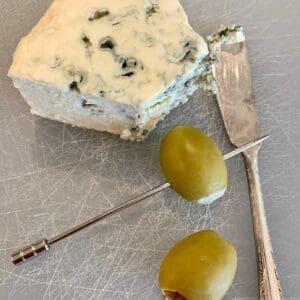 Instructions
Stuff your olive with blue cheese
Fill a mixing glass about 1/3 with ice cubes
Add 1/4 oz vermouth and swirl the glass to coat the ice, then strain it out, keeping the seasoned ice
Add the vermouth followed by the gin
Stir slowly to avoid aerating your drink, making 40 revolutions to give it time to mix and chill properly
Let it rest while you spear your olive with a pic
Remove your glass from the freezer
Strain and pour your drink into the frozen cocktail glass
Add the blue cheese olive
Admire and enjoy!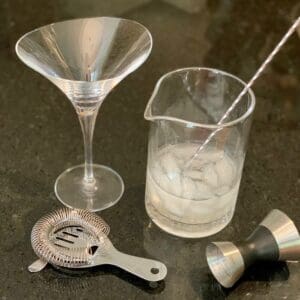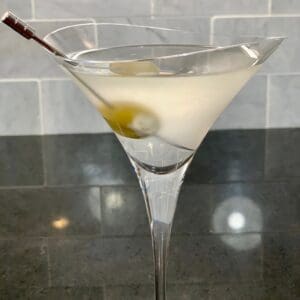 And one more thing…
I must tell you about the Tomolive, a miniature pickled green tomato. It's grown and pickled by the Bryant Preserving Company and marketed under the Old South brand name. If you get a chance to try these for your martini garnish, you should.