Print
Steakhouse Mushrooms
Watch out Smith and Wollensky, Cattlemen's and Del Frisco's, home made steakhouse mushrooms are here!
The combination of a great cut of American Wagyu, baked potato and a few asparagus spears can only be improved one way. Add some sauteed mushrooms. I periodically crave this simple, almost primal meal which I usually relieve at a great local steakhouse.
These are so easy to make I delegate making them to my six year old sous chef. Now I can scratch this itch at home. Ahhhh.
3

–

1/2

lbs of white button mushrooms – thoroughly cleaned and washed

1

–

3/4

sticks unsalted butter

2 tsp

worcestershire sauce

1 tsp

salsa inglesa

2 cups

water

1

dash Jugo seasoning sauce

1

bottle 750 ml cabernet sauvignon

2

cubes chicken bouillon

4

cubes beef bouillon

1 tsp

dill seed

6

cloves fresh garlic – minced
sea salt to taste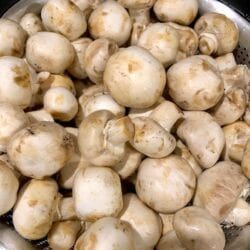 Instructions
Bring two cups of water to a boil in a large pot
Add the bouillon cubes and stir until dissolved
Add the wine and return to a boil, then add all the remaining ingredients and a pinch of salt
Stir to combine and return to a boil over medium high heat
Reduce heat to low and simmer, covered for 5-6 hours
Uncover stir and continue to simmer until the liquid is reduced to the point the mushrooms are becoming exposed – about 2 hours
Stir occasionally so any exposed mushrooms don't dry out
Adjust salt if necessary and keep on warm until ready to serve with dinner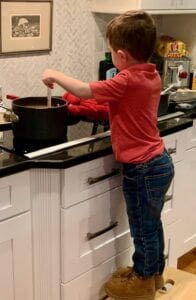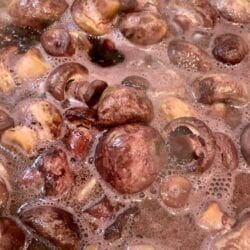 And just one more thing…
Full disclosure requires me to tell you the mushrooms pictured here are not button size. In my locale they aren't available. The button mushrooms have a firmer, toothier bite but I'm not cryin'. These are mighty fine!