Print
Cuban Black Bean Soup
Cuban Black Bean Soup and I go way back. We go so far back that Marty McFly would have to drive me there to taste that particular recipe again. You see, the place is closed.
I've come within 100 miles, but never visited Cuba. I've dined at Cuban restaurants and spent the night at a Holiday Inn Express, which are dubious credentials at best. I suppose it's presumptuous of me to name this "Cuban" black bean soup. I'll explain.
Cuba is an island nation that has always fascinated me with a tumultuous history. I will never forget the communist revolution and the 1962 missile crisis when I was taught to "duck and cover" at school.
A Cuban family opened a restaurant in my hometown, serving their own authentic recipes. We dined there and at some point my friend noticed their phone number. The last four digits were 1-9-5-9. We thought it unlikely to be sheer coincidence, and on a hunch asked our server about it. We were told they specifically requested that number to mark the year of the communist revolution that changed their lives forever. That meal whet my appetite for more.
I dined at several more authentic Cuban restaurants when visiting Miami a few years ago. The food was glorious and I can't replicate it – but I can try. Naming this soup is meant to show respect for the Cuban people because they inspire me through their history, culture and cuisine.
Author:
Prep Time:

30

Cook Time:

180

Total Time:

3 hours 30 minutes

Yield:

12

-

1

6

1

x
2

lbs black beans

2

lbs smoked sausage

1

medium red onion – roughly chopped

1

green bell pepper – seeded and roughly chopped

3

large jalapeno peppers – seeded and diced

1/3

bunch cilantro, leaves only – chopped (save a little for garnish)

4

garlic cloves – minced

1 tsp

crushed red pepper

1/2 tsp

cayenne pepper
 1 bay leaf

1 tsp

salt

1/2 oz

olive oil

1

jar sliced deli jalapenos – serve on the side

16 oz

sour cream for garnish
Tapatio hot sauce on the side for the pepper-heads
Instructions
Rinse and soak the beans overnight in salted cold water
Pour off the water, add the beans to a large pot and cover with fresh water
Dice the jalapeno
Mince the garlic
Chop the Onion and bell pepper
Slice the sausage
Add the salt, garlic, red pepper, cayenne pepper and bay leaf to the pot
Bring the beans to a boil then cover and reduce the heat to simmer until tender, about 45 minutes to an hour
While the beans are cooking, sear the sausage on both sides over medium heat, then set aside
When the beans are tender, remove the bay leaf and use an immersion blender to puree about half the beans, or until it reaches your desired consistency. I prefer a thicker soup. YMMV.
Add the olive oil, jalpenos, bell pepper, onion, cilantro and sausage ( including any leftover fat)
Adjust with water if necessary, cover and simmer on low  1-2 hours
Stir frequently ( about each 15 minutes) because the pureed beans will sink to the bottom and stick
Add salt and pepper to taste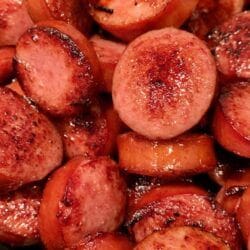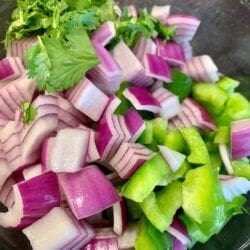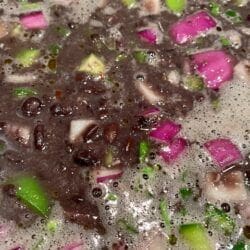 And just one more thing…
If you thought duck and cover would protect you from a nuclear blast or radioactive fallout… (you fill in the punchline)
And one last thing…
Add your punchline to the comments section of my website. If there are 50 responses or more, the winner for best punchline might get a prize. Keep it clean people!