Le Pigeon is helmed by Gabriel Rucker, a two time James Beard award winning chef. He presents contemporary French inspired cuisine in a cozy space with a laid-back atmosphere.
Portland, Oregon
I had some pre-conceived notions about the Pacific Northwest, but no real idea what to expect. I can report that Portlandia was an extreme parody and there were no Roloff sightings. Beyond that, what did I find?
Rain is plentiful, but mostly quick showers and locals shun umbrellas for some reason. It is true that Portland does have the most chill, laid back vibe of any city I've visited. There are no horns blaring in congested traffic, no loud voices in the street and residents willing to assist a visitor when approached. It's hard to explain, but pleasing to experience. Does legal 420 contribute to that? You be the judge.
Portland is nestled in the middle of stunning scenic beauty. With the columbia gorge to the east, the pacific coast a short drive west and luscious vineyards to the south, the Willamette Valley is a playground. Traveling to the coast we passed a state welcome sign that read "Welcome to Oregon, please enjoy your visit". When our host overheard us say that Oregon was a well-kept secret, she told us the former governor's administration had appended it with "then kindly return home". I can't blame them for wanting to keep it to themselves.
Le Pigeon
I have to credit a humble guy named Andrew Zimmern for turning me on to Le Pigeon. I knew I needed to dine there after watching his experience on television. The tiny, open kitchen is shared by three chefs preparing everything as you order. It was the perfect demonstration of a carefully crafted menu and well executed mis-en-place.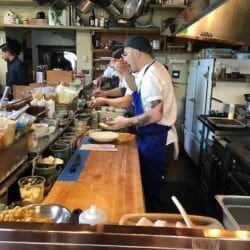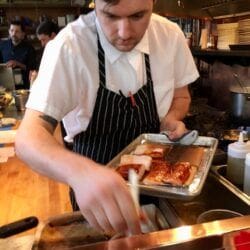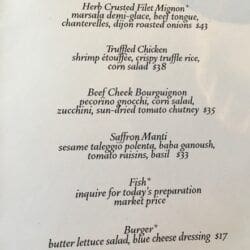 I'm going to apologize right now. Our visit was a decadent tour of food and drink that left far too little room  for dinner. I couldn't do justice to the mouth-watering offerings but I promise to do better next time. Yes, it's worth a repeat visit.
For my starter I chose their pork belly agrodolce with geoduck ceviche, green curry, avocado and nectarine. I love to say (gooey-duck) but enjoy the taste even more. Take a look and you can guess how delicious it is.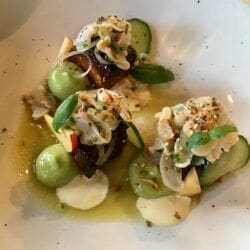 Their signature and most enduring dish on the menu is beef cheek bourguinon. I felt compelled to order it because I wanted inspiration for my own version scheduled for an offal good dinner back home. It did not disappoint. Tender, perfectly flavored beef with pecorino gnocchi, corn salad, zucchini and tomato chutney.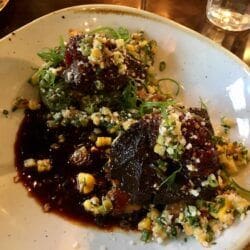 And just one more thing…
My three traveling companions, citing some frivolous thing called work, departed a day earlier. They missed dining at this jewel, but they can read this and weep.
And one last thing…
Leftenant William Clark, with Merriweather Lewis led the Corps of Discovery through the Northwest Passage to the Pacific Coast. William's wife was the neice of my 5th Great Grandmother, so naturally I wanted to retrace his steps. I did so in a day and a half, give or take a few hours. It took them a little longer, from May 14, 1804 to January 9, 1806.