Print
Carne Asada Street Tacos
Carne asada street tacos are just one of my favorite culinary gifts from Mexico. We have several local restaurants and tacquerias here that I label authentic based upon my trip to Mexico City last summer. I call myself lucky.
Learning to Love Tacos
Writing this made me reflect on my first taco experience. Two friends stationed in San Diego with the Navy were discharged from service and returned home. They regaled us with tales of Mexican food which was quite exotic at the time. We're talking late 60's in the heartland of America where Italian was the only known ethnic food. They were particularly enamored with a little joint called Taco Bell. I remember the first local franchise opened soon thereafter and we thought we were eating real Mexican food. I admit I loved them and they taught me to like tacos. As our southern neighbors immigrated and began moving northeast we experienced more and more tex-mex, then the real thing.
So you might ask why, if I have access to the real thing, I would want to make my own. The answer is simple. Leftovers. I had a lot of prime rib from Christmas dinner, because my eyes were bigger than our collective stomachs. Carne asada street tacos sounded like a good way to finish off that prime rib. Although flank steak is more commonly used and tenderized by marinating, prime rib is tender enough on it's own. All it needs is generous seasoning while cooking.
Street Tacos
12 oz

prime rib

16

soft corn street tacos
Olive oil

1

–

1/2

tsp chili powder

1/2 tsp

dried oregano

1/2 tsp

ground cumin

1

clove garlic – minced
Fresh squeezed juice of 1/2 lime
Salt and black pepper to taste
Pico de Gallo
Tapatio salsa picante – on the side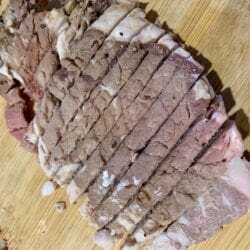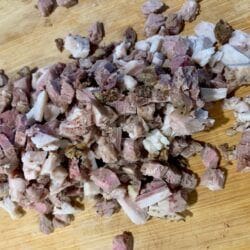 Pico de Gallo
1

roma tomato – diced

1/4

yellow onion – diced – equal volume to the tomato

1

small jalapeno – seeded and diced

1/4 cup

chopped cilantro – to taste
Freshly squeezed juice of 1/2 lime
Salt and black pepper to taste
Instructions
Pico de Gallo
Make this at least 4 hours in advance or overnight
Dice and chop the ingredients
Mix gently in a small bowl
Squeeze the lime juice over the mixture
Add salt and pepper to taste
Mix, cover and refrigerate until ready to use.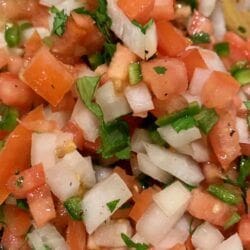 Street Tacos
Slice and ch

op your prime rib and set aside
Mix all the spices together in a small bowl and set aside
Prepare your corn tacos by toasting in a non-stick pan with a few drops of oil in batches until lightly browned on medium heat. Set them aside in a covered warm pan until ready to serve
Pour  a teaspoon of olive oil into a sautee pan and heat until shimmering
Add the beef and the spices
Stir until well combined
Cook on medium high heat, turning and mixing until it reaches your desired level of doneness. I prefer medium well done.
Squeeze juice of the remaining half lime on the meat
Warm the tortillas @ 350, wrapped in aluminum foil in the oven, or in a hot skillet for 20-30 seconds per side
Remove from heat to prevent burning and assemble the tacos
Serve the pico de gallo and the salsa picante on the side with quartered limes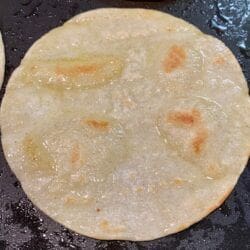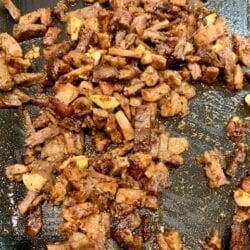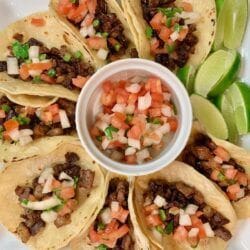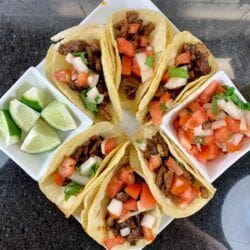 And just one more thing…
These go down particularly well with a Victoria, affectionately called a "Vickie" south of the border. I can get them here at my favorite tacqueria. My how the world has changed.